Verizon LTE turned on in Jefferson City, set to expand elsewhere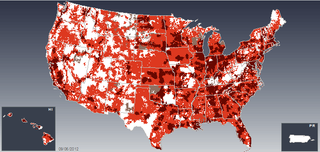 Following up on a significant LTE expansion last week, Verizon has announced plans to expand in a whole bunch of markets this week. The switch will be flipped on in many of them on September 20, just in time for the iPhone 5 launch, though Android users will see plenty of benefit from the expansion too. Here's the list.
Jefferson City, Missouri (now live)
Kansas City, Missouri (planned expansion)
Pittsburgh, Pennsylvania (planned expansion)
The Hays, Kansas (planned expansion)
Rolla, Missouri (planned launch)
Lawrence, Kansas (planned launch)
Bremerton, Washington (planned launch)
Silverdale, Washington (planned launch)
Emporia, Kansas (planned launch)
Coffeyville, Kansas (planned launch)
Buffalo, New York (expansion live)
Tallahassee, Florida (planned launch)
Fort Myers, Florida (planned launch)
Tampa Bay, Florida (planned launch)
Anyone in these markets hooting and hollaring for the upcoming LTE coverage? How is it comparing to, say, AT&T? You can get a closer look at Verizon's LTE coverage over here (opens in new tab).
Source: Verizon (opens in new tab)
Simon has been covering mobile since before the first iPhone came out. After producing news articles, podcasts, review videos, and everything in between, he's now helping industry partners get the word about their latest products. Get in touch with him at simon@futurenet.com.
Expansion is in progress in Buffalo, NY. I like it!

Me too! Woke up this morning to 4G finally.

LTE was turned on on Statesboro, Georgia this morning.

4G went live in here in Lubbock, Texas as of last Saturday and there is no word of it anywhere other than my phone lol!

For all their many faults, they do invest in their network.

I live in st.louis MO, st.lois is almost 1000sq. miles,including st.louis counties, 2 million+ people and only 7-4g towers. That's ridiculous. I avg 12 down and 5 up almost everywhere. My wifi is faster uploading than vzw lte. And now 4g won't allow me to upload with GDrive anymore, all my other data apps browsers work, i can download from drive but i cant upload anymore and it cuts off connection when I do.

I wonder why Tampa, FL is listed as "planned launch" rather than "planned expansion". We were one of the first cities to have LTE activated.

Yah, the Florida ones are an expansion as listed on Verizon's news release here: http://news.verizonwireless.com/news/2012/09/pr2012-09-10d.html

Sure is good to be a Verizon customer!

Im confused, I have had 4g in buffalo for a while now. Why does it say expansion live now?

Expansion means additional (expanded) coverage.

O thanks! I feel slightly stupid for not figuring that out. Thanks though!

Well thats wonderful. . . the one carrier with shitty service in my area and they are the only one with LTE up and running. GET IT TOGETHER AT&T!

"The switch will be flipped on in many of them on September 20, just in time for the iPhone 5 launch," I think you meant to say "the 4g-pocalypse". 4G service is about to get shitty for *everyone* when 20 million iPhone users uploading 20 million instagram photos an hour all start to pile on the networks. Verizon might fare OK, but AT&T users can expect to see a repeat of the 3g-pocalypse that crippled their network for months/years. Sprint? Go ahead and start loathing the existence of the "4g" icon on your phone's status bar now. You are about to hate your life.

Too late. I haven't needed a lte icon to hate my life on sprint. I'm way past that.

This is 4G right? I have had this for months in Ft Myers, Fl.

Yeah we were one of the first Cities to get LTE. Don't know why it says "Planned Launch" ?

Gezzz, will they ever consider Southern Oregon. We have 250,000 people here with NO 4G. Wow every Verizon rep says anytime now...well I've been hearing that for more than a year. Maybe Big Red considers us Okeee's.

Hey verizon! How about a little 4G LTE love for Puryear Tennessee area.
Android Central Newsletter
Thank you for signing up to Android Central. You will receive a verification email shortly.
There was a problem. Please refresh the page and try again.