USB Type-C spec finalized but no word on when it will launch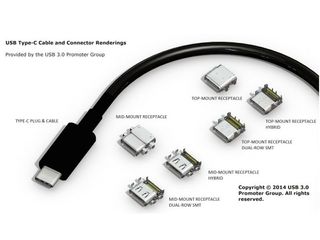 The USB 3.0 Promoter Group has now finalized the spec for a new connector and cable, USB Type-C, that is much smaller than current USB ports and cables. It is also designed to offer reversible plug and cable orientation, meaning that users will be able to insert a USB Type-C cable in its supported port in either direction.
The port will support USB 3.1, otherwise known as SuperSpeed USB, which will offer data transfer speeds of up to 10 Gbps. The port will also support power delivery up to 100W. However, the new connector and cable design does meant that current USB devices will have to use adapters to use the Type-C products.
This news means that at some point, many upcoming smartphones, tablets, notebooks and desktop PCs will have USB Type-C ports, which could make them easier to use for consumers. The only catch is that it may be a little while before the first products are released with USB Type-C connections. Today's announcement gave no indications of a launch date for the new spec.
Source: USB 3.0 Promoter Group
about time can't wait for the lg g4 to support it first. Posted via Android Central App

See, Apple IS the innovator of everything!
/s

No they ain't Posted via Android Central App

It was obviously sarcasm. Posted via my LG G3

Are they going to a an LG 3.5 before that? The LG G3 is only USB 2.0 Unlike the Note 3 and S5

Now is a good time to invest in a USB TYPE-C adapter startup. Posted via the LG G2 Android Central App

You mean Monoprice, right?

This would probably mean that my next laptop will have USB 3.1. Posted via Android Central App

Let's hear it for first world problems and first world solutions. Posted via Ash William's Boomstick

i can't wait for this to become standard.
i'm actually embarrassed it has taken us this long to change from micro-usb to something more user friendly. apple showed that it sucks at first when they switched from 30pin to lightning but after a few months everyone was so much happier with it and it was worth it in the long run.

About time! I am NOT an Apple user but I must admit that their Lightning connector is the connector implementation i have seen. Its small, durable, fast, and double-sided. I have had more microUSB port-related failures than anything else on my various Android devices over the years. HTC & Nokia seem to somehow offer more durable microUSB ports comparwd to everyone else, however. Moto, Asus and Samsung have all given me tons of issues.

Reversible plug ftw! Posted via Android Central App

I'm sure there will be a firmware update on our phones that will change the shape of the plug. /s

This won't replace micro usb at all, will it? Posted via Android Central App

I really, sincerely, hope that it actually does. Considering that it is now a finalized standard, and does seem to host some pretty great improvements, I think it stands a fair chance at being adopted.

I have no love for MicroUSB, very flimsy and inconsistent. And it's crazy that not all microusb port and cables are built to at lest a minimum standard, so a cheaper cable might not work at all with a picky phone like Moto X yet work no problem with a different phone.

There will be cheap versions of this too. Posted via Android Central App

I know, but I want the fundamental design to improve.

Yes, it's going to replace all the current different USB plugs.

That's the entire point of the design was to replace Micro USB. Well, Micro USB 3.0, really, but all of them in one fell swoop. The plan to have it replace the OTHER ends, as well, came as they realized they'd might as well improve it across the board. So yes, it definitely will.

It is more than likely a VERY long way off.

Well I hope they fixed the latching issues as well some cables won't stay in place Posted via Android Central App

latch issue is most due to quality from manufacture.

Apple got it right, this still looks weak compared to apple lightning cable, wish apple lightning could be used as a standard. Posted via Android Central App

Apple = Standard. Never happen. They are too anal retentive.

The European Union will probably force them to adopt USB connectors, at least for charging.

ehhh the European Union already requires new phones to come with a micro USB connector.. Apple gives fuck about that so don't expect them to adopt Type-C anyway..

Apple = Standard never happen because Apple won't license it without a large payment.

As standards go, this says is can deliver 100W vs. lightning's 12W and the potential speed is breathtaking if it reaches anywhere near theses specs. Don't worry though, I'm sure Apple will implement it too and get it right. Posted via Android Central App

Ah, yes. If only my next BetaMax player could have lightning receptacles.

For those thinking it looks like the current MicroUSB, click on the USB Type-C link in the article to see the difference. Wow.. I can see laptops having four or more of these easily in the future.

Just a way to make people have to buy new cables. Posted via Android Central App

Yes it has nothing to do with advancing technology at all. We should all be using bag phone still

This lol. I thought my grandma just commented on here. Posted via Android Central App

Usb3 is unstable, not interested in anything new until that's sorted I'm afraid Posted via Android Central App

Unstable? Stop using crappy controllers Posted via Android Central App

This is USB3.1 and a completely new design. They've obviously made improvements. Posted via Android Central App

SATA Express and USB3.1 , both that magical 10gb. I assume that it will use PCI bus then? How is USB getting those speeds...? Posted via Android Central App

Dang, now do I wait for phones with the plug to become available, or just choose between those phone available this fall, none of which will have this.

I doubt any phone in the next 10 months will see this tech Posted via Android Central App

No more trying to put the cable in upside down or figure out which side is wider especially in low light!

100 watts? Seriously? Are all the junky Chinese sourced cables that flood the market going to be able to handle 20 amps? -Suntan

It's definitely a step forward. USB connectors are of pretty poor quality (Besides the standard A plug, which is pretty robust, but still lacks a lock). Despite that... I never have a problem to get the plug in the slot the first time... I just remember which way I have to put it in.

I'm not a fan of apple but I wish other device makers will do what they have to do to get the lighting connector! Posted via Android Central App

Unfortunately, we'll never see this on phones until the EU changes the common EPS law that requires microUSB (even apple will have to support microUSB by 2017).

Great, just what we need. Another device with a redesigned port. As if I didn't have enough chum in my desk drawers from previous technologies that were supposed to be the bee's knees. I currently have a half a dozen USB flash drives in various sizes ranging from 512mb to 64gb. Now, USB 3 drives are becoming cheaper. Great, I wouldn't mind swapping out my 64gb USB 2 for a nice fast 3.0 drive. But now, with this tech coming down the pike, why bother? I'll just have to replace it later anyway. And geez...I just got me a nice shiny and fast computer with the 4th generation Core i7 which has 2 USB 3 ports on the front. Just in time to be obsolete. Uuuuggghhhhhh

You are right. All further development of technology should cease right now so that we can continue to use out current devices for eternity. It is such a shame that your brand new computer has completely ceased in functioning just because it has been announced that something better (and backwards compatible) will be out in a year or so.

you missed the point and I was going to leave a nice long post explaining it, but you're not worth it. LOL.

It will probably be at least 3-4 years before you start seeing this in any device.

Good news, have found the connector for the S5 simply annoying, esp in the dark combined with the flap. Probably still another 15-18 months away from seeing any phones featuring this. The best thing about USB is that the cables are relatively cheap, so you'll only need new spare cables instead of having to buy new chargers like we had to in years gone by

When will iPhones get this....(rhetorical question) Bahahahaha. Never is the answer. That is why they are iCrap!
Android Central Newsletter
Get the best of Android Central in in your inbox, every day!
Thank you for signing up to Android Central. You will receive a verification email shortly.
There was a problem. Please refresh the page and try again.