Update brings Google Wallet to Sprint's Nexus S 4G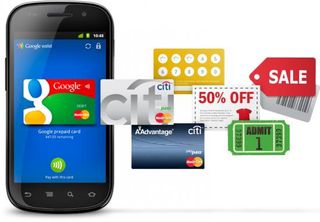 Google Wallet has finally arrived on Sprint's Nexus S 4G in the form of an OTA update rolling out now. Samsung says that software version GWK74, which contains some security fixes along with Wallet, is pushing to users sporting the latest software build (GRJ90). If you're a few updates behind, you'll have to try to pull this one manually, as you probaby won't receive a notification. Sit tight if you're not seeing it yet, and sing out below when it hits.
Google's also putting its best foot forward on this limited launch. Check out the video after the break.
Source: Samsung; Google
Android Central Newsletter
Get instant access to breaking news, the hottest reviews, great deals and helpful tips
The question is: Does this kill USB tethering?....

Why would this kill USB tethering when the other update that killed wireless tethering didn't? I doubt it will as you don't have to pay extra for USB tethering on any Sprint phone but you DO for wireless tethering, that's the reason they blocked it.

that is true but last time they posted about this update they stated it kills usb tethering. :(

And how long until the normal Nexus S gets it?

What if you don't want it? Just don't upgrade. Just root it. Then you can get it anyway.

Google sure knows how to alienate their faithful customers. Putting corporate interests first(ie. Sprint working out a "deal") and releasing on the 4g version only for now. Hey Google, remember the other 90% of your Nexus S user-base? Yeah, hey that's us, the T-Mobile and AT&T guys. Forget about that NFC you promised us? Figures....

When you factor in the international Samsung Galaxy phones with NFC, the number is about 99.5% that don't use Sprint.

It's not Google alienating their customers. The other carriers are investing in Isis, a Google Wallet competitor. Sprint is the only one that's working WITH Google, not AGAINST them: http://www.bloomberg.com/news/2011-08-29/at-t-verizon-t-mobile-sets-100-... Sounds to me like the other carriers don't want Google to control yet another future $-making market.

And since Google controls all of the software on their phones, how does that factor into changes they make in Android? What you said is an even worse scenario, where carriers now control what goes into the AOSP tree.

And even worse yet, TMO, AT&T and VZW (who own Isis) will have access to the data from Isis. Here's a quote from NFC Rumors.com
In shutting out competitors Isis is creating a monopoly for the trusted service management and provisioning of services in the United States. Sprint still have some of the market, but Isis has more. Isis is touting that it will give consumers more choice and yet at the same time reducing choice by keeping competitors out. Link to the story
http://www.nfcrumors.com/09-22-2011/americas-isis-crisis-in-nfc-mobile-p...

well they are releasing a new form factor of mobile payments why not launch it small first before setting it loose on the world with access to your bank or credit card then to have a crippling bug that clears out your account just saying

ha better yet how many people buy the nexus s and do not root it and rom it?

Can someone post the .apk for manual update?

it is a .zip file Android does not update via .apk

Where is the love for the faithful early adopters? Why would Google release anything to either version of the Nexus S without releasing it for the other. Whether its a "deal" or not, the original Nexus S is all Google: they don't have to wait for anyone or anything to send out an update for it, that's why I bought it, and I reckon that's why a lot of people buy Nexus phones.

yep I agree that's why I got a nexus and to the people that stumbled onto the nexus they would probably have no idea that Google wallet is even coming

It doesn't look that good for ISIS. Every business I have seen with NFC terminals are Paypass terminals near me. NYC area.

Isis won't even launch until next year and has huge money behind it

This is an exciting time in the world of mobile payments. All eyes will be at Google now. Being one of the more high-profile solutions out there, Google Wallet will set the bar in NFC payments.

Woo Hoo... I just got 2.3.7 with Google Wallet & Shopper.. it is so easy to install.. here the link. http://forum.xda-developers.com/showthread.php?p=17703169#post17703169 enjoy....

Thanks alot!!! Didn't break root either!

Just installed the official update!!! I'm gonna spend that $10 so damn quickly!!!

It's Saturday. Still no Google Wallet Lovin' for me. :( Not tech-savvy enough to do a manual install, so I'll wait (semi-) patiently for Google to get their act in gear.

My girlfriend got the update this weekend, check out the video we made of our first attempt http://www.youtube.com/watch?v=9r8yme4oHq8 here is another video of us thanking google for the $10 gift card they give you to test out the app http://www.youtube.com/watch?v=EJr6xZS1aRI&feature=related

this is true i have that update and now when i try to hook up my nexus to my computer nothing happens usb wont show on phone this sucks and i dont want to use the "cloud" very slow and time consuming
Android Central Newsletter
Get instant access to breaking news, the hottest reviews, great deals and helpful tips
Thank you for signing up to Android Central. You will receive a verification email shortly.
There was a problem. Please refresh the page and try again.