An ultrawide monitor made me fitter, happier, and more productive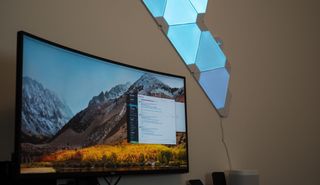 Fitter, happier
More productive
Comfortable
Not drinking too much
Regular exercise at the gym, three days a week
- Radiohead
A few months ago, I decided to augment my home office setup with two dedicated monitors that would attach to whatever computer I was using at the time, be it my mainline MacBook Pro, my Pixelbook, or, increasingly, my beloved Lenovo Thinkpad X1 Carbon. Given the expanding breadth of my job responsibilities, I needed more physical screen real estate, and two widescreen monitors — a couple of 24-inch Dell UltraSharps — would do the trick.
But then I happened upon what I still consider to be one of the most beautiful pieces of technology I've ever seen. I walked into a friend's office and saw his Dell UltraSharp 38 curved monitor and knew I had to have it. With a 21:9 aspect ratio, the monitor looks comically misshapen when you take it out of the box, but when you're sitting in front of it, the subtle bend envelops you, wrapping you in its near-4K resolution. And it completely changed the way I work.
See, a monitor this size allows you to divide your workspace into distinct quadrants without having to maneuver between two physical spaces. It's a subtle distinction, but when placing two windows side by side, it has a notable effect on my ability to parse what's on the screen. (It doesn't hurt that the IPS panel, which supports a 99% sRGB color gamut, is stunning, and has 5ms latency.) That's sitting right in front of it.
But given its massive size, the monitor also serves double duty as a television, which I use to full effect while sitting on the exercise bike at the other end of my office. With DisplayPort, USB-C, HDMI, and multiple USB 3.0 ports, the UltraSharp 38 charges my computers when connected, and it even provides decent sound from its stereo speakers. It's quite literally the perfect monitor. (I guess the bezels could be slightly thinner, but they're barely noticeable given the amount of screen you get).
I don't think I can ever go back to a regular widescreen monitor setup. The UltraWide 38 is expensive, at around $1100, but it's an investment that should last a long, long time. And if you don't need the absurd amount of space, Dell sells a 34-inch version for a more reasonable $800. You can also find smaller, cheaper ultrawides from companies like LG, Samsung, and Acer.
The main draw of such a monitor is the ability to luxuriate in its space. You can simply do so much in the space you have, and even though the UltraSharp 38 isn't technically a 4K monitor, every film I've watched on it looks so good, I don't care. More importantly, I feel like this is the right form factor for my environment, and lets me do more within my . For someone who spends most of his life in front of a monitor, that's exactly what I need.
A few other things to note this week.
We're about a month away from Google I/O, and it looks increasingly like we'll be overlapping with a few big-time phone launches, including the OnePlus 6 and LG G7 ThinQ.
I'm intrigued by what I've seen from OnePlus this time around — there seems to be a concerted effort to justify what appears to be a looming price increase from the series, and I just hope that the camera quality matches the other upgrades.
Speaking of camera quality, I am ridiculously excited to get my Huawei P20 Pro review device this week. Expect so many photos!
I'm holding out hope that LG doesn't end up adding the ThinQ branding to all of its phones this year, but it's looking increasingly like that will be the case. LG has no problem shooting itself in the foot and limping away relatively unscathed, though.
This... does not surprise me.
Be an expert in 5 minutes
Get the latest news from Android Central, your trusted companion in the world of Android
Daniel Bader was a former Android Central Editor-in-Chief and Executive Editor for iMore and Windows Central.