An ultrawide monitor made me fitter, happier, and more productive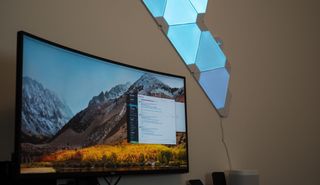 Fitter, happier
More productive
Comfortable
Not drinking too much
Regular exercise at the gym, three days a week
- Radiohead
A few months ago, I decided to augment my home office setup with two dedicated monitors that would attach to whatever computer I was using at the time, be it my mainline MacBook Pro, my Pixelbook, or, increasingly, my beloved Lenovo Thinkpad X1 Carbon (opens in new tab). Given the expanding breadth of my job responsibilities, I needed more physical screen real estate, and two widescreen monitors — a couple of 24-inch Dell UltraSharps (opens in new tab) — would do the trick.
But then I happened upon what I still consider to be one of the most beautiful pieces of technology I've ever seen. I walked into a friend's office and saw his Dell UltraSharp 38 curved monitor (opens in new tab) and knew I had to have it. With a 21:9 aspect ratio, the monitor looks comically misshapen when you take it out of the box, but when you're sitting in front of it, the subtle bend envelops you, wrapping you in its near-4K resolution. And it completely changed the way I work.
See, a monitor this size allows you to divide your workspace into distinct quadrants without having to maneuver between two physical spaces. It's a subtle distinction, but when placing two windows side by side, it has a notable effect on my ability to parse what's on the screen. (It doesn't hurt that the IPS panel, which supports a 99% sRGB color gamut, is stunning, and has 5ms latency.) That's sitting right in front of it.
But given its massive size, the monitor also serves double duty as a television, which I use to full effect while sitting on the exercise bike at the other end of my office. With DisplayPort, USB-C, HDMI, and multiple USB 3.0 ports, the UltraSharp 38 charges my computers when connected, and it even provides decent sound from its stereo speakers. It's quite literally the perfect monitor. (I guess the bezels could be slightly thinner, but they're barely noticeable given the amount of screen you get).
I don't think I can ever go back to a regular widescreen monitor setup. The UltraWide 38 is expensive, at around $1100, but it's an investment that should last a long, long time. And if you don't need the absurd amount of space, Dell sells a 34-inch version for a more reasonable $800. You can also find smaller, cheaper ultrawides from companies like LG, Samsung, and Acer.
The main draw of such a monitor is the ability to luxuriate in its space. You can simply do so much in the space you have, and even though the UltraSharp 38 isn't technically a 4K monitor, every film I've watched on it looks so good, I don't care. More importantly, I feel like this is the right form factor for my environment, and lets me do more within my . For someone who spends most of his life in front of a monitor, that's exactly what I need.
See at Dell (opens in new tab)
A few other things to note this week.
We're about a month away from Google I/O, and it looks increasingly like we'll be overlapping with a few big-time phone launches, including the OnePlus 6 and LG G7 ThinQ.
I'm intrigued by what I've seen from OnePlus this time around — there seems to be a concerted effort to justify what appears to be a looming price increase from the series, and I just hope that the camera quality matches the other upgrades.
Speaking of camera quality, I am ridiculously excited to get my Huawei P20 Pro review device this week. Expect so many photos!
I'm holding out hope that LG doesn't end up adding the ThinQ branding to all of its phones this year, but it's looking increasingly like that will be the case. LG has no problem shooting itself in the foot and limping away relatively unscathed, though.
This... does not surprise me.
Daniel Bader was a former Android Central Editor-in-Chief and Executive Editor for iMore and Windows Central.
I have the Dell 34" curved ultra wide. It's hands down the best monitor I have ever owned. The only 2 things I wished it did have is a higher refresh rate and G-sync.

I second your 2 comments, for the 38" which is what I have, but I ended up getting over those "omissions" since I use docks to hook up Surface and HP laptop to these, and the docks cap out at 60 Hz and don't support GSync either (not that either my computers have it, but thinking of the future). The only thing I did see is that GSync adds a significant cost.

My issue with these monitors is that there is zero reason for it to be curved whatsoever. None. Just make them flat. Name one thing that being curved provides to the overall experience?

It does seem to me like curved monitors are more immersive with certain types of games(racing, fps, etc.), but to each their own. There are flat panels available I'm sure.

At the average viewing distance of 2-3 feet, with monitors this large the viewing angle to the edges of the screen can be extreme enough for color perception to be affected, even on IPS screens like these, and that matters for some professions such as graphic designers. A curved screen solves this issue. Now, if you were talking about curved big-screen TVs, I'd agree with you, since the average viewing distance for those is much greater.

Yes, you summarized it perfectly.

THIS. Once you have a monitor that size, you're sitting that close, it's much better when it's curved.

The curve reduces reflections that a flat that size would have as well.

Interesting fact. I don't use ultra wide monitors and never thought about that being an issue

That's completely wrong. I have a29" ultra wide and I'm constantly adjusting it because of viewing angle. A curved monitor would have fixed that

Nope. I have dual 27" monitors and even though they are arranged in a slight V configuration, I still find myself moving side to side at my desk so I'm looking straight at the thing I'm working on at that moment, even on a single monitor. Having a built in curve would definitely help that problem. BTW, dual 27's have a diagonal measurement of 47 inches. Pretty nuts.

I have this monitor myself and I LOVE it. The curve is necessary since you are so close. It keeps everything in focus. The size is perfect and I really appreciate the extra vertical resolution that 1600 provides over the 1440 standard. In addition, the built in KVM is an awesome addition to make this monitor a home office powerhouse. I have my Surface Pro hooked up (via Surface Dock) on one input and my HP work laptop (again via a dock) hooked up through another. There is a hot key to switch in between. Especially for the price, $999 at Costco, it can't be beat.

My monitors are not that big, but it sure beats using the dell laptop screen! That last concealed point you made is sure to get some PH-1 users riled up, but it's tough to be defensive when the company itself admits it.

The camera was never that big a deal for me. The phone is nearly perfect otherwise, looking forward to the next version. If they can learn from the PH-1 and make an even better device, I would not hesitate to get it.

For sure, such screen give lots of good points but the biggest problem is the price... Not everybody can put 800€ for a screen, it's like asking to put the equivalent of the smallest Surface Pro model for only a screen. Anyway, what's the triangles next to the Ultrawide and curved screen ? I love it !

Nanoleaf lights. Really fun and totally programmable.
https://nanoleaf.me/en/

An electronic device that makes me fitter and happier?
I'm sold.
Now I expect to be both fit and happy after this purchase.

:) as a guy who came to android central from windows central after finally moving on from my W10M phone to a Pixel 2, I think this would be a great cross post over there. Windows Central still has a large and lively PC community for discussions of topics just like this one.

This would go well over there

Curved and flexible LCD panels are definitely fascinating works of engineering. While the size and curve is nice, it seems like it needs a bit different application when placed on a square desk in a square room. For example it might be useful in a vehicle with a curved cockpit or a room with curved wall and desk. Although creating a semi-circle of these would be interesting as well and possibly dizzying.... Also when can these be flexible so we can adjust the curve radius, etc... I think a 40in x 40in monitor concave monitor like an iMax screen would be more useful for me.

I joined the ultrawide club back in 2015, I got the Samsung 34 inch and loved it. I ended up going to a different monitor with faster refresh rate for gaming and it's hard to use a 16:9 display now. I feel like I'm missing out.

Man, I wish a could justify the cost, but when two regular monitors are do much cheaper, with the same real estate between the two, I can't see it. Plus, I actually like the physical barriers between monitors to give me a defined border around each application.

What's that cool light on your wall? I like it and was wondering where I could get one. Oh yeah that screen is awesome too.

Hey I was wondering this myself! I was scrolling through to see if someone had asked! Anyways I did a little Google searching and found out it's called a nanoleaf light. You can read about them here: https://nanoleaf.me/en/, also it looks like they're available on Amazon.

A year and a half ago, a friend showed me his 4K monitor which he uses to design microchips. I plugged in my (low-powered) 12" MacBook and it worked straight out of the box - the same day I headed for a BestBuy and picked up an Philips 55" 4K monitor. Absolutely amazing to work with, especially spreadsheets and intensive work that requires many simultaneous programs. It is the equivalent of 13 Word pages at 100% (3,840x2160, i.e. even 35% more screen real estate than the 38" wide screen) and is wonderful to work with. I rarely use my laptop screen when working with the 4K display, as I just don't need it. A curved display would be even better, but I couldn't justify the extra expense, and the straight display works fine. Recently, we picked up another 4K display, this one a 50" 4K Toshiba, it is ok, but not as good as the Philips.

The main reason I can't do ultrawide is I like to maximize my windows. Doing so with an ultrawide monitor mostly wastes space. Also, it's difficult to have windows centered properly at app launch.

I have no doubt this would have no effect on my fitness, productivity, comfort or drinking.
Here's to being happy.

Sorry for the slightly off-topic comment, but what is that light on the wall? It looks great 😯
Android Central Newsletter
Thank you for signing up to Android Central. You will receive a verification email shortly.
There was a problem. Please refresh the page and try again.