Uber offering $20 fare discount for using Google Wallet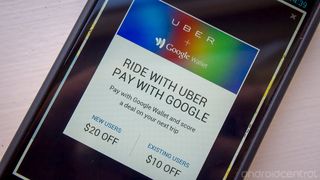 A seamless payment system joins the simple car service with a new discount
Black car and taxi service Uber is rolling out a new offer today encouraging users to link up their Google accounts and pay for their car fare with Google Wallet. Following an update in late June that introduced the ability to sign-in simply with Google Wallet to the service, new users of Uber can now get a $20 discount on their fare for paying with Google Wallet. Existing users aren't left in the cold either, and are offered a $10 discount for using Wallet.
Uber has attempted from the start to make the process of calling a car and paying for the ride as seamless as possible, letting everything be managed by a smart phone app. This is one more step in that direction, as Google Wallet makes it easy to switch between different cards tied to a single account, and keep your payments all in one location.
You can grab a download of the Uber app from the Play Store link above, and link up your Google Wallet account in just a few taps from the settings.
Andrew was an Executive Editor, U.S. at Android Central between 2012 and 2020.
Sorry but you'll have too wait until I get a Nexus.Tmo was kind enough to block GW.Thxz Tmo Sent from my HTC One rockin Jelly Bean 4.2.1

You don't have to have the Google Wallet app installed, you just need to have a GW account.

Thanks for the heads up Sent from my HTC One rockin Jelly Bean 4.2.1

You don't tap a terminal or use NFC or even need the Google Wallet app. Uber handles everything in its own app and you can pay by just linking your Google Wallet account to it.

I compared some Towncar services in Seattle. For a typical trip (Downtown to SeaTac Airport) you can get it for 10 dollars less than Uber by using a reservation service, 20 hours in advance. But other than that the Uber prices ($55) were just about the same as the the big name companies, and the convenience of doing it all on the phone and never having to handle money or credit cards is sweet. Of course, if you are a townie and know your way around, you can hop the Lite Rail and make the trip for $2.75 instead of $55, but that's not door to door.

I'm gonna call you if I'm ever in Seattle Sent from my HTC One rockin Jelly Bean 4.2.1

The Link Light Rail is the best thing EVER for getting to the airport. If you don't mind the 30-40min ride on the rail, I recommend that everyone in the city just take a cab to the train station and take it to the airport, saving the $45 cab ride. Not to mention that it runs every ~10min starting at like 4:30am all the way to ~1:00am. And if you're in quick walking distance to a station (like me) it's a 100% no-brainer. But you're right, Uber is going to be pretty comparable if not slightly more expensive, but if you do take a car service its so much more convenient that you're willing to pay.

I wish I could use Wallet, but wonderful AT&T blocks it.....

Get an extra $10 your first uber ride with this promo code: ubernew10off
Android Central Newsletter
Get the best of Android Central in in your inbox, every day!
Thank you for signing up to Android Central. You will receive a verification email shortly.
There was a problem. Please refresh the page and try again.