Twitter's new look includes a redesign for its Android app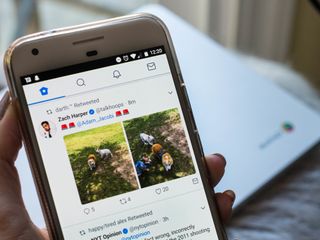 After a vigorous beta testing phase and numerous feedback from fervent tweeters, Twitter has finally rolled out a new look and a bevy of new features. If you're on the social network, you'll see these changes reflected in Twitter for Android, TweetDeck, Twitter Lite, and on twitter.com.
The full rundown of features has been elaborated on in an official blog post. The new additions are as follows:
Profile, additional accounts, settings, and privacy – all in one place! A new side navigation menu and fewer tabs at the bottom of our app = less clutter and easier browsing. You told us you loved this change on Android last year and we're excited to now bring it to iOS.
Links to articles and websites now open in Safari's viewer in the Twitter app so you can easily access accounts on websites you're already signed into. [iOS only]
We've refined our typography to make it more consistent, and added bolder headlines to make it easier to focus on what's happening. Also, rounded profile photos make it clearer to see what's being said and who's saying it.
More intuitive icons make it easier to engage with Tweets – especially if you're coming to Twitter for the first time. For example, people thought the reply icon, an arrow, meant delete or go back to a previous page. We switched to a speech bubble, a symbol most know and love. We also made the icons lighter for more seamless interaction.
Tweets now update instantly with reply, Retweet, and like counts so you can see conversations as they're happening – live.
If you've logged in to Twitter today through the web, you've likely already seen these changes. The icons are lighter, rounder, and decidedly more millennial-esque in their aesthetic. What's particularly interesting to note is that the icons were remade to be "more intuitive" due to the fact that "people thought the reply icon, an arrow, meant delete or go back to a previous page." You'll see a speech bubble where the arrows were instead.
The new layout isn't out on Android yet, though beta users have already had some time with it. There's no mention of an update in the Google Play Store either, but Twitter has noted that it's in the process of rolling out.
So, how do people feel about the new Twitter changes? Naturally, they took to Twitter:
How are you feeling about the Twitter changes? Do you think they were really necessary considering Twitter's host of other problems? And do you think the redesign makes the Android app look like more like iOS?
Get the Android Central Newsletter
Instant access to breaking news, the hottest reviews, great deals and helpful tips.
Florence Ion was formerly an editor and columnist at Android Central. She writes about Android-powered devices of all types and explores their usefulness in her everyday life. You can follow her on Twitter or watch her Tuesday nights on All About Android.
I'm a beta tester and I have to say I've enjoyed using it. The only time it was bad was when I was bold enough to try the alpha which was cooking the battery like a mofo. App seems quicker now and that's coming from a guy still using a Nexus 6.

Font size cannot be changed anymore? :(

I'm sad about that. 16pt is too big.

That's the first thing I noticed was the huge font in the Android app. Luckily with root and xposed I was able to dial it down again. Otherwise have not noticed much else different.

Yeah, even on iOS it gives users 4 size options.

They took the option away before. Hopefully they bring it back.

Ah I see. I admit I haven't used my 6P as a daily device in quite some time and the default font size has always been fine to me so I've not looked to try changing it. First and only setting I ever change is flipping on dark mode.

Dark mode is a must on most apps I use. I wish Facebook would get its act together. I turn that on and notifications get turned off immediately.

Oh God yes to a Facebook dark mode.

Well when you get older and your eyesight starts to fail. You will want it larger. That's why it needs to be adjustable.

I definitely agree that it needs to be adjustable. Right now 16pt is too large. Later it will probably be too small.

That was the first thing I noticed. That my font size had shrunk. I looked for the setting to make it bigger but could not find it. This is what pisses me off about this update system with apps. Once upon a time you bought software and you knew what you had. You bought a newer version and if you didn't like it you simply reinstalled your older program. Now with updates every couple of weeks. You've got to use the features they give you and sometimes if you don't update the app won't work at all. Like Facebook.

Too much white.. Not enough dark mode.. I'm sticking with Flamingo..

Why not just turn on dark mode? Been there for quite some time.

Yup, dark mode still there. Leave it on all the time. I think twitter is one of the few apps where dark mode is usable.

That's not dark mode. It's blue-mode. Dark Mode uses black.

If they'd add a widget like Uber Social I'd go back to this app

They should move the home feed buttons to the bottom so easier to reach

But then Android users might complain it is too much like the iOS app.

People still use Twitter..?

How else are we going to get our daily dose of Covfefe?

People still work? That's a violation of the universe

One difference I see from version I have on my 6P, which is 7.1.0-beta.619, is that you can at least swipe left to access Search, Notifications and DMs. Today's iOS update only lets you swipe right to access profile and other settings.

I still prefer Twittnuker.
This design brings it closer to the design which was already available in the Windows 10 app... Unfortunately it keeps that horrible dark blue mode instead of Also bringing the true black UI.

Just got the UI update a few hours ago, and I'm not a beta tester. I must say I like the all new interface. Interesting.