Twitter hopes to replace usernames and passwords with Digits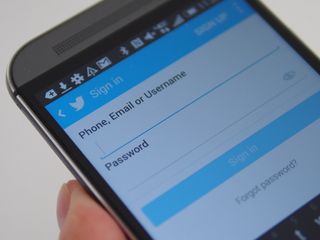 Twitter has just rolled out a new service for developers to integrate into their apps called Digits, which should make it more secure for consumers to sign into apps and services. Rather than complex usernames and passwords, Digits hopes to simplify the sign in process by using your phone number and an SMS verification to allow you to log in.
Announced at Twitter's Flight developer conference, Digits could be a good tool in the developing market where many don't possess a computer nor have an email address for a username to log in to services and apps. These people do have a mobile phone and a phone number, and Digits will tap that to make logins more secure. In a way, it's similar to two-step authentication.
TechCrunch says of the service:
Three apps are listed as supporting Digits at launch: Fitstar, Resy, and OneFootball.
Source: Digits, Twitter
Give a company that makes money with ads your phone number? No way... (Wait, google...ads...oh well)

Spoilers: twitter already has it

My phone line is under my legal name and my Twitter account is under my online name. They might have my phone number but they don't have my contact information. Anyway, this is point blank foolish. It's a open invitation for online trolls to start calling people they don't agree with. Posted via Android Central App

I use my free Google Voice number for everyone except my family and friends. Any businesses sweepstakes, any orders for products. I don't seem to be targeted in anyway by more ads. Where would I see them? I get a call a month for a security system automatically caller, but don't think that is related?

Noooooooooooooooooope. Eff you, Twitter, you're not getting my phone number, especially if it's going to be an identifier to other users.

I must've missed the part that wasn't in the article where it was said your phone number was used for anything other than logging in.

Waze does something similar already. Not necessarily for authentication exactly, but it does verify the phone by sending an SMS and automatically reading the code in it.

Lol now they are coming with something new Posted via the Android Central App

I don't think a lot of you understand that just because it says its replacing user names doesn't mean your username changes to your phone number....the phone number is JUST to send you a text with a code to log in THAT'S IT...its not going to give your phone number to everyone who views your profile....unless you want it to

Shhhh...Watching all the techno-panic is fun.

Great idea! So now, if someone were to obtain my phone, they wouldn't even have to know my password to access my account! Huzzah! Hopefully everybody goes to this, that way ne'er-do-wells will only have to figure out your phone unlock code and then can gain access to your everything! At least this way, I guess, if someone gains access to your account, then you'll know it wasn't someone across the ocean. Also, your phone's been stolen.

If they have physical access to your phone, you're screwed anyway.

You're right! Might as well set tasker up to automatically empty all of my bank accounts into the thief's account. No point in making it difficult.

with my phone number? ahhh no,.... Not happening.
Android Central Newsletter
Thank you for signing up to Android Central. You will receive a verification email shortly.
There was a problem. Please refresh the page and try again.