Twitter could soon stop counting links and photos against your character limit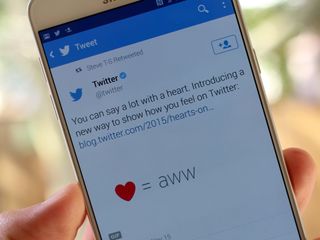 Twitter will reportedly stop counting links and photos as part of the 140-character limit for tweets, giving people a little more room to express themselves. Both links and photos currently take up a significant number of characters per post.
According to Bloomberg, this change could come soon:
Twitter has been experimenting with different methods for increasing the flexibility of the service. After increasing the character limit in direct messages to 10,000, it was reported that it would do the same to standard tweets. CEO Jack Dorsey later denied the move, calling the 140-character limit a "good constraint."
This would be simple and really impact. They would already shorten links, so this just seems like a good evolution.

Freaking finally! Posted via the Android Central App

Iwonder\ifitwillbe\smartenough\tostoptweets\likethis.jpg

Just increase the normal tweet size to 500 characters and stop bickering about who killed who... Also, open the twitter API to third party developers and stop being so stingy and selfish with the service.

Nah, this is a good compromise. The beauty of Twitter is get straight to the point. I do not need to read someones life story. That's Facebook. Posted from Nexus 6 running Android N

Agreed. This is a worthwhile change, while leaving the fundamental point of twitter in tact. Good decision if true... finally!! Posted via the Android Central App

Agreed Posted via the Android Central App

Agreed. I don't want more characters, but this is a good move to make it a little more forgiving. -- LG Access LTE

I agree. Posted via my really need to be changed Nexus 5

Any more characters will cheapen it & make it just another facebook. They don't need to open their API, it's their service & their property.

See.... 140 characters is all I needed :)

About time. :) Posted via the Android Central App

Well I do like 160 characters like a text but getting rid of the URL limit is great. Posted via the Android Central App

They are really having a hard time accepting that they were wrong, and the rest of the world was right - in that the character limit should be higher than 140. They might aswell be owned by nintendo.

The limit wasn't too be unique. Twitter started as a txt service. 140 characters was the original limit to txt messages. Now even txt apps can auto stitch multiple SMS messages to break that limit. Posted via the Android Central App

Why limit characters anymore. That's just residual from when it was a txt service. Posted via the Android Central App
Android Central Newsletter
Get the best of Android Central in in your inbox, every day!
Thank you for signing up to Android Central. You will receive a verification email shortly.
There was a problem. Please refresh the page and try again.