Tweetings for Twitter on Android Wear makes staying up to date much easier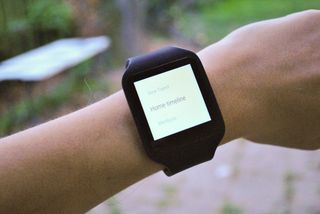 More than many other social networks, or apps out there today, Twitter is all about the moment. The funny joke, shocking headline, and liveblog of The Walking Dead all show up right next to each other. Sometimes you come up with something brilliant, but you lose it before you can tweet because your phone isn't quite within your grasp. Tweetings for Twitter has you covered, especially with Android Wear support.
At first glance Tweetings for Twitter is a bare sort of app. Just black text on a white background, without any bells or whistles to light it up. There are no customization settings, or setting specific to Android Wear devices. There are actually only 3 features in this app, and that's because they do just about everything you might need.
You can post a new tweet, look at your current Twitter timeline, or check out recent mentions, all from your smartwatch. Swiping up, or down will let you navigate between these three options. Tapping on them will open that feature.
Composing a new tweet is all done by voice, which is probably better than trying to navigate a tiny keyboard when you're live blogging the new Walking Dead episode. You have the option to cancel if Google didn't hear you right, and once the tweet uploads you'll get a message to let you know.
Home Timeline is your up to date Twitter feed. Each tweet will take up your whole smartwatch screen. You'll get the user's display name, username, and tweet in a white box imposed over their profile picture. If you swipe to the left, you'll get three more options. You can reply, favorite, or retweet anything you come across in your feed.
Your third and final option is labeled Mentions. Here you can check out any recent mentions. This is formatted just like your Home Timeline. Most recent mentions are at the top, and by swiping up you can take a look at older one. Swiping left will once again let you reply, favorite, or retweet posts.
Tweetings for Twitter does have a few flaws. For the time being there is no search function, which would basically allow this to be your stand alone Twitter app on Android Wear. Loading up your timeline can also take a minute or two at times, which can be frustrating when you're in a hurry.
When it comes to using Twitter, especially for spur of the moment posts, it doesn't get much easier than using your smartwatch to get the job done with Tweetings for Twitter. This app gets the job done, though for $2.99 you'd need to be a huge fan of Twitter to justify its existence on your wrist.
Get the Android Central Newsletter
Instant access to breaking news, the hottest reviews, great deals and helpful tips.
Jen is a staff writer who spends her time researching the products you didn't know you needed. She's also a fantasy novelist and has a serious Civ VI addiction. You can follow her on Twitter.