Transmission is the perfect puzzle game for relaxation [Android Game of the Week]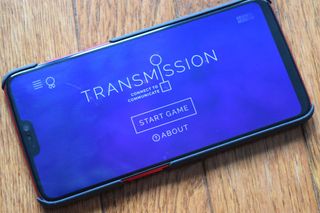 (Image credit: Android Central/Jordan Palmer)
I won't sit here and complain about my problems. You have your own things to deal with too (don't we all?). What's important, however, is giving yourself a break, even for just a few minutes, so that you can head back into the fray a little bit more refreshed than you otherwise would be. A good game can help you with that.
I stressed about picking a good game for you guys this week, mostly because my free time has been dedicated to Elite: Dangerous and Call of Duty: Mobile. While the latter would work for a Game of the Week, I don't want to disappoint you all. Indeed, I think it's best if I try my best to shine a light on lesser-known or older games with this series. But a good pick eluded me all weekend until I scrolled to the bottom of my app drawer and found Transmission.
Transmission has been around for a few years now, but it's almost always installed on my phone, even if I just gloss over it when I'm going through my app drawer. It's beautiful in its simplicity, both in its art style and its overall premise. Being a puzzle game, you have to actually think with this one.
Each puzzle is a visual representation of a network. You start with a basic one, and your goal is to make connections. The different puzzles will challenge you to make these connections in different ways and configurations, including avoiding obstacles. But if you get stuck and just can't figure out how to progress, you can skip that puzzle and come back to it.
You'll find that Transmission is calming and relaxing, even if you're having trouble solving the puzzle you're on. These are logic puzzles, after all, so you have an opportunity to engage your brain in ways you probably don't do too often throughout the day. Don't get me wrong; there are some seriously challenging networks to connect here, and not everyone will finish all that this game has to offer.
However, I can remember being stuck on a level for days and taking a step back, pondering the puzzle before me even when I wasn't playing the game. Then, when I was at work, class, or home doing homework, the solution would come to me. Or, at least, a possible solution would appear, something I hadn't tried yet.
This is why I love Transmission and heartily recommend it to anyone who needs some intense logic puzzles. The game does a great job ramping up its difficulty, teaching you the basics and then slowly throwing you to the wolves.
Rare is the free game on the Play Store that doesn't at least contain ads, if not outright predatory monetization tactics, but Transmission is among the few that don't. This is a totally free-to-play game without ads, in-app purchases, or anything else we'd call freemium. I commend the developers for giving us a wholesome puzzle experience without any gotchas attached.
So if you need a break from life, or just whatever task has you feeling overwhelmed right now, then be sure to check out Transmission.
Game of the Week

Simultaneously relaxing and exceptionally challenging, Transmission is a puzzle game about connecting networks. You'll have to solve different network puzzles, and they get pretty difficult. Still, this is one of my favorite games to play if I need a break to relax.
Sign up for Black Friday email alerts!
Get the hottest deals available in your inbox plus news, reviews, opinion, analysis and more from the Android Central team.