New Touch to Search feature appears to be rolling out in Chrome for Android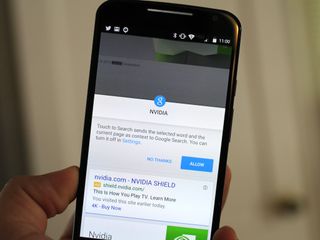 Some users are noticing the ability to highlight text in Chrome on their Android devices and get access to other search results without leaving the page they are on. The new feature, Touch to Search, appears to be hitting devices thanks to a server-side update from Google, but it isn't appearing on all devices just yet. Touch to Search allows users to highlight text and be shown additional search results from Google, just as you would if you had searched the term from Google Search.
This feature is similar in nature to Google's upcoming Now on Tap functionality, but this functionality only works within Chrome, while Now on Tap will work system wide. Google is a bit vague when describing the new functionality to users, with an on screen prompt reading:
Right now we are noticing the new feature on the Moto X (2014), but several other devices that we have are not showing the new feature. To check and see if you have it, highlight some text on a website in Chrome and see if the new interface shows up. Users will have to opt-in to the new feature, and permission can be revoked at any time as well.
Are you noticing the new Touch to Search feature on your phone? If so, be sure to let us know which device in the comments below.
Source: +Blake Bryant
Jared started off writing about mobile phones back when BlackBerry ruled the market, and Windows Mobile was kinda cool. Now, with a family, mortgage and other responsibilities he has no choice but to look for the best deals, and he's here to share them with you.
Noticed this last night on my Nexus 6. I wasn't sure what the hell it was doing at first

That just on lollipop? Posted via the Android Central App

Nope. Got it on Kitkat too.

You've been able to enable this yourself in chrome://flags for ages. Used it for a while, decided it was annoying and turned it off. Hopefully this has improved since then, or they'll still let me turn it off.

What did u turn on to enable this feature Posted via the Android Central App

The flag is "enable contextual search"

Don't think too many folks bother with flags. I'm going with marshmallow via AC app.

I seem to remember this a while back too, but wasn't it where you would just tap on a word and it would look it up? I found it really annoying since it would pop up accidentally. Now that fact that you have to highlight the word(s) seems a much better implementation.

Edit: also just remembered I have always used Chrome Beta. Maybe new for regular Chrome.

Alas it's still just a tap rather than a long press, so it's annoying and disabled.

Only works by holding it on my Note 2 running 4.4.2 stock + rooted. Using the update not the flag.

RustyU's right. You can enable this via chrome://flags/#contextual-search.

Just turned it on! thanks

I have had this for quite awhile now. Pretty nifty

Been out a couple weeks now on beta. I'm going with marshmallow via AC app.

Works on LG G2 running 5.0.2

I've had this format a while now and I'm not even on beta. Posted via the Android Central App

This has appeared, sporadically, for me for several months now.

I've had this for a while on a carrier branded S5 in the UK. I haven't modified any flags.

got it on my X14 Posted via AC app on my X 14

Apparently I have it, on One plus one.

On my X, I swiped away the active chrome, restarted, and there it was!

Got it on my 2014 X. Posted via the Android Central App

I have this on my Htc m8!

Works on all my device's s5, n7,n10,tab s Posted via the Android Central App

Got it on my Moto Original. Thanks folks. Way to innovate. Throwing in my lot with all things Google is one of the best computing decisions I ever made.

I've been using this on the beta for a while now Posted via Android Central App

Works on my note4 Posted via the Android Central App

It's there alright. (Note 3 on Lollipop)

Had it for months via the chrome://flags change.

From the comments looks like this was a classic server side secret gradual roll out. I love how Google just slips new possible helpful features into their code via Google Services. Posted via the Android Central App

Seeing it on my oneplus. Pretty cool

Seeing it on my Samsung alpha (KitKat)

Not seeing it on my Nexus 6 yet.

Had this today on my HTC One Max (three UK) on KitKat. Though it was a bit of on page javascript at play and kinda dismissed it, then saw this! I guess it's another way Google is trying to divert you through its services?

Working on my Galaxy S6 edge as of today. On Rogers. Posted via the Android Central App

Works on my Xperia Z3 with Lollipop

Got it on Nexus 6 AT&T. Pretty sweet. Can't wait for it to work system wide. Posted via the Android Central App

I've noticed it on my gs6 Posted via the Android Central App

I've got the new feature on my Moto X 2014

It's working on my Note 4... Pretty decent feature. Posted via the Android Central App

Working for me, nexus 5 Posted via the Android Central App

Didn't have it yesterday on my Galaxy s4 or Nexus 7, but I just noticed it this morning on my s4. Its pretty cool.

Yeah I noticed this two days ago on my Nexus 6. Such a useful feature. Can't wait for Android M and the home screen button search on any screen though. Posted via the Android Central App

Yep I was highlighting something yesterday and noticed that it had appeared at the bottom. Freaking love it Posted via the Android Central App

I love it. Just quietly appears. I love Google's innovation. I'm not usually one to Apple hate all the time but I just had this thought; if this was on safari it would be a flagship feature and it would be all over their ads. Posted via the Android Central App

Noticed this feature on my brother's asus Zenfone 2 yesterday. Posted via the Android Central App

I am very interested in trying the crime feature I read about. I really like all the interesting subjects that are available to read on this app. Lots of great info.

Hi!
Im using sony xperia c3 mobile can u tell me how to get touch to search option for my mobile. Im privacy settings it was not there
Android Central Newsletter
Get the best of Android Central in in your inbox, every day!
Thank you for signing up to Android Central. You will receive a verification email shortly.
There was a problem. Please refresh the page and try again.