The 5 worst Android phone names of the last decade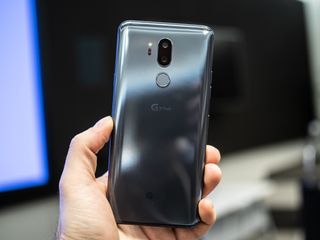 Phone manufacturers have more or less gotten the hang of naming schemes in recent years. They find a name or two that sticks, and just tack a new number onto the end with each new iteration; Galaxy S9, Pixel 2, LG V30, etc. Sometimes it doesn't even have to be sequential, like when Samsung jumped from the Galaxy Note 5 straight to the Galaxy Note 7, skipping over the Note 6.
Naming schemes weren't always this formulaic, though. Particularly in the early days of smartphones, before we had well-established series like the Galaxy S line, phone manufacturers regularly experimented with wild branding, and the results weren't always great. Here are some of the worst, most embarrassing names manufacturers have chosen for their phones over the last decade.
#1: Sprint Samsung Galaxy S II, Epic 4G Touch
It's impossible to make a list like this without including the atrocity that was the Samsung Galaxy SII, Epic 4G Touch on Sprint. In all fairness, this was a fine phone — it was one of Sprint's first 4G-capable phones, and the Galaxy S II regardless of carrier variations was shockingly thin, fast, and powerful for its time. It had a huge 4.52-inch display (at least, it seemed huge back then) and a healthy rooting community, which was about all I could've asked for.
#2: Acer Liquid Zest Plus
I'd like to shake the hand of whoever approved the name for this product. Announced just over two years ago, the Liquid Zest Plus was a $250 mid-range option that sounded more like a L'oreal shampoo than a phone. You could remove the plastic backing and replace it with a window cover, but the most notable part of the Liquid Zest Plus was its 5000mAh battery, which Acer said could last for three days at a time.
#3: LG G7 ThinQ
This is the most recent phone on the list — in fact, it isn't even available for purchase yet. But while the LG G7 is already shaping up to be a great phone, the ThinQ tag added onto the end has been wildly unpopular. It sounds ridiculous — almost as if the phone is trying to say "thank you" — and it's about to get even more ridiculous. ThingQ is actually the name of LG's AI ecosystem, and the company already has a wide range of SmartThinQ-branded home appliances. This probably won't be the last ThinQ-branded phone.
#4: HTC ChaCha
Remember the HTC ChaCha? Probably not, since it was discontinued just months after its initial release. It was also released under different names in various parts of the world — those of us in the U.S. knew it as the HTC Status, while others called it the HTC ChaChaCha, my personal favorite. In any case, this phone preceded the HTC First as a Facebook-centric phone with a physical keyboard and a dedicated Facebook button in the bottom-right corner.
#5: Casio G'zOne Commando
How do you even say this? "Jee-zone?" "Guh-zone? "Jeez-won?" It's actually the last option, tragic as that may be, but horrible naming aside, the G'zOne Commando was actually a pretty interesting phone. Built for durability first and foremost, the G'zOne was one of the first water-resistant phones, with an industrial rubberized casing and a locking battery door.
Casio didn't want you to be able to escape its inexplicable branding, adding hardware shortcuts to the phone called the G'zGear buttons, which launched outdoor tools like a compass, thermometer, or stargazer.
Honorable mentions
Though we wanted to keep the list limited to Android devices, I have to give an honorable mention to a few feature phones that always stuck with me thanks to their atrocious names.
The Samsung :), verbalized as the Smiley, was a phone I troubleshot time and time again during my tenure as a T-Mobile sales rep. While there was nothing inherently wrong with the phone (nothing really right either), calling a phone the :) was an absolute SEO nightmare — I'm thankful this is the first time I've had to write about it!
Here's one for you — Samsung also released a phone back in late 2008 called the Messager. No, that's not a typo, it was legitimately called the Messager, not the Messenger. In fact, the company thought it was such a good idea that it released another one, the Messager Touch, in the same year it put out the :). I can't make this stuff up.
Maybe I'm just being childish (I am), but I've never been able to get over the Virgin Lobster. Well, technically it's called the Virgin Mobile Lobster 700TV. Made by HTC in 2011, this candy bar phone had a bold lobster logo on its forehead and a lump to its side for a dedicated TV button. If HTC ever decides to make a second-gen model, I'll be the first in line.
What's your (least) favorite name?
If there's any phone whose name has always gotten under your skin, I'd love to hear about it. In fact, why keep it limited to just phones? Share the worst names you've ever heard for any product in the comments below — let's have some fun.
Get the Android Central Newsletter
Instant access to breaking news, the hottest reviews, great deals and helpful tips.
Hayato was a product reviewer and video editor for Android Central.