The 5 worst Android phone names of the last decade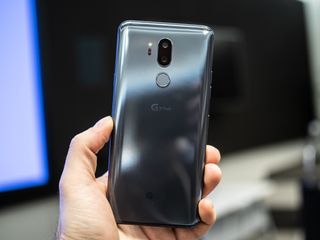 Phone manufacturers have more or less gotten the hang of naming schemes in recent years. They find a name or two that sticks, and just tack a new number onto the end with each new iteration; Galaxy S9, Pixel 2, LG V30, etc. Sometimes it doesn't even have to be sequential, like when Samsung jumped from the Galaxy Note 5 straight to the Galaxy Note 7, skipping over the Note 6.
Naming schemes weren't always this formulaic, though. Particularly in the early days of smartphones, before we had well-established series like the Galaxy S line, phone manufacturers regularly experimented with wild branding, and the results weren't always great. Here are some of the worst, most embarrassing names manufacturers have chosen for their phones over the last decade.
#1: Sprint Samsung Galaxy S II, Epic 4G Touch
It's impossible to make a list like this without including the atrocity that was the Samsung Galaxy SII, Epic 4G Touch on Sprint. In all fairness, this was a fine phone — it was one of Sprint's first 4G-capable phones, and the Galaxy S II regardless of carrier variations was shockingly thin, fast, and powerful for its time. It had a huge 4.52-inch display (at least, it seemed huge back then) and a healthy rooting community, which was about all I could've asked for.
#2: Acer Liquid Zest Plus
I'd like to shake the hand of whoever approved the name for this product. Announced just over two years ago, the Liquid Zest Plus was a $250 mid-range option that sounded more like a L'oreal shampoo than a phone. You could remove the plastic backing and replace it with a window cover, but the most notable part of the Liquid Zest Plus was its 5000mAh battery, which Acer said could last for three days at a time.
#3: LG G7 ThinQ
This is the most recent phone on the list — in fact, it isn't even available for purchase yet. But while the LG G7 is already shaping up to be a great phone, the ThinQ tag added onto the end has been wildly unpopular. It sounds ridiculous — almost as if the phone is trying to say "thank you" — and it's about to get even more ridiculous. ThingQ is actually the name of LG's AI ecosystem, and the company already has a wide range of SmartThinQ-branded home appliances. This probably won't be the last ThinQ-branded phone.
#4: HTC ChaCha
Remember the HTC ChaCha? Probably not, since it was discontinued just months after its initial release. It was also released under different names in various parts of the world — those of us in the U.S. knew it as the HTC Status, while others called it the HTC ChaChaCha, my personal favorite. In any case, this phone preceded the HTC First as a Facebook-centric phone with a physical keyboard and a dedicated Facebook button in the bottom-right corner.
#5: Casio G'zOne Commando
How do you even say this? "Jee-zone?" "Guh-zone? "Jeez-won?" It's actually the last option, tragic as that may be, but horrible naming aside, the G'zOne Commando was actually a pretty interesting phone. Built for durability first and foremost, the G'zOne was one of the first water-resistant phones, with an industrial rubberized casing and a locking battery door.
Casio didn't want you to be able to escape its inexplicable branding, adding hardware shortcuts to the phone called the G'zGear buttons, which launched outdoor tools like a compass, thermometer, or stargazer.
Honorable mentions
Though we wanted to keep the list limited to Android devices, I have to give an honorable mention to a few feature phones that always stuck with me thanks to their atrocious names.
The Samsung :), verbalized as the Smiley, was a phone I troubleshot time and time again during my tenure as a T-Mobile sales rep. While there was nothing inherently wrong with the phone (nothing really right either), calling a phone the :) was an absolute SEO nightmare — I'm thankful this is the first time I've had to write about it!
Here's one for you — Samsung also released a phone back in late 2008 called the Messager. No, that's not a typo, it was legitimately called the Messager, not the Messenger. In fact, the company thought it was such a good idea that it released another one, the Messager Touch, in the same year it put out the :). I can't make this stuff up.
Maybe I'm just being childish (I am), but I've never been able to get over the Virgin Lobster. Well, technically it's called the Virgin Mobile Lobster 700TV. Made by HTC in 2011, this candy bar phone had a bold lobster logo on its forehead and a lump to its side for a dedicated TV button. If HTC ever decides to make a second-gen model, I'll be the first in line.
What's your (least) favorite name?
If there's any phone whose name has always gotten under your skin, I'd love to hear about it. In fact, why keep it limited to just phones? Share the worst names you've ever heard for any product in the comments below — let's have some fun.
Hayato was a product reviewer and video editor for Android Central.
Blackberry PRIV Intention was good. Name was well... Toilet

Lol surprised that didn't make the list. I liked the phone, would buy another with better specs

Always thought "ThinQ" was pronounced as "Think"

Same here and that's how I would pronounce it as well.

I honestly don't care about the names manufacturers choose. It's the least important aspect of the phone.
Also, even a silly name is good. If it helps the people who like the phone itself to remember, the it achieved its goal.

I had the
Samsung galaxy s2 epic 4g touch and loved it For the thinQ you could've went with the whole thinQ lineup haha

I still think the Google Pixal name could have been better named. I always liked the name Nexus!

iPad sounds like a feminine products! 🤣

Funny you should say that. This aired years before the iPad launched... https://www.youtube.com/watch?v=lsjU0K8QPhs

Microsoft had their Compact Edition of Windows for the phone. They literally named their product WinCE or "wince". It didn't do well...

But I still think Windows Mobile 6.0 was the best mobile OS I ever used.

Windows CE is the full name but, yes WinCE doesn't help. However, that was just the base OS for Windows Mobile and not a specific phone name.

WinCE is still used in many Industry Level Devices.

Actually, WinCE did pretty well for some years as its smartphone variant, until Apple successfully changed the game.

Almost forgot, The Nextbit Robin. I think of a Robin laying eggs. Yikes!

They should all be baby blue with speckles

Well apparently the company did cause I don't think they're around anymore...

I once used to have a phone named - Samsung Galaxy Grand Quattro Duos.

Pixel is bad, Pixel 2 XL (pronounced Pixel twixel, I believe) is atrocious.

where do you people come up with this crapola? its pronounced Pixel. TWO. X-L.
twixel…. said no one ever...

Pixel is the best phone name

Five worst Apple product names in the past 3 decades....anything beginning with "i". Absolutely think it sounds ridiculous.

It doesn't help when other manufacturers call their products "i(insert item name here)" .

I always figured Apple stole the "i" thing from Issac Asimov and the 1950s scifi book "I Robot" about a robot that became self aware. Wonder if they paid Asimov for that. Guess I should google it. Edit: Nope it turns out the I Robot title came from an earlier book about a self aware robot named Robbie. Asimov stole it from him. And I'm betting good ole Apple never paid a dime for that naming convention. Imagine Apple taking something like that. Somebody should sue for billions.

I think the Samsung colon-close bracket deserves to be bumped into the top 5.

For ridiculous naming, just look towards the PC gaming hardware segment. You'd need multiple articles to contain the ridiculousness.

Anyone else remember the Microsoft Kin? That was a dumb name for dumb phones.

Lol yes i remember them!!

I remember seeing the occasional one in a television show. Laughed because you tape shows ahead of time and MS had pulled the plug on the Kin already and the retailers were already sending the stock back. So you'd see a character on your show using if not also touting a phone you couldn't even get anymore. Microsoft launched and killed the KIN in the same month I think!

Any name that includes Galaxy or has a lower-case "i" before it.

Any time I hear of a phone named Galaxy, I think of the Galaxy Class on Trek and expect Picard or Data to carry one... If Worf did, it'd be decked out in a black leather case and red accents...

You forgot the comma
Sprint Epic 4G Touch review https://www.androidcentral.com/sprint-epic-4g-touch-review

As far as "ThinQ" goes. I'm having a skin customized to cover it on my G7.

I had the Galaxy s2 Skyrocket but that pales in comparison to the Epic thing which I've never heard of. The Skyrocket was actually a good phone except that horrible coating on the screen that soon wore off leaving very noticeable hazy spots.

I'd put 'Sony Ericsson Live with Walkman' there. Pointlessly long and forcefully tying to a different lineup (looking at you, LG) Can't dispute Liquid Zest (god, why) and Samsung (they had a lot of phones with that long names), those are just bad. But some just aren't that bad. I'd definitely put Samsung :) in the ranking, rather than HTC ChaCha (it's a dance, you know) or G7 ThinQ (you could at least go for V30S+ ThinQ).

Obviously, you have never heard of the names from Yu, which was a ****** Micromax online-ony sub-brand. Yunique
Yuphoria
Yureka
Yunicorn
Yutopia Some came with suffixes like Plus/S/etc

G7 ThinQ is pretty awful. The LG G7 would have been sufficient!

I always hated the "Droid" phones from Motorola and Verizon. It made people who didn't know any better think they were the only Android phones in the world. It was like "I have an Android phone", "Oh, from Verizon?", Then you had to explain that Android was an OS not a brand. It was a pain.

That was the point from Verizon's viewpoint though. To make a strong branding that was basically synonymous with Verizon.

Plus they got sued for using the DROID name!

I don't think they got sued, they paid a pretty penny to George Lucas to license the name.

Seeing these older versions of Android reminds me of why I hated it for so many years. It was so cheap looking.

Same here, I held out until the HTC Desire was released and Android 8.0 brought me back to the platform.

I remember the ChaCha and thinking it was terrible idea

I still think the ThinkQ is the worst name by some distance. What were LG thinking?

You mean "what were LG ThinkQing" right?

For feature phones, Moto KRZR (Crayzer?). I get the RAZR was following the Web 2.0 trend of omitting a letter or two (Flickr, anyone), but the KRZR was just making that even crazier)

There is a lot of bad names but at least they tried to have fun. Now it seems like European car manufactures are in charge of naming. Pick a letter, then every generation just add a number Chacha, while goofy, was at least fun. Motorola razor, LG chocolate (and the touch), startac, Droid bionic, remember those commercials? Awesome. It had a micro HDMI port on it.

Which one is doing that?
BMW: 118d (1 - 3 - 5 - 7 is the series), 18 - 20 - 25 is the engine, d = Diesel i = injection, plus an M or X
Mereces: A - B - C - E - S 200 (number is motor size)
VW: Golf, Passat ... (the number behind is not official, just added by "Autobild")
Audi: A1 - A3 - A4 ... (Q for SUVs, S for Sports)
Opel: Adam, Karl, Astra, Insignia ...
Peugeot: 208, 308, 508 (3008 for SUV ...)
Citroen: C3,C4 with some weird aftername
Renault Megane, Scenic, Talisman
Skoda: Fabia, Oktavia ...
Seat: Ibiza, Leon, ...
Porsche: 918, Spider, Panamera ...

that's a lot of letters and numbers in tandem I see there.

"Pick a letter, then every generation just add a number" << which none of them does.

"Hey Nate, what phone do you have"
"Oh, I have a Samsung Galaxy S II Epic 4G Touch!"

"Xiaomi Mi Mix 2s Mi Mix designed by Xiaomi"

Samsung Galaxy S6 edge plus.... absolutely horrific....to be honest any cell phone with a letter name or letter attached to it (which is 90% of all phones) but Sony I'm specifically looking at yo ass!!!

Sony Xperia Z3 Tablet Compact.
There was only one Z3 Tablet, no need to add a other 2 syllables to the name.

What about the Xiaomi Redmi Note 5 AI Dual Camera. That is one of the worst I've heard recently

"Google Pixel 2 XL" "LG V30S ThinQ" And of course, every single Xperia phone since Sony started the X line. X Performance, XZ1s, etc

Just Shut up DJCBS we know you hate the Pixel 2 XL but to call it the worst named Android phone is ridiculous and shows your childish and unreasonable hate towards it along with Sony phones. I say Galaxy is a stupid name for a phone but it's helped your precious Samsung to be successful.

It's been nostalgia week for me at AA and AC... First it was the most favorite phone ever by individual staff members, and then the community chimed in on their favorite phones in the comment section. Now it's those rare phones with actual names which manufacturers don't seem to do anymore... I can't help but smirk amusingly at the Galaxy SII, Epic and it's actual touch keys in the bottom chin. It's so rare to find a phone now with three actual keys in the chin let alone four as everything seems to have moved to the floating on screen keys. I've had phones like that, four keys in the chin, and can remember getting really far into a game only for my thumb or finger to swipe over a key and suddenly I was on the home screen. NO!!!! I'd try to get back into the game as quickly as possible but I'd usually be to late and greeted by the start screen... God's way of telling me to take a break I suppose and give the phone a rest...

Had both a ZTE Score M from the early days of Cricket back before they were purchased by ATT, just when Cricket was a nobody... Very plastic, looked like something Mattel would've made. Had an ZTE Overture also. Really nice phone, even had a faux leather battery back plate. I feel bad about that phone, it was a really great phone - a definite improvement that had me thinking ZTE could be a player. But then I burned it up playing Skyforce. Literally hit 130 degrees on it according to my battery widget, causing spontaneous freezes and shutdowns. The clerk at the store I took it to actually showed me I had overheated the battery so much I had warped the battery. But for a cheap phone, it was surprisingly very capable.

The gzone or whatever was my first smart phone! Besides the name at the time it was a neat phone!

Nubia - not the name of the phone, but still one of the worst names ever.
Doogee - ditto.

Anything named by removing vowels from a word. That fad should have died years ago by now.

This is of a brand instead of a model number but the "Essential" branding for Andy Rubins smartphone company sounds atrociously bad. Its on par with Chinese naming sense.

How about HTC Incredible S?

The lg g7 thinQ does not have such a bad name that it deserves to be on that list
Android Central Newsletter
Thank you for signing up to Android Central. You will receive a verification email shortly.
There was a problem. Please refresh the page and try again.