Top 5 chargers for HTC One M9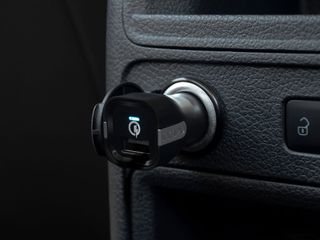 We know for certain that the HTC One M9 comes packed with Quick Charge 2.0, which is awesome. But, why not include a quick charger with the device to make the most of that feature? Instead, HTC's provided a standard 1.5A charger — which still has us scratching our heads — but there it is.
That leaves us hunting for HTC One M9 chargers that are not only quick and convenient, but safe in the long run. Keep in mind, that while most of the chargers we've selected are what we recommend for quickly and conveniently charging the M9, they are also compatible with other micro-USB devices.
Take a look at our top 5 chargers and let us know if you plan to upgrade to a quick charger or keep things traditional, sticking with what HTC's given us.
READ MORE: Top 5 chargers for HTC One M9
Incipio Quick Charge 2.0 USB Car Charger
Image 1 of 3
Image 2 of 3
Image 3 of 3
As you make your daily commute, get the most out of a single charge with Incipio's Quick Charge 2.0 Car Charger for HTC One M9.
It's compact in size and sleek in design. Although it doesn't come with its own micro-USB cable, you can use your OEM one to enjoy the super-fast speeds this charger provides. Plug it in, start up your vehicle and the Quick Charge icon lights up green when it's ready to go. As an added bonus, it also prevents overheating and overcharging.
Check out the Incipio Quick Charge 2.0 USB Car Charger
HTC Rapid Charger 2.0
Say hello to the quick charger that HTC should have included with the One M9. The HTC Rapid Charger 2.0 is the perfect accessory to go along with the device, with its sleek design and Qualcomm Quick Charge 2.0 technology.
There's not much to this little wall charger, which makes it no different than HTC's previous chargers. We've only seen it available on their store page as of right now, but for the price of $34.99 it comes with over current, over temperature and short circuit protection. Just a shame we couldn't see this bundled with the device to begin with.
Check out the HTC Rapid Charger 2.0
MP-Mall USB Sync & Charge Dock
Since we're not able to enjoy wireless charging with the HTC One M9, we figured the next best thing is a sturdy charging dock. This sync and charge dock station is made specifically for the HTC One M9 and is a great addition to your office desk or nightstand.
It comes with its own micro-USB cable that plugs into the back of the dock and into your laptop, PC or wall adapter (sold separately). If you're into wearing cases for the HTC One M9, you'll be glad to know that there's a removable insert that grants extra docking space when you need it.
Check out the MP-Mall USB Sync & Charge Dock
Aukey 10000mAh Quick Charge 2.0 Portable Battery
Image 1 of 2
Image 2 of 2
This list wouldn't be complete without a fitting backup battery for the HTC One M9. Aukey's Quick Charge 2.0 10000mAh Portable External Battery is among the latest and greatest, too.
Officially certified for Quick Charge 2.0, this portable battery charges your device 75% faster than the one that comes bundled with the HTC One M9. Featuring a durable aluminum exterior and LED charging lights, this battery is a must-have for long flights and outdoor excursions. You can check out our hands on review of this accessory for further details, too.
Check out the Aukey 10k QC Battery
Qmadix Next-Gen Power Micro USB Travel Charging Kit
Last on our list is the Qmadix Next-Gen Travel Charging Kit for HTC One M9. This wall charger has a much more sporty design than its OEM counterpart, as well as a 4ft. micro-USB cable.
Made for easy portability, this quick charger rocks folding blades with a single USB port on the front. The charger itself is really quite compact and the quality of the included cable is exceptional. A great choice for an aftermarket wall charger featuring Quick Charge 2.0.
Check out the Qmadix Next-Gen Power Micro USB Travel Charging Kit
More HTC One M9 chargers
Does a quick charger effect how long or how many charge cycles a battery will last? Posted via Sony xperia z2

I've always heard/read that quick charging shortens L-ion battery life and that slow charges are the best for battery health. How much would it shorten it? I don't know, maybe no one really does, and that's probably why very few people care.

The Ventev Wallport and Dashport 1200 chargers are also great choices.
http://www.shopandroid.com/ventev-qualcomm-quick-charge-20-wallport-micr... https://mobileaccessories.ventev.com/products/power/dashport-chargers/34...

And it's a shame that most of those chargers don't even come with a micro USB cable! Posted via the Almighty HTC One M9 or my retired Nexus 4

30 dollars for the Incipio on AC? When is only 17 on amazon way to go!!

Thanks
I just sent an Incipio on Amazon link to a friend who is a heavy user of his HTC One M8

If the charger that came with my M9 is supposed to be a "standard" one, why is so much larger than the HTC charger that came with my HTC M7, EVO 3D and Evo Shift?

Can someone give me some guidance on what kind of USB cable one should get with these quick chargers if one is not provided?

That's my question... Confused about what kind of cable I need for quick charge 2.0.

Any, I'm pretty sure. The tech is in the charger, otherwise they would supply a cable. Posted via the Android Central App

Any quality cable works but it does need to be a true data cable and not one of those charge-only modified cables. I guess the data transfer is needed so the device and charger can talk to each and supply the bigger juice Posted via the Android Central App

It is still almost criminal that a quick charge cable was not included with the m9. They really cheaped out on it Where was Rick Grimes when we needed him a few 1000 years ago. He could have prevented all this stupidity.

Not too fond of the Qmadix one which is overpriced IMO compared to the likes of other Quick Charge 2.0 certified chargers from the likes of Aukey and Tenergy costing just around $15-$18 respectively. Anker also provides one for $20 which is basically a rebranded Tenergy quick charger but with a 3ft cable from Anker included. Course, once you go down to the lower price spectrum you'll likely find less stellar evidence of quality control what with faulty chargers everywhere but for the most part, a rapid charger over $20 is somewhat overkill considering the main function it provides U WOT M8
Android Central Newsletter
Get the best of Android Central in in your inbox, every day!
Thank you for signing up to Android Central. You will receive a verification email shortly.
There was a problem. Please refresh the page and try again.