Quit wasting your money on disposable lighters and switch to a USB rechargeable option instead. You can find some great models on Amazon for less than $20 apiece, and if you're lucky enough to snatch one that's been discounted, you might only have to spend close to what a few disposables would cost you anyway. Take this TECCPO Double Arc USB Rechargeable Lighter for instance. It sells for just $18 on average, yet entering code STYGONG5 during checkout drops its price by nearly 50% to $9.49. For less than $10, you'll have a lighter that can be recharged every time it goes dead.
IT'S A FIRE... SALE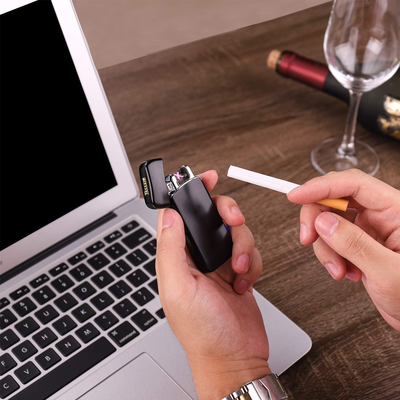 TECCPO Double Arc USB Rechargeable Lighter
If you're tired of tossing out disposable lighter after disposable lighter, it's time to try something new for a change: a lighter you won't throw away for years to come.
$9.49 $18.99 $9 off
TECCPO's lighter features double plasma arcs that generate two heat beams that make it easier to spark up with. It's equipped with a 280mAh lithium battery that lasts for about 100 sparks on a single charge, and there's also an LED power indicator which shows its charging status and remaining battery level. Electric arc lighters like these are flame-less and windproof so you'll have an easier time using it even outdoors. You'll never need fluid for it either.
A micro USB cable is included that you can use to power this lighter back up whenever its internal battery dies. However, you'll need a USB wall adapter handy as one isn't included with its purchase.
We may earn a commission for purchases using our links. Learn more.