This $13 Kobra OBD-II reader tells your phone all about your car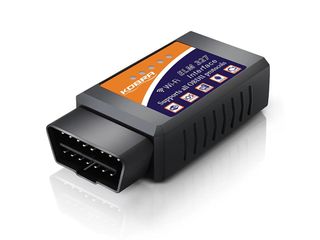 Kobra's Wi-Fi OBD-II car code reader and scanner (opens in new tab) is down to $13.29 with code ALUA3DVB on Amazon. This is the best price we've ever seen on it. The last deal we shared on it was about five months ago and that was a little over a dollar more expensive than the current deal above.
Kobra's car reader can connect to your phone via Wi-Fi and is compatible with iOS, Android, and sure, for the one or two of you still holding on, even Windows phones. Once connected, you can unlock all the information on your car's performance. It also supports several available apps, like DashCommand (opens in new tab) for iOS and Torque Pro (opens in new tab) for Android. Kobra also promises a one-year money-back guarantee if you aren't happy with it.
Kobra has a couple other readers on sale. This OBD-II scanner (opens in new tab) works via Bluetooth but only on Android and Windows phones. Get it for $8.42 from $12.95 with code 4SMI89DJ. It's a little more convenient if you are on one of those platforms.
If you don't need all the smartphone data collection and Bluetooth connections and just want a simple plug-and-play code reader, this Kobra scanner (opens in new tab) is down to $13.87 from $18.49 with code 6AYGQKGA.
You can also go for the Automatic Pro OBD-II car reader (opens in new tab) on sale for $109.99. This thing comes with 3G connectivity and tons of fantastic diagnostic tools that make it worth the upgrade.
See on Amazon (opens in new tab)
J.D. Levite has been in the deals game since 2012. He has posted daily deals at Gizmodo, The Wirecutter, The Sweethome, and now for Thrifter. He was there for the first Prime Day and has braved the full force of Black Friday. If you cut him, he bleeds savings. But don't try it for real. That's a metaphor.
I meant to say can it program your car too.

No, you can't really program a car computer module through OBD2. Typically you have to replace the ROM with one specially programmed for your engine. Used to see aftermarket chips being sold that you'd have to pop into the ECU, which of course voids the warranty of your car.
At any rate, I've been using an ELM327 dongle like that one, except mine is Bluetooth, with TorquePro to check the code when my cars get the check engine light. Very useful to know what the issue might be prior to taking it to a shop.

Actually, the ECU and other systems can be programmed through the OBD interface - just not with general aftermarket devices. All the US domestic manufacturers interface and program systems that way, using of course their own or sanctioned third party interface devices.

I have one and I use an app called Carista that was able to program and change certain functions on my car that the idiots at the dealership said could not be done because they were not included on the trim of my car. I can press and hold my unlock button and it will roll my window down.

You could program something the dealership usually just are lazy to do. I had to print out all the screenshots from a webpage to prove that the can do things like lowering windows and making the blinker blink more times when just tapping as opposed to fully clicking. There is also the light timing....dimming after you shut off.... sometimes, that may be possible, but they are lazy and may want to charge..... If I may ask, what model year & car?

You can program your ECU through the OBD2 port by flashing a new modified ROM to the ECU. That's how you tune a car. For example for Hondata and KTuner for Honda vehicles.
Also it won't void your warranty unless the flash is the cause of the failure. So if you have suspension problems they can't blame the flash. Also, in the cas eof Honda ECU's and probably a lot of others, there is no ECU reflash count so you can just reflash back to stock.

Will it help me save 15 % on my car insurance by switching to Geico?

I know you're joking, but some auto insurance companies in the US provide you with a dongle that attaches to the OBD2 plug and transmits ECU and driving data (so they're a little more similar to an Automatic than this dongle) to the company, and they'll give you discounts based on safe driving metrics.

I have seen that. Thought about doing that, but then opted against it cause I feel they'll start raising your premiums depending on your driving habits.

When I had State Farm, the TOS indicated that driving days would be used only for discounts and not as part of your primary premium assessment. I completely understand your reticence, though.

You can clear fault codes once you have fixed the problem typically. Most of these are pretty generic (though useful) and then you use various compatible apps like Torque.

Article fails to mention that it will not work on all cars, I'm not sure what the requirements are but I think it's after a certain year model where the OBD2 was standardised for all cars. If you get one, best to download the Torque Lite version first, since it's free and test to see if it works, if it does, then I recommend grabbing the Pro version for a small fee. If it doesn't work, then don't sweat it, it's only a $8 or so device.

... and for Chrysler products, ending in 2006 with a switch to CAN-Bus from OBD2.

CAN Bus is OBD2 compliant OBD2 is a standard for the diagnostic connecter, DTCs, diagnostic communication protocol, etc. Most vehicles (GM, Ford, Chrysler, etc) have been using a CAN bus for the past 10-15 years. Chrysler started using CAN in 04 and all vehicles had switched to it by 08. I work in the OBD department for Chrysler.

I have a similar one and it works fine. Although I bought mine on sale for less than half the price of this one just last month. If you aren't in a hurry and want to save even more money , wait for a sale.

I might check this out, despite already having an obd2 reader, a small modular one like this could be useful.

The best thing I use mine for is for clearing codes and monitoring min/max values in Torque Pro like LTK values to see if the methanol injection system is working properly. For actually reprogramming the PCM, I use a Diablo Predator which also plugs into the OBD2 port. Although you can log a few things with dongles and the Torque app, plugging a laptop into the Predator while it's plugged into the car lets you record dozens of different parameters at the same time for playback or export to a spreadsheet. I recently used the Predator to diagnose a spark-blowout condition under boost, but it was the adapter and Torque that told me what was wrong on a recent trip. PS: As a side note, a Chrysler engineer met me in a parking lot some years ago about a problem I had on a car. That particular car held a speed record for that type, and the Chrysler engineer broke out all the gear and re-flashed the PCM so it would work better with the piggyback computer I was using.

why does this Android site push the purchase of a [slightly] more expensive device over the cheaper, but **more functional** one mentioned under "other readers"? I have an elm327 wifi-only thing and I never use it because Android doesn't know how to route data to/from that device while still using my cell connection for internet stuff. I ordered the bt one for $8.42.

now I remember why I didn't order something like this before: in my small car it sticks out too much. so I wasn't using my existing elm327 wifi-only one because of the wifi pain, but also because I felt like I needed to buy an obd2 extender cable so I wouldn't kick it. I changed my order to a $14 bt one that sticks out only like 0.5" from the connector.

If this just reads engine codes, it's OK at best. I'm going to get the BlueDriver. Reads everything. ABS, SRS, Engine, Transmission codes, etc. It's more expensive, but you get what you pay for.

I bought the WiFi model, but can't connect it to my Pixel 2 using any of the apps the manufacturer mentions - Torque Lite, OBD Link, ScanMaster Lite. I AM able to connect to it using my iPhone though, so I don't think it's the Kobra itself.
Android Central Newsletter
Get the best of Android Central in in your inbox, every day!
Thank you for signing up to Android Central. You will receive a verification email shortly.
There was a problem. Please refresh the page and try again.