Three UK to provide free Wi-Fi on London Underground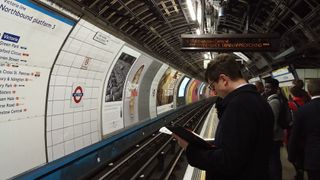 Three UK has announced that it is partnering with Virgin Media to provide its customers with free access to Virgin's Wi-Fi network on the London Underground. Other carriers like EE, Vodafone and O2 have already made similar deals in the past.
Three's Director of Customer Strategy, Danny Dixon, revealed to TechRadar that free Wi-Fi access will be available at 137 Underground stations by the end of July. The wireless coverage is extended to ticket halls, corridors and platforms. Customers on a carrier that hasn't yet struck a deal with Virgin Media will have to buy a Wi-Fi pass to avail the service.
Three UK users, are you excited about the free Wi-Fi access on the tube?
Source: TechRadar
Harish Jonnalagadda is a Senior Editor covering Asia at Android Central. He leads the site's coverage of Chinese phone manufacturers, and writes about the semiconductor industry, storage servers, and audio products. Contact him on Twitter at @chunkynerd.
I wish US carriers would do this!! There are so many hotspots around here, provided by landline phone and cable companies, but you can only access them (with the exception of AT&T's) if you subscribe to their services. For example, Comcast does this...the internet gateways they rent to customers also broadcasts a hotspot to any paying customer who needs it. But there is no reason they can't partner with Tmo to let Tmo users gain access. This would be a HUGE win-win for both companies, IMHO...Tmo customers would gain access to millions of hotspots nationwide, and Comcast could use that to appeal to customers who may be using slower broadband providers like AT&T who (for some unknown reason) seem to think their connection is actually fast. Once they connect to a hotspot connected to cable internet maybe they would actually see the light.

Yes! Posted via Android Central App

I am absolutely delighted to be paying for free wifi for people who live hundreds of miles away. As a customer of both 3 and Virgin Media, I am blessed with double happiness that the population of a city I could never afford to live in should be the recipients of my generosity.
Thank you 3, thank you Virgin Media. Why not extend my generosity to Berlin, Paris, Madrid? Heck, let's provide the whole world with free wifi - well, everywhere except where your customers are actually paying for it.

No need to be a twat Posted with the HTC M8 via Android Central App

Get over yourself. Posted with the HTC M8 via Android Central App

I see from your comment history that you're a bit of a knob.
Enjoy your life on forums and comment sections - must be enriched.

Oh you have no idea what you are talking about. You're clearly pathetic. Bore off.
Posted with the HTC M8 via Android Central App

Where do you live? Posted via Android Central App

Agreed. But to be honest, I'm an ee customer, I never managed to successfully connect and keep the connection on the tube. So nothing to be upset about cause it sucks. Posted via Android Central App on my Nexus 5

Think it only works in the stations at the minute. Which is a bit lame since you're only there for a few minutes usually

Yes currently only in the station, but its good to get updates as you go from station to station Posted via Android Central App

even more annoying that it takes a minute to actually connect...

Mine is seamless just wait for the pop up and let it sign in and done, great if your on and off the tube Posted via Android Central App

Yea its the same in NYC. Now you have excellent service in the station so you can continue your conversation for a few extra minutes. But still can't do anything once your train leaves the station Posted via Android Central App

Not if your a circle line customer, lovely new trains, spacious, fully air conditioned... only downside is trying to catch one of them! Android Central App | Nexus 5 | Powered by Android

The only time I got the free WiFi to work was in the ticket hall at Earls Court station. I was leaving the tube and was getting my Vodafone signal back anyway. I guess this is only good for people who work in the stations. And the occasional bum with a smartphone.

Invariably, it is the customers who live in high density population areas (where the service cost is shared between a far larger number of paying customers) that subsidise those who live in less densely populated areas, generating greater profit for the service provider. Hence the reason that service providers target high density population areas first (and unfortunately, sometimes choose to ignore low density population areas until regulatory authorities intervene). Since you clearly don't live in London, you should be thanking London customers for the service that you do have :-). Posted via Android Central App

Those free WiFi hotspots don't make you pay anymore than you did anyways. Posted via Android Central App

This is awesome! Great news for those who ride the tube Posted via Android Central App

I think this is great. With the other carriers on board as well is anybody actually paying for wifi at the tube stations??? Also remember that only 40% is underground so your network can do the heavy lifting outside the tunnel sections.

This is great news. The Virgin service on the Tube is great and actually allows some productivity underground! Particularly great news for me (sorry!) as I'm moving from Vodafone (fee wifi on the Tube) to 3 (previously no free wifi on the Tube!)
Android Central Newsletter
Get the best of Android Central in in your inbox, every day!
Thank you for signing up to Android Central. You will receive a verification email shortly.
There was a problem. Please refresh the page and try again.