Three customers getting unbranded HTC Desire Gingerbread update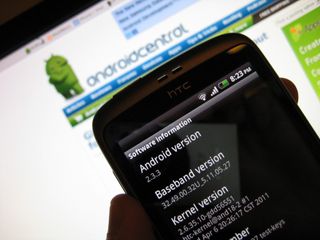 Good news for HTC Desire owners on British network Three -- the carrier has confirmed today that it'll be pushing out the official Gingerbread update for the popular handset as soon as it's made available by HTC. No waiting around for network testing or the addition of carrier-mandated bloatware, instead Three-branded Desires will get the update at the same time as unbranded phones. In a post on its official Twitter account, a Three rep said --
The Gingerbread update for the HTC Desire is currently in the final stages of testing at HTC, and is expected by the end of the month.
Source: @ThreeUK
Alex was with Android Central for over a decade, producing written and video content for the site, and served as global Executive Editor from 2016 to 2022.
LOL, I first read that as only 3 customers getting the update. Thought that wasn't much of a story. It's too hot outside to think/read

Jeez, only Three customers? Those lucky people!

Anyone have an extra invite? :)

just so you know guys, i have an htc incredible s and yesterday afternoon i got the upgrade for the 2.3 gingerbread on my cell, by the way i live in toronto canada. so far is working really good

(Edited comment)
LOOOOOOOOOOOOOOOOOOL there is a company that is called Three!!!!!!!!!
LMAO!!!!
i thought 3 people are getting the update The ONLY thing my country is good at is naming xDD Britain has THREE like ROFL!!!
USA has AT&T lol (though Vrizon is an awesome name :P ) we have STC and Mobily :D nice names (but NEVER think about being a customer for one of them.... it's gonna be a PAIN!!!)

Good news! Yesterday, when I have dinner with some friends, they also suggest us to buy a HTC phone. They all think HTC phone is better than Iphone. Another thing: high replica

Took them long enough. This'll be good though, means I can make sure my phone's properly back to stock before I send it to HTC for repairs. :P

By the way - any news on which version of Sense this'll be running? I'll most likely go back to InsertCoin when my phone's fixed, but still.

Yes desire z running gingerbread now. Sweet.

I just checked for OTA updates on COX here in the US; Southern California; And I just saw one, and updated; BUT not Gingerbread, some other Software update, didn't write the # down, anyone else? VERY DISAPPOINTING!!!
Android Central Newsletter
Get the best of Android Central in in your inbox, every day!
Thank you for signing up to Android Central. You will receive a verification email shortly.
There was a problem. Please refresh the page and try again.