Test-driving OBD2 readers and Android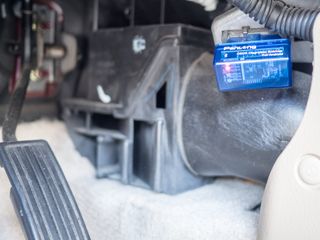 I am not all that mechanically inclined. I can do basic home improvement stuff, sure, but I'm not above paying someone to help do things I don't know how to do, or aren't good at. Same goes for my car. I have a basic understanding of how things work, and I can open the hood (beer in hand, of course) and point and grunt and call upon some basic low-level dude knowledge. (My two young daughters, of course, are unimpressed.)
But when something goes wrong? Hell if I know. And the dumb warning lights on most of our cars don't do us any favors.
Like many of us, I've left that light alone for way too long. While at the dealer one day dealing with that airbag recall, I asked about getting that checked out while I was there. It'd be $90 to just read the code, I was told. That sounded insane. And it is, in fact, insane. On many levels.
I learned what so many of you out there already knew. There's a better way.
First things first: So many places will read a car's fault code for free. Auto parts stores, oil change places, wherever. Just ask. Do not pay your dealer a penny to do this. (And then consider taking your business elsewhere.)
Image 1 of 2
Image 2 of 2
But I wanted to learn a little more, and have an excuse to try some Android stuff in the process. (Especially after the Torque developer was featured in a Google I/O video.) The extremely short version is that my codes are read through the OBD2 port tucked away near my feet while I'm driving. So I started poking around for Bluetooth readers on Amazon and came away with this one for $11.
That was the easy part. The only "hard" part of this little endeavor has been figuring out which app to use. These apps do a lot, but you can boil it down to two classes. (As least as far as my ignorant eyes can tell.) They can read fault codes, and they can monitor your car's systems and feed it back to you in different ways. Google Play is littered with these apps. So I did that thing that too many of us have a hard time doing in the car — I asked for directions.
I've been flipping through a bunch of them for a few days now, and a couple have stood out.
Torque certainly is the Big Daddy — both the free version and the full $4.95 version have each been downloaded between 1 million and 5 million times. It's fully featured, reading codes and logging trips and giving you all sorts of data about your engine, in a sort of widgets-on-home screen format. But it's also horrendously outdated, visually speaking, with a UI that goes back more versions of Android that I care to remember. That's a nonstarter for me at this point, especially with so many other options available.
Dash was one of the recommendations from Google+, and it's a good one. It connected to my OBD2 reader without any real effort and quickly showed the fault code. It'll also track all the engine stuff you'd expect it to (that'll vary a little bit depending on your vehicle). It has some gamification in that you get a score based on your driving efficiency and safety. (Not a feature I particularly care about.) It also will suggest nearby gas stations when it's time to fill up, and service stations if you're having trouble. Plus there's IFTTT support. This one's been my favorite so far.
OBD Auto Doctor also needs a strong mention here. It's got a simple, modern user interface to show you what's going on in your car. Fault codes are easy to understand. Sensor comes either in pure data form (which is the way I like it), or there's a dashboard with dials and what not if that's how you roll.
Image 1 of 13
Image 2 of 13
Image 3 of 13
Image 4 of 13
Image 5 of 13
Image 6 of 13
Image 7 of 13
Image 8 of 13
Image 9 of 13
Image 10 of 13
Image 11 of 13
Image 12 of 13
Image 13 of 13
I'm very new at this. I'm not really a car guy. I just wanted to not pay my dealer $90, and find out myself what was going on in my car. For just $11 I was able to do that with a cheap and easy Bluetooth OBD2 reader, and one of any number of apps. (And if you folks out there have any other apps I should try, by all means leave 'em in the comments!)
Now I just need to decide whether I want to tackle this air fuel sensor thing myself, or do the smart thing and get a little more help.
I have an Automatic, which I like a lot. I got it at half price (may have been a refurb; I don't remember), which was still really expensive compared to most of the other options. But it works great and has a nicely designed app that reads engine codes, tracks usage, records driving info, and remembers where you parked your car. Posted via the Android Central App

WARNING: If you drive an electric car of any kind, Automatic is completely useless. I've got one that's collecting dust in my desk drawer. Worked fine on my old 2007 Honda Fit, but it's useless on my 2014 Chevy Volt. I'm sure it'll be equally useless when I get my Tesla 3. If you've got an EV like I do, get one of the cheap dongles that this article talks about and then go for something like Torque or if you have a Chevy Volt - get My Green Volt.

Automatic works great for me, even allows you to reset engine lights. That is a good thing, because those lights can come on and off depending on gas quality and age factors. The mileage is nice and it even reads fuel levels. Pretty great package. Picked it up a couple of years ago during a pre-sale for $69 or $79. Probably time to upgrade though. Posted via the Android Central App

Yeah, I know there's a new version out, but I can't really think of anything that I want mine to do that it doesn't do already. I'm not much of a car person, though. Posted via the Android Central App

Do any of these apps let you clear a code? Posted via the Android Central App

I have the paid version of torque and yes it will let you clear codes and turn off check engine light Posted via the Android Central App

For me the app Carista is the best for OBD diag and customizations, it also has overheating alarm...

That's cool but too bad any mechanic can still tell if the code has recently been cleared.

True, but it'll rid your car of all the diagnostic information that it's stored to assist in the diagnosis. They'll have no idea where to start!

Once you figure out what the fault is you can just disconnect the battery and tap the breaks a few times and when you reconnect it should be cleared. Posted via the Android Central App

You can also clear a code by disconnecting the battery for a period of time in MOST cases. The only problem is, if your car requires emissions testing and you need to get it tested soon, you'll need to drive it a certain amount of miles prior to getting it tested otherwise it'll fail testing for not having enough data collected.

yes most do but only temp(long enough to get inspection sticker)

Automatic does clear codes as well. Posted via the Android Central App

Great article Phil - nice to see a topic off the beaten track. Most of us have cars, and cars are always having some trouble or another, so this is a great way to learn about your car and Android all at one whack. Edit: note that the latter two apps both have ratings below 4.0. I usually don't pay attention to apps with such poor ratings, but I'll certainly read through some of the comments to see if those ratings are warranted.

Change the O2 sensor yourself. Shops will charge you a fortune for something that literally just screws in. Make sure you haven't driven the car for a few hours before hand. Those babies get to over 400F very quickly.
They're going to be hard to get off and make sure you use some anti seize on the new one.
The part is under $100 for lost cars.

Much cheaper if you know where the car is!

Lol Posted via the Android Central App

Glad im not the only one thinking torque is ugly as hell. I bought a obd2 adapter not 7 days ago and immediatelly installed torque because i heard alot good about it. The app definitely does its job and provides plenty of information but its so god damn ugly that i simply had to try and find an alternative... and from nowhere this article shows up to show me the way. Thanks for the help.

I was considering getting one since my scan tool kick the bucket. I do work on the side too and wanting something kinda compressive. Posted via the Android Central App

Well Phil, if I was in your neck of the woods I'd glad drop by and swap the sensor for you. Too bad I can't make that happen! Posted from my LG G4, somewhere in Canada

I have that same code reader from Amazon, I've had it for a while now and it works great. I also installed Torque and was amazed how outdated and clunky it is, but it's very functional at giving the info you need. I used to use auto parts stores code readers until I realized I can get my own for $10. Saves me the time of making a trip. Replace the sensor yourself Phil. It's an easy job and you'll save $$$ replacing it yourself. Posted via the Android Central App

I think the first thing that people who are not so familiar with cars should know is that a check engine light means little more than some government mandated, emissions related sensor is not working properly. When this happens the car will still function just fine and you have plenty of time to research what the issue is and what to do about it without being ripped off by some shop that tells you your car might blow up if you don't fix it now. Only thing you need to worry about is if the light is blinking. That indicates a misfire and that can be more serious. Posted via the Android Central App

That's not ALWAYS the case. My check engine light came on (although VERY obvious) because my shift solenoid sensor crapped out. The car suddenly went into neutral (limp mode) on the highway and as dropped low enough in speed went into 2nd gear (was an automatic trans obviously). After I got to work, the everything cooled off, I started home. After getting most of the way home, the same thing happened and went back into limp mode. Got home, put the scanner on it and found the code meant the shift solenoid sensor was crapping out. $200 part later (and a huge mess removing it since it was directly attached to the transmission and leaked transmission fluid all over), after resetting the code and driving for about 30+ miles the car was fine.

Same with me. Dodge Stratus 2000 - engine light on > mechanic read code (for free) > pressure switch / solenoid sensor bad > probably caused by Blue Devil stop leak > stuck in 3rd most of time > home mechanic replaced it for $465. Better than having the whole transmission repaired for $1600+. I am intrigued with this device.

My personal advice is to always refer to your car's owner's manual when things like these come up. Heck, read them if you have the time. Sadly, it seems like not many people read the manual these days. That's a shame, because it contains a great deal of useful information, some of which may be specific to a particular car.

the car's owner's manual usually says "engine warning, refer to an authorized mechanic asap"...

On mine, it is rather detailed. Like it says a static check engine light means it's usually nothing too serious and you can still drive the car but it recommends going to the dealer to have it checked asap. On the other hand, it says a blinking check engine light means it must be sorted as soon as you can get to an authorized repair shop because a misfire has been detected. Though I'd get it sorted asap, because there's a heap of things that could cause that light to come on, so I'd like to know what it is and then sort it. It's a 2012 Nissan Altima, BTW.

so it's either see a licensed mechanic ASAP or see a licensed mechanic NOW ;)

In very-simplified terms, yeah. :P

You realize that there are hundreds of codes right? Not just 2...and a blinking check engine light is far more serious than just a 'misfire' (that's a solid check engine light btw)...

Well, it is true that emission systems were thankfully forced on manufacturers to make them stop making cars that spewed CO2, lead, and other environmentally unfriendly gases into the air in huge quantities. That however is not the only reason a check engine light exists.
As a former technician for Honda and Toyota those diagnostic trouble codes provide a ton of information beyond just emissions. That blinking light can happen for many more reasons than just a misfire as well. These readers are great for finding out a generic trouble code but just because Phil has a code for his A/F ratio sensor that doesn't necessarily mean he needs to replace his A/F sensor. That code could be tripped for a number of reasons. If you really want to repair your own car you should get that code and then either buy the Service Manual for your car or go to your local library and see if they have one. A good place to buy a digital copy of the manufacturer's Service Manual is http://www.autobooksbishko.com/. These manuals will walk you through the steps of diagnosing where the real problem is. Also be aware, there are a whole bunch of codes these OBDII readers won't be able to read that are specific to each car manufacturer.
BTW, it's typically not a big deal to clear a code once but if the same code comes back again you do have a real problem that should be fixed. If you don't know how to fix it yourself, don't clear the code because often there is diagnostic information attached to that code that will be gone if you clear it. If you go to a garage with the code already cleared, they'll likely tell you to come back when the Check Engine Light comes back on again.

Got mine so long ago Torque was pretty much the only (worthwhile) show in town. Never thought of checking later for other options!

Use torque pro everyday. Saves me from spending a couple hundred on a boost gauge. Posted via the Android Central App

Lol same thing I'm using it for. Posted via the Android Central App

Can these readers be used with multiple cars, or do I have to buy one for each vehicle? Posted via the Android Central App

One will work on several cars, just have to remember to bring the adapter with you in the car you plan on driving!

...and set up Torque for each different car its used on....

Everu one I've used on two different cars causes the instrument panel to malfunction. In my Subaru, got a check engine light and cruise control stopped working. My GMC Terrain, the RPM dial went berserk randomly. I've tried three different OBD II readers. Just don't trust them.

I had a Subaru. The first thing that happens when ANY code pops up on a Subaru is that the computer disables the cruise control. Stupid system.

When I get a check engine in my Legacy GT: cruise control and hill hold go INOP and my dash lights up like a christmas tree. Thankfully I had a BT OBDII reader and Torque Pro to tell me if I'm actually about to die on the highway or if my car is just overreacting again.

My 12 year old Honda Civic Hybrid sets a battery code whenever I do something "hard". For a while, it was one hill with A/C, then without A/C, then freeway speeds, etc. I wanted to turn off the "check engine" light, so if something actually happened, I would see the light, instead of just leaving it on all the time.

I used torque for 3 years on an Accord before getting an all electric car. I loved torque. It was cool because torque lets you write your own PIDs. I wrote some that would calculate how much fuel I would need to fill up with, so I knew exactly when the pump would shut off before the pump actually shut off! I do wish there was a torque equivalent, or torque was compatible with full electric cars.

I used Dash Command and a VGate OBD on a Honda and a Ford.
It works on my Nissan Leaf, but doesn't have much to say.
Leaf Spy works on the Leaf, but there isn't much to monitor other than the battery and tire pressure.

Yeah, I use leaf spy now. It does the job, but leaves much to be desired on customization after using torque for so long. It's good for calculating miles/kWhr and seeing how much energy is consumed and regenerated. Maybe with the Tesla 3 coming to market in a couple years, maybe torque will offer an electric vehicle equivalent?

What's a PID? Posted via the Android Central App

PID is normaly an acronym used for Proportional Integral Derivative which is an algorithm used in automated controls to control an output based on a (or multiple) control variable(s). A common example is your cruise control in your car. The PID maintains a desired speed regardless of incline or decline of the road. In torque however, the developer calls custom math equations PIDs. So if you want to calculate something that isn't already a baked in parameter that torque reports, you can do so based on the data that the ECU outputs.

OBD-II PIDs (On-board diagnostics Parameter IDs) are codes used to request data from a vehicle, used as a diagnostic tool. SAE standard J/1979 defines many PIDs, but manufacturers also define many more PIDs specific ....wikipedia.

I bought an Automatic about two years ago for my fiance mostly to add a bit of safety to her driving. She is a very careful driver but was in an accident as a child and still does not like driving any sort of distance by herself in case something happens. Automatic has a feature (like most newer cars) that alerts emergency services to an accident. I also get a notification. I am very happy to have never had to test this feature but she is much more comfortable driving now with it. Last winter she had to drive across the state (MIchigan) in a snow storm to meet family. It should have taken about an hour without weather and my family became worried that she was not there after two and a half hours and was not answering her phone. I had been checking her location periodically through Google+ but my family did not believe that was enough proof for them and they were about about to call the state police to look for her. I jumped onto the web interface and was able to not only tell them exactly where the vehicle was and how fast it was traveling but also where she had spun her tires and slid while braking. That overabundance of information convinced my family to stand down. My fiance showed up 20 minutes later with the explanation that the roads were too bad for her to divert any attention away from the task of driving to even think of touching her phone. Very happy with her decision that day. I am all for these technologies that make these older vehicles a little more safer and smarter.

Yeah....not a smart idea to leave check engine on.....it's there for a reason. Dealership don't charge you anything if you fix your car with them

Honda charges for the code reset.
I had air bag code whenever the 12V battery got too low.

Everyone charges for air bag light, you can't clear it with $10 dollar OBD scanner.

Stop nitpicking about the UI and download the app that works best, which in my experience, is Torque Spend the 4.95 and get moving. I've used it a few times and if you are indeed mechanically DEclined, YouTube is a goldmine for figuring out how to fix most things that us home gamers want to do ourselves.

The UI drove me to buy Dash Command instead, which is prettier, but probably not as good.

+1. Torque does seem to be the best after four years of use.

When our car suffered a switch malfunction, no error code was generated by the ECU. It took good old-fashioned fault-finding to trace the problem. Still, I wouldn't be without my Scanguage II or ELM bluetooth ODB2 widget.

I should get one of these. I always love to know all about the inner-workings of automobiles, but I haven't really got to knowing all about OBD-II and their respective code readers plus other cool stuff that they enable. Funny enough, my mom's 2007 Versa also suffered from a failed oxygen sensor about a year ago. Even though it was still drivable, it did ran a little funny, as the car overfueled because it doesn't know the accurate oxygen content in the exhaust and thus, the ECU can't figure out what's the exact air/fuel mixture that's best for the engine as one of the sensors responsible for measuring it was out of service.

As a side note, you can generally take your car to most auto parts stores and they will check the code for free. Not as geekie as and ODB adapter and an Android device, but it's free.

Exactly what I was going to say. Autozone, O'Reilly's etc. Free scan available there.

Three things:
1) Another old Torque user here. When you are in the display mode the UI is invisible anyway, and I believe there are themes if you are into that. I have an old phone with 12 extra displays in my dash, and compatibility and functionality in that mode is fantastic. I also was able to add some PIDs for my Ford Escape Hybrid. Anyway, the functionality of Torque is incredible, and once you set it up you don't have to see the clunky UI again. When I bought Torque, the functionality and usability of the demo app was very limited compared to the real app. I bought it on faith and have gotten my money's worth. 2) I left one of the generic OBD2/BT scanners plugged in to my (daily driver) van for about two years with no problems. However, I got a ScanTool a year or two ago, and really like the power-off functionality - it lets my built-in phone shut down for a really clean, low power parking experience. It's amazing how adding a Bluetooth stereo, Qi charger, and console OBD display have changed how I enjoy my older vehicle. 3) As a future car hobbyist, you should be aware that the computer is telling you an effect rather than a cause; sometimes the cause is obvious, other times it is not, still others it falsely appears obvious at first. The first time I do a thing I usually do not save money, but for me it's a fun hobby. Since you travel keep in mind the first go of a thing can take a lot of time, and/or lead to unintended failures that may lead to down times while waiting for parts.

I'm leaning towards Automatic. As mentioned above, it reads codes, plus does other neat stuff (and has an app). Yes, it's $99, but then it's free (no subscription) which is an added bonus. Posted via the Android Central App

Phil, pm me and I can help you fix your car. I'm a master auto technician... depending on what the codes are it can be several problems. The air fuel ratios are effected by lots of different things so you wouldn't want to waste money throwing parts at it. Posted via the Android Central App

Around here (Houston,TX), the local Auto Parts Stores read codes for free. My guess is they hope it is something you decide you can fix and will buy the parts from them. It's time to get one of the vehicles registered. That requires and annual inspection. Due to timing and weather, I ended up going to another repair facility Saturday. The check engine light was not on when I got there. They test drove, then hooked it up to the computer and the engine light cam on. Test Failed. They offered to "read the code/diagnose" for $125, with that being refunded with repair. I declined. While checking out and reading my failure report, it mentions the error code (Throttle body) . Basically, they wanted to charge me $125 for information already available just to offer to waive that in exchange for a $460 repair bill. FYI, the part is only $120 OEM and would take maybe 1 hour to replace. I have been looking at the Automatic and other OBD devices. I have my own mechanic who is very honest and straightforward! I have looked at various readers and the software on Google Play seems "crude" in the interface. I gladly pay for the premium versions of apps.

On BMWs you can even increase horsepower with ODB, and on many luxury cars you can change vehicle settings aka coding, all via Android apps

These comments make me cringe with some of the false info being passed around. Posted via the Android Central App

Here make yourself useful. http://www.hoax-slayer.com/

"basic low-level dude knowledge. (My two young daughters, of course, are unimpressed.)" Because, of course, all males are born with an innate knowledge of mechanics, and females without any interest in technical things. 1970 called, they want their gender stereotypes back.

Much butthurt Posted via the Android Central App

I didnt get that memo. I just go by what it is. Not what its supposed to be.....

Oh good grief, take your holier than thou politically correct attitude somewhere else.

I use OBD Fusion and damn do I love that clean UI. Posted via the Android Central App

I like OBDLink, which is the version of OBD Fusion supplied for ScanTool LX and MX. I really recommend getting a high quality, supported scan tool, and with the LX now available for $50, it's a no brainier. Plus if you leave it plugged in for use with something like Dash, it won't drain your battery. If you have a later model Ford or Chevy, check out the MX as it supports the single wire canbus.

Why not simply get the Torque OBD reader? You know it a great app but you didn't go there right away? Go ahead and pay the few bucks they charge because its worth it. Join their web user group (free) and read what their users are saying. You'll pick up a lot of knowledge there.

I don't think these sorts of readers and apps work all that with European cars. for example, any VW or Audi here in North America all but requires you to use (what they call) their VAG-COM tools. These connectors and software provide in-depth info on faults... and you can even program your car with it to change settings... which is very cool. These cheap ODB-II readers and apps do little more than show some driving data, maybe a fault code, and maaaybe allow you to clear that code.. but nothing as in-depth as something like VAG-COM tools (which, mind you, cost $150-300..but can save you thousands on a European luxury car). again, I am talking European cars that have more sophisticated computer settings and adjusts and specific code info.

I bought an elm 327 reader a while back for cheap, but I've never been able to get it working with my 2007 Nissan versa. Need to try another car to see if it's the reader or not. Posted via the Android Central App

some reader is not compatible with diesel cars. did u get a diesel car?

Phil, your Amazon link directs to an iOS and Android WiFi version and it doesn't appear to be the one you have showing in this article. I see no way to order the Bluetooth version, does this link get me the same ODB2 one you reviewed?

hi there, I see the link is valid now. http://www.amazon.com/Panlong-Bluetooth-Diagnostic-Scanner-Android/dp/B0...

Yea the o2 sensor is really easy to do.. Just take out the problematic one (usually bolted in the exhaust manifold or down pipe) disconnect the sensor from the harness, and install the new one. Posted via the Android Central App

Is anyone else having problems connecting to the OBD device? I can connect sometime via Bluetooth but cannot connect via WiFi. Am I doing something wrong? Posted via the Android Central App

did you buy the Bluetooth version or the WiFi version? If you bought Bluetooth OBD2 just as mentioned in the article, then it can only be connected via Bluetooth.

It helps to have the app running when you start the car, the it should connect after a few seconds. Torque lite did not seem to connect very reliably, but Dash has been pretty good.

I ordered the reader after this article, got it a couple days ago. Torque Lite: Oh my eyes! I had more modern UI's and layouts on my Palm Pilot. Seriously... my Palm is right in front of me... everything looks better. Dash has a much better layout that you can actually use while driving, but it's not co-operating in terms of the info I want on the screen. The default screen is easy to read but has too much useless info, and the custom screen is half as easy to read. My daily driver already has gauges, but Dash seems to favor the info I already have. The fuel economy and and averages are good though. Dash reconnects automatically and is supposed to record data, but the downloads are blank. Another irritation is the annoying "Excessive acceleration detected" audio alerts, which the app bases on acceleration per second instead of how much throttle is used. I got several alerts on the way home from work, and you can't adjust the thresholds. Oh, and you can't even customize the displays unless you are connected to the adapter with the car running.

The $90 isn't to read the code, the $90 is to figure out why there's a code. In some cases, it can be pretty easy, and I've been in situations where that went towards the labor to fix the issue. Other times, it can take hours of diagnostics, going through wiring harnesses wire by wire and checking each one. It's a gamble either way, they'll charge you for an hour of work, the tech gets paid for an hour of work, and he'll try and get the problem figured out, and probably solved, as soon as he can.
Android Central Newsletter
Get the best of Android Central in in your inbox, every day!
Thank you for signing up to Android Central. You will receive a verification email shortly.
There was a problem. Please refresh the page and try again.