Tapatalk HD exits beta, goes on sale for 99 cents today only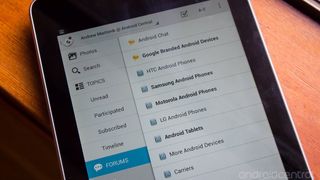 Tapatalk HD is exiting Beta today, launching officially on the Play Store for a promotional price of just $0.99 for today only. The tablet-optimized "HD" version of the Tapatalk app has been a long time coming, finally hitting the Play Store with a Beta tag behind it in December. Well it only took a few weeks since then for Tapatalk HD to shed the Beta tag for a full release. This tablet-optimized version of the Tapatalk phone app does a good job taking advantage of the extra screen real estate available, with a split pane view and photo gallery views. There are lots of customizations in look-and-feel to be had as well, so you can really make this app look the way you want.
Tapatalk HD will be $0.99 for today only, and will jump up to $4.99 after that. You can grab a download at the Google Play Store link above if you're interested.
Android Central Newsletter
Get instant access to breaking news, the hottest reviews, great deals and helpful tips
Andrew was an Executive Editor, U.S. at Android Central between 2012 and 2020.
Huge bummer not compatible with my Note 2. :(

This version is for Tablets.

Yes, but the GNote and Note2 are arguably large enough to handle many of the apps designed for tablets. I think it's possible if you're willing to lower the dpi on your GNote -- thus switching the phone to "tablet mode". There are also roms that use ParanoidAndroid's method of switching the system dpi on-the-fly, per app -- but I haven't tried it with this particular app...yet. :)

The phablets like the Note should handle the HD app, however one would have to change the DPI to 180 in order to trick Play to let you download the app.

$0.99 today
$2.99 tomorrow
$4.99 final price According to the Tapatalk forum.

I would love to purchase this but do not currently have a tablet this would be compatible with. Anyone know of a workaround?

Get it through bluestacks

I really don't like Tapatalk HD, I think it sacrifices far too much screen space to pictures and navigation, and too little space for post summaries. The fact it opens every new forum with pictures gleaned from dozens of random threads (most of them advertising images) rather than to the forum index or my favorites or subscribed forums drives me nuts. That said, I'm spending the 99 cents on the hopes they will provide more customization options in the future.

I am debating getting it, like you said with hopes of future improvements. What do you use in substitue?

Ye Olde Tapatalk. (Paid version). Works just fine on tablets.

They have announced that the side menue will open and close with the next update. That's what tipped it over from good to awesome in my book!

not bad... gonna have to check it out!

I have been using this all day on my Nexus 7 and I really like the lay out. I love the fact that with a single click I can scan posts I have participated in.

Yup it does look good on the N7.

Thanks for the comment Daedalus. I've always heard good things about the app, recently(ish) got the Nexus7, but have never tired the app before..99 has to be worth the price for admission.

I tried taptalk once. I got tired of the friggen pop ups telling me a site had made use of the app and asking me if I wanted to buy it. It was a free app for a day on Amazon so I figured what the hell. I don't get it. When I visit a site that uses it, instead of loading up taptalk to the appropriate forum like it logically should, I just got another popup asking me if I wanted to buy it. What is the point of the app if I read a story online, go to comment on it and instead of going straight to the forum section, when I click on the reply button on the website I just get the popup asking if I want to buy taptalk? It SHOULD just open the friggen app seamlessly to the appropriate forum. Otherwise it is useless.
Android Central Newsletter
Get instant access to breaking news, the hottest reviews, great deals and helpful tips
Thank you for signing up to Android Central. You will receive a verification email shortly.
There was a problem. Please refresh the page and try again.