MediaTek's first U.S. flagship just made its fight with Qualcomm way more exciting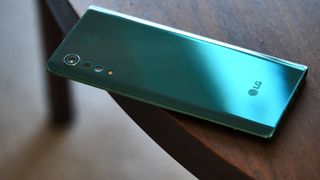 (Image credit: Alex Dobie / Android Central)
T-Mobile will soon carry the LG Velvet for use on its 5G network, but it's not quite the same LG Velvet the rest of the world has already seen.
On the outside, nothing changes. You still have the great looking and solidly built 6.8-inch phone — we think it's the best-looking phone LG has ever produced — along with the in-screen fingerprint reader, huge 4,000mAh battery, and "waterdrop" triple camera system. But looks can be deceiving, because this LG Velvet is powered by the MediaTek Dimensity 1000c chip instead of the Snapdragon 765 every other version is using.
That's a pretty big deal. As with LTE, Qualcomm seemingly has a tight grip on 5G devices in the U.S. That's because Qualcomm's 5G-ready chips are powerful and have proven to be battery-efficient. But there is still a drawback to using a Qualcomm chip and that's the price. 5G-ready Qualcomm processors have driven up device prices because they cost more for companies like LG to buy.
MediaTek's Dimensity line has proven its worth outside of the U.S. and we've been waiting to see which phone maker would be the first to try selling one here in the States. Companies like Huawei and Oppo already sell millions of MediaTek-powered phones around the world and buyers seem to be happy with them.
I expect T-Mobile's LG Velvet will actually be better than the Snapdragon-powered models offered by AT&T and Verizon, which makes this mildly priced phone an even better bargain. MediaTek's Dimensity line has shown that they're not just paper tigers and the chips can do both day to day activities and play games as well as their benchmark scores suggest. The only real unknown is how MediaTek's 5G technology competes against Qualcomm's, as the latter is a champ when it comes to connectivity. Qualcomm is the only company that supports millimeter-wave 5G, too, which T-Mobile doesn't use commercially yet.
The chip isn't going to fix the flaws of the Velvet, like the sometimes sluggish software or its oversharpened photos. But it's also not going to affect the perks of having one — IP68 rating, 128GB of storage, a beautiful display, and the unique dual-screen accessory LG offers. Few other budget phones bring these along with magnificent build quality to carrier-branded phones.
One thing that will change is the photo quality. The "regular" LG Velvet relies on Qualcomm's internal image processing which of course a MediaTek-powered model won't be able to do. The original wasn't a contender for the best camera phone in the first place, so a loss in photo quality would be a disappointment. Of course, photos could look better on the T-Mobile version. We'll have to wait and see before any judgment is passed.
One thing we do know is that this is a shot across Qualcomm's bow. Seeing a major brand like LG go with Qualcomm's chief competitor for something as important as 5G connectivity was a complete surprise. It's great to see any challenge to Qualcomm's market dominance here because it means Qualcomm has to react. When that happens, consumers always benefit.
I doubt the MediaTek-powered T-Mobile LG Velvet will spark a mobile chip war, but we do know that it will be a great Android phone chock full of features nobody expects to see without paying close to $1,000. The phone will be released in mid-September through T-Mobile's online system (opens in new tab) and in stores.
Would you buy a phone with a MediaTek Dimensity chip? Let us know in the comments.
LG Velvet
The LG Velvet is a revamp of LG's mobile line. It's thoughtfully designed both when it comes to hardware and software. It still has its flaws, but the price makes those easy to overlook.
Senior Editor — Google Ecosystem
Jerry is an amateur woodworker and struggling shade tree mechanic. There's nothing he can't take apart, but many things he can't reassemble. You'll find him writing and speaking his loud opinion on Android Central and occasionally on Twitter.
Yes this is exactly what we need. More options

I think it's great that we are getting some competition in the US. However I read that the 1000c looks to be closer to the Dimensity 820 than the 1000 due to a slower clock speed. That's a disappointment, I have a feeling that slight deception won't go over well, particularly with tech enthusiasts.

I don't agree with that opinion in this case. You don't need to compare the 1000c to the 1000. You should be comparing it to the Snapdragon 765 it's replacing in this model.

While I understand you point about this phone, it's automatically bigger than just this phone because it's an entire SoC, which I'm sure Mediatek at least tried to sell for other phones. I don't know how familiar you are with mediatek chips but I've always been about interested and their was a rumour the OnePlus Nord would come with this chip and I looked into it so I'm familiar and when I saw 1000 I was excited only to find out it's really a mid range chip. I feel let down.
If qualcomm came out with a 865c that performed closer to the 765 people would be furious because they are trying to trick purple into thinking it's a flagship chips. Many people might know only the 865 is flagship, salespeople who are usually poorly informed may even try to push the product as a flagship.

You make a solid point here, not sure why anyone would disagree with you. These naming games are almost as irritating as Intel severing connections within the Pentium to create lower-end chips, but otherwise would be all the same had they not taken the effort to detach the math coprocessor or what have you..

Let's face Qualcomm needs more competitive SOC'S. Being the only 🐕 in town hurts consumers? Competition is very healthy for the market place!

Media tek needs to support MMwave 5G

Competition is never a bad thing. It will result in lower prices for consumers. Hopefully, MediaTek chips can be found in more US phones!

This is exactly what the industry needs. Qualcomm is passing the expense of the built-in 5G chipsets on to the customer. If MediaTek can mitigate the costs of 5G going forward and make powerful chipsets to compete, (I know those chips MediaTek makes powers some of Amazon's Echo Dots) then the prices can start to come down and these phone won't be as painful to buy. Maybe... Lol
Android Central Newsletter
Thank you for signing up to Android Central. You will receive a verification email shortly.
There was a problem. Please refresh the page and try again.