T-Mobile expects 2x10MHz LTE in 90% of top 25 markets by year's end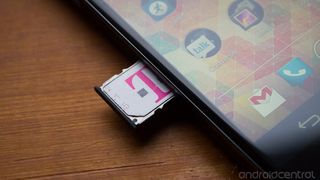 With its LTE network deployment in full swing, T-Mobile is hoping to step things up in the most crucial top markets by deploying more spectrum to the new network. According to a statement given to Light Reading, T-Mobile said that "Nationwide, we plan to deploy 10+10 MHz of LTE in 90 percent of the top 25 markets by the end of the year."
Although the network is currently live in 116 markets, T-Mobile is primarily using a 2x5MHz deployment, which offers less bandwidth and potential to handle a large number of customers on each tower. Testing of the new 2x10MHz network is currently ongoing in New York City, where network engineers have been dropping the HSPA+ network from 42 to 21mbps in order to use those resources for LTE.
When the network eventually rolls out to these large markets in full capacity, T-Mobile plans to run both the HSPA+42 and LTE networks concurrently. As for speeds, CEO John Legere has been showing off some pretty impressive speed test numbers in New York City — we'll see how that holds up when the network gets more saturated.
Source: Light Reading
Andrew was an Executive Editor, U.S. at Android Central between 2012 and 2020.
I'm not too happy about possibly losing HSPA+42... :/ Posted via Android Central App

"T-Mobile plans to run both the HSPA+42 and LTE networks concurrently"

Reading is fundemental right

so is spelling...fundamental failure

Lol Posted via Android Central App

Not every area has enough spectrum from 2x10Mhz LTE as well as HSPA+ 42, particularly in areas that weren't served by MetroPCS but instead Cricket which had some AWS holdings. Which means choosing between 2x10Mhz LTE and HSPA+ 42. If it were me, I'd pick the 2x10Mhz LTE simply because it's a LOT faster and you can include MIMO technology for better reception.

Kills your battery faster, too.

Meh, not that much faster. I can leave my phone on LTE overnight and it will barely drain.

How are you losing it? Did you not read the article? Not only will they be upgrading the lte but they will continue running hspa+42 along side lte.
This is great news. That means that if your phone is running lte at, say 30mbps, then you drop to hspa+, it will still be considered 4g. Hspa+ here in my area was regularly 4-8mbps. My 3g with Sprint at its fastest is less than 2mbps. Tmobile is looking good. Via Android Central App from a Galaxy Note 2

I agree 100%. I was constantly getting 0.56mbs download on Sprint for four years! Posted via Android Central App

Me too. Finally completely dropped Sprint completely. Going T-Mobile only right now and pretty happy for my area. Posted via Android Central App

i JUST joined sprint. now i know the early termination fee is $350, but do you guys think its worth it to leave sooner than later so i dont spend 2 years of money on it? i mean, for slow slow 3G and WAITING for 4g lte is pretty sad, Tmo has good lte coverage here and jump seems good. ideas?

I'm dropping Sprint with an ETF of $200. I figure that's the price of about 2.5 months of service. I would rather pay virtually double for 2.5 months (new service plus ETF), than deal with .08kbps down for another 10 months. Posted via Android Central App

Thinking T-Mo. Is definitely taking it to the competition...I like that, better for consumers!

So from now until it rolls out my speeds will be slower on hspa+ 42? I'm not happy about this. Makes me want the motor x even more (even though my n4 works perfectly fine )

Do you really think you'll notice a difference on your phone? What are the top 25 markets? Posted via Android Central App

I'll be honest. I didn't notice a difference when they changed it to HSPA21. Congestion is a bigger factor in the real world. Speed tests did look a bit slower. Posted via Android Central App

I'll notice here where I live. Currently hspa+ in my area gets 4-8mbps. Lte recently started popping up too unofficially and I was able to hit 38mbps. Imagine with full capacity. It will be awesome. Too bad I had to stop my testing and go back to Sprint due to my high etf. Via Android Central App from a Galaxy Note 2

1
New York-Northern New Jersey-Long Island, NY-NJ-PA 2
Los Angeles-Long Beach-Santa Ana, CA 3
Chicago-Joliet-Naperville, IL-IN-WI 4
Dallas-Fort Worth-Arlington, TX 5
Houston-Sugar Land-Baytown, TX 6
Philadelphia-Camden-Wilmington, PA-NJ-DE-MD 7
Washington-Arlington-Alexandria, DC-VA-MD-WV 8
Miami-Fort Lauderdale-Pompano Beach, FL 9
Atlanta-Sandy Springs-Marietta, GA 10
Boston-Cambridge-Quincy, MA-NH 11
San Francisco-Oakland-Fremont, CA 12
Riverside-San Bernardino-Ontario, CA 13
Detroit-Warren-Livonia, MI 14
Phoenix-Mesa-Glendale, AZ 15
Seattle-Tacoma-Bellevue, WA 16
Minneapolis-St. Paul-Bloomington, MN-WI 17
San Diego-Carlsbad-San Marcos, CA 18
Tampa-St. Petersburg-Clearwater, FL 19
St. Louis, MO-IL 20
Baltimore-Towson, MD 21
Denver-Aurora-Broomfield, CO 22
Pittsburgh, PA 23
Portland-Vancouver-Hillsboro, OR-WA 24
San Antonio-New Braunfels, TX 25
Sacramento–Arden-Arcade–Roseville, CA
2,149,127

Those are unbelievable speeds, 60+mbs down is sick the most I've gotten on any LTE network is 40+ and that's on all of the big 4 Posted via Android Central App

I did some 62 down 20 up speedtests on Verizon near my house the other day, outside Seattle.

I did some 62 down 20 up speedtests on Verizon near my house the other day, outside Seattle.

I wonder if there is a list of the cities? Posted via Android Central App

Great news. Yesterday I switched to T-Mobile after 14 years with ATT. I wanted to leave ATT so bad that I paid $750 ETF.

Congratulations! That's what I call dedication! Posted via Android Central App

That's some SERIOUS At&t hatred! Good for you; always liked T-MOBILE more...

My Gawd Man!
Released from that prison after 14 years....
Thank Goodness it's over.. Welcome aboard!
No One is going to Lock You Up over here @ T-Mo.. :-) Your free to come & go as you please.

Lets just hope the Nexus 5 officially supports LTE.
*fingers crossed*

I've gotten 34mbps and I'm in east northport long island ny about 30 miles from the city. I'm pretty sure tmobile lte tower is in Syosset. I'm def going to go to the city soon just to see what mbps I get. I'm so excited! Tmobile has stepped it up!! Great work!!

Same here. I'm in Lake Grove on the Island. I've been testing out T-Mobile for the past month with the GS4. I'm pleasantly impressed by how much LTE I have been seeing. Even the HSPA+ has been very fast. I've had better overall speeds with 4G or LTE indicator on in more places than with VZW LTE. Plus, the plans are cheaper. For the amount of time I actually am out of the TriState area there is not much I'm getting to justify the cost of staying with Verizon. We just ported my wife's number onto a new Note 2 on T-Mobile last night. I will port my number over on August 1 along with my son's phone. Saying goodbye to VZW after almost 10 years. Tired of getting less for more $$. I hope T-Mobile keeps up the good work! Posted via Android Central App

What T-Mobile needs to do is expand to other markets. Until that happens, they will continue to be in 4th place in states Posted via Android Central App

No way. Their focus is clearly to get fastest speeds in big markets. Verizon makes its money in New York and Chicago - not Des Moines or Wichita. T-Mo is playing it smart, my prediction is that by Q4 2014 Verizon will have its first loss of customers. And AT&T will get it by Q3. T-Mo plus Softbank's crazy CEO means a lot more competition.

Verizon makes its money because you can travel from NY/Chicago to Wichita our Spokane and still have service. If it was only about the big cities, T-Mobile would be much stronger than they are. By the way, I'm not a Verizon customer. Posted via Android Central App

I would love to see tmobile and sprint merge and give Verizon and At&t something to really fear.

@ny3ranger If T-Mobile and Sprint merged - I'd fear more for them than I would for the others. Remember the Nextel/Sprint Fiasco? Now imagine that add-in the MetroPCS switch-over and factor in that both companies intermittently hemorrhage customers. Don't get me wrong, I am a T-Mobile customer - but they first need to gain stability (As does Sprint) before they go all Kamikaze with mergers and trying to do a Pinky and the Brain!

SO if you live in 25 places that you actually get coverage, it will be faster. Good on them. The other 19,300+ places in the US, you are still out of luck

Other smaller markets will get LTE they just won't get 2x10mhz first. Presumably they wont need it either because there are fewer users on each tower. Posted via Android Central App

True but I live in a pretty major area and Tmo has not improved at all in the last 4 years. I am not saying that they should not move forward with things and tech, but they also need to not ignore the rest of the country.

Its an issue of resources. They're always going to spend the money where they have the most subscribers (or potential subscribers) per square mile. The plan is then that hopefully they'll make more money in those markets and spend it on the smaller markets. Its unfortunate but T-Mobile clearly doesn't have the cash to do network upgrades nationwide all at once. Posted via Android Central App

Ok but the would increase their subscriber base more but hitting/looking for new subscribers in areas where they are currently weak instead of improving service for the subscribers they already have. They obviously cannot go after every small town at this point but a state capital should be something of a priority. Posted via anything but a Nexus phone.

Let's be honest T-Mobile has a weak customer base in every market compared to the bigger carriers. They have 1/3 the customers of ATT and Verizon each, they need to spend money in the big cities where they can see a quicker return. There's huge potential in large cities to grab customers away from VZ and ATT. I agree they need to hit all big cities not just the top 25, but if they start from the small markets and work up theyll be gone before they hit the top 25 largest. Posted via Android Central App

Deploying the latest, fastest technology in a couple of square feet within a market is fake. T-Mobile has LTE in the Sacramento market, but it's still widely unavailable throughout the city. Posted via Android Central App

Sprint is the same way, unfortunately it takes time. Posted via Android Central App

Not going to defend T-Mobile by any means but in certain markets things will have a much stronger signal or widespread LTE due to the MetroPCS Merger.....so Sacramento for example(6th LTE market launched for Metro) will but much better in the coming months. Sprint on the other hand is in total chaos having to update or back track especially in the Wi-Max deployed markets. I just have more faith in T-Mobile @ this point due to what seems like a focused strategy for now.

I'm happy Tmobile has been executing on their plans, competition is always good! and having proper backhaul has given them an edge in deploying LTE in the "top 25" markets. Unfortunately for them, that will be short lived, they don't have stakes in low enough frequency spectrum as of now, and will get decimated by Sprint once Triband phones become the norm by early next year. But you have to give them credit for putting up an awesome fight! At least for the moment. Posted via Android Central App

as a Tmobile customer in the #4 market I'd rather see better coverage than faster speeds. HSPA 21/42 is plenty fast. I can't remember the last time I had a good 4g connection and needed it faster but if I leave the city I'm lucky to get edge in the rest of the state. IMO Coverage > Speed

Pure awesomeness! No laptop to tv via a 10ft HDMI cable. I'M the chosen 1!

ok....I'm confused. The title says "T-Mobile expects 2x10MHz LTE in 90% of top 25 markets" then the article says "Nationwide, we plan to deploy 10+10 MHz of LTE in 90 percent of the top 25 markets by the end of the year." and continues to say "Testing of the new 2x10MHz network is currently ongoing" so which is it?? is the 10+10mhz being tested and intended to be deployed, or is it the 2x10mhz being tested and planned to be deployed?

10+10=10x2
I've seen it written both ways. Posted via Android Central App

All we need now is LTE nexus 5 to make this sweet. Can't wait. Love my nexus 4.. Posted via Android Central App

As a former Sprint customer for over 14 years, I'm thrilled with T-Mobile thus far. I've been with AT&T as well and got sick of their high prices and anti-consumer billing practices. With Sprint their customer service was fine as was their voice service. It was their data that sucked. Completely slow, spotty, and unstable from NYC to Florida. Their "3g"was edge speed and their LTE was extremely spotty even after over a year of "work" in NYC. T-Mobile is literally an order of magnitude better. I get LTE everywhere and while HSPA+ is rare, it's faster than Sprint's LTE. I kid you not, i average 10mbps down on HSPA+.
Android Central Newsletter
Get the best of Android Central in in your inbox, every day!
Thank you for signing up to Android Central. You will receive a verification email shortly.
There was a problem. Please refresh the page and try again.