T-Mobile confirms free Mobile Hotspot on prepaid plans, domestic data roaming also now included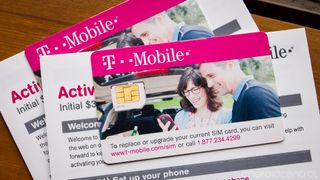 Starting the last couple of days, T-Mobile prepaid customers have started to have unfettered access to their phone's mobile hotspot function. Previously the only way to hotspot "by the book" on its prepaid plans was to pay $15 per month, but now we have confirmation that T-Mobile has changed its policies regarding hotspotting on prepaid. Reaching out to T-Mobile, we received the following response:
So not only has T-Mobile killed the $15 fee for hotspotting on prepaid, it has also tossed in a small amount of domestic data roaming — both firsts for its prepaid brand. Befitting for the changes, T-Mobile is also moving towards rebranding its prepaid offerings under the new "Simple Choice" plan name, referring to them now as "Pay-in-advance Simple Choice" plans.
As the chart above shows, T-Mobile will extend both domestic roaming and Mobile Hotspot usage to its prepaid plans (opens in new tab). Starting with its $50 plan, you'll get (an admittedly small) 10MB of domestic data roaming, as well as 500MB of hotspot usage. On the $60 and $70 plans, 50MB of roaming and 2.5GB of hotspot. The popular $30 5GB plan while not listed on this chart, appears to also get 2.5GB of Mobile Hotspot but will not get domestic roaming and is not listed on the chart, and T-Mobile currently tells us that its Mobile Hotspot policy has not changed on the plan, despite the fact that some users are seeing a tethering allotment on their account. We'll have to wait and see how that one works out.
While not the most exciting of announcements, the addition of any amount of domestic data roaming is a big step in the right direction for prepaid plans. Free Mobile Hotspot is also a huge deal for those who want to keep things cheap with prepaid and still need access to that data on other devices. We're happy to see T-Mobile move towards feature parity between postpaid and prepaid — they're all customers, they deserve the features.
T-Mobile offering 200MB of free LTE for any tablet with no strings attached
Android Central Newsletter
Get instant access to breaking news, the hottest reviews, great deals and helpful tips
Andrew was an Executive Editor, U.S. at Android Central between 2012 and 2020.
TMobile is really making a name for themselves nowadays. I'm SOOOO glad I switched from VZW to TMo last Fall with the Nexus4 release. Been the best year AND saving so much more money. Kudos TMo! Keep the new changes coming!

I did the same thing, left VZW from Tmo, I walked into a VZW store as I had so many issues with my T-Bolt (yeah, I know) I was so close to my upgrade. I called VZW customer service and they said go ahead,we can give you your upgrade. Walked in a corporate store the next day, and corporate store said no.
Ok I said, got the Gnex (when the Gnex was current) and went with T-Mo.
I recently walked into my neighborhood T-Mo store here in NY just to check things out, and the guy was knowledgeable about Nexus, Android, etc. I didn't buy anything (I was in the market), but the guy knew his stuff and was nice other than VZW.

This. Posted via Android Central App

I wish I had switched now I'm stuck with a Lumia and a 2 year Verizon contract. I hate myself for choosing a Lumia Posted via Android Central App

So sell the phone and break the contract.... You clearly don't want to leave Verizon.

Seriously. Long run, it'll be cheaper to buy yourself out of contract instead of staying.

Yeah, listen to them. Your ETF is what, $175? Compare that to even 12 months of your contract. It's worth it to pay the termination fee. Also, call T-Mobile and see if they won't give you a discount for switching that could help offset the ETF from Verizon.

Aren't ETFs prorated by law in the US (meaning, it decreases every month of the contract)?

You know there are several other ways to get out of a contract early, in calif. The cpuc regulations are very clear on events in ones life that eliminate the fee. Like the 30 day return, if you move or relocated for work, or go hog hunting in an area with no service, or make any geographical change that's related to work, residence or regular activities (even hunting for wild boar 2 times a month) For example, your sales route changes and the new one doesn't have coverage. This I have used to drop Cingular, GTE, Verizon, sprint, Att, tmobile and metro(which I think is the worst I've tried). Now remember they can see where you have been using your phone, so you can't say you live somewhere you don't, or they can challenge you to turn them in or tell you there is no law,. I've been told all kinds of BS, but if you do have to report them, and you can backup your claim (although I told Tm once I moved to a city with only po boxes, (I still keep one current there for an alternate mailing address) and since I go there periodically, they threatened to charge the fee and , I said," if you charge me an etf I will file a complaint with the cpuc and they will straighten this out, so do what you must.". The bill came a week later to the po box, and low and be hold, no fee! At Cingular I sat in the lobby in Monterey and in my normal but deep voice(so everyone had to listen, even new customers,). I hunt regularly in an area that your service does not cover, what if need help? I will have to contact the California public utilities commission, I bet it will cost you a lot more than the 150 dollar etf between my complaint and everyone in the store that might be interested in your service. They didn't want there customers to learn what I had to say and they waived the fee also. Its almost been fun exerting the law on this industry. BTW, it was a GTE mn rep that told me about it in 1994. The idea behind the regulations is that a service provider that's permitted to do business in the state, cannot lock you into a contract unless they can provide you service for the term of the contract. Check your local laws before you proceed. A contract requires consideration, so if no service, no pay. Its contract law, from Chapman U. Good luck to all, also there's a pre pay satellite package also. One provider published a rate plan with the all important fine print missing, so again the cpuc says if you publish a rate plan(not promo) they have to honor it as long as their in business. (The idea is prices will always drop) but this package was published for three days, when they added the * making it a promotion, but as long as you know about it, I've been prepaying for my satellite with no contract, no DVR fees and all HD with only one DVR for 6 years now, no taxes, I can suspend and resume service whenever I want. No fees. Have to own your own equipment. Well good luck and remember, you vote with your purchases, and know your rights. Russ

Pay the ETF and sell the phone on eBay. You'll come out ahead when you throw in savings each month.

I already had free hotspot capabilities O_o Posted via Android Central App

This is why TMo is my favorite carrier.

If TMo is using any block C spectrum, this just follows what is required. Verizon must now offer free tethering to anyone on a tiered plan. They are not required to offer free tethering to unlimited customers.

This ----------------------------------------------------
My S-Pen went through hell to deliver this important message to you

LMAO... Posted via Android Central App

T-Mobile doesn't operate in the C Block, they have 1900MHz and 1700/2100MHz (AWS) spectrum.

Thanks Andrew, at least they were not forced ----------------------------------------------------
My S-Pen went through hell to deliver this important message to you

Duplicate it's funny I only get that on wifi, not Sprints great LTE ----------------------------------------------------
My S-Pen went through hell to deliver this important message to you

As people are so fond of pointing out with sprint, you can offer the world but if your coverage is sub par, you are offering nothing ----------------------------------------------------
My S-Pen went through hell to deliver this important message to you

Sprint's coverage is more geographically dense than is T-Mob. if i'm stranded in the middle of nowhere and need to make an emergency call - i want Sprint coverage - not T-Mob. F 'em both anyway - i'm switching to AT&T GoPhone as soon as the Nex5 drops.

Decided against it ----------------------------------------------------
My S-Pen went through hell to deliver this important message to you

Ummm...You can make emergency calls and roam on any network with almost any mobile phone. Posted via Android Central App

To 911 yeah, but not to AAA ----------------------------------------------------
My S-Pen went through hell to deliver this important message to you

With Sprint, I had coverage but slow data speeds.With T-Mobile I had fast data speeds but no coverage. So yeah I say the same thing "F 'em both anyway" Right now,I am using a Nexus 4 on Straight Talk AT&T Sim. Couldn't be more happier.

T-Mobile has installed more Towers this year than any other two Carriers combined. They have switched tons of 1700 to 1900 radio towers, installed LTE advanced hardware when installing their current LTE towers. T-Mobile will be the first Carrier to switch to the LTE advanced technology. My HSPA+ speeds are faster than most Carriers LTE speeds. My T-Mobile LTE speeds are so fast both up and down it's scary. I usually just shut my LTE radio off to save battery. I can stream 60 minute video podcasts without any buffering on T-Mobile's HSPA+ signal. My phone hasn't dropped a call in over two years. I currently have unlimited everything for $70 without speed throttling. T-Mobile throws in 2.5gb of tethering at no extra cost. I will never leave this Carrier, I have been with them all but have never had this kind of speeds and plan. Thank You T-Mobile.

Seriously T-Mobile, Never stop impressing me. Yes, you have some faults, but what you do well... you do REALLY well. Very Satisfied customer.

I have the $30 plan but I'm only seeing 100mb of tethering included

I, too, only see 100 MB. Although it is better than nothing at all, I think we should at least get 300-500 MB of tethering.

We've updated the post above with a clarification on the tethering on the $30 5GB plan. T-Mobile tells us that nothing has changed on that plan, but like many of you we're seeing tethering be unlocked.

I am also seeing 100MB of hotspot data on my $30 plan as well. I hope they don't take it away. It's so negligible anyway.

I doubt the $30 5GB plan also gets 2.5 GB of mobile hotspot Posted via Android Central App

Yup we're hearing conflicting reports, hence the "appears..." statement above. Working to double check on that one :) .

I like it. I switched from Monthly 4g prepaid to get roaming since I go to rural areas a lot. Unfortunately my bill went up because I now have to pay local taxes and fees on Simple Choice post paid. Maybe I'll switch back now. Don't really care about tethering but it's a nice addition to prepaid Posted via Android Central App

maybe this is smart - let people tether however much they want and this way SELL THEM MORE DATA. you can burn through 2.5GB of data pretty quick when you are using a smartphone + laptop. how much do they charge after 2.5GB? seems like good business sense by that creep Legere to try to book more revenue. for me personally tethering is only a "nice to have" and not a "need". it comes in handy maybe 2-3 times a year for those rare times when no wifi is available.

It's not at all clear if you can buy more buckets of tethering data after 2.5GB. On the $60 plan you just get throttled anyway, but on the $70 plan there doesn't seem to be a mechanism to bump up that amount. On the postpaid plans you can buy additional buckets, but that hasn't come over just yet.

well do agree with me that it could be a good strategy? don't charge for the feature - just charge for the DATA! now this model wouldn't work so good for the "Unlimited Data" plans (ie Sprint, grandfathered VZW, etc.) but for the ~2GB plans, why not let people use what they want but make them pay for it? let them buy additional buckets. remove the barriers and the static charge - just charge them for data used and promote it. if they don't use it - carrier doesn't suffer. if they DO use it - carrier pockets $$$$. why not ENCOURAGE customers to tether and get them HOOKED ON IT LIKE CRACK and charge them for it?

Its definitely a good strategy, and its actually how AT&T and Verizon are running their businesses right now. They've all but killed unlimited data, and are pushing everyone to shared data plans. They both offer tethering for free on their tiered plans, and make it trivially simple to add more phones and tablets to a plan. They also make it extremely simple to pay for more data in 1GB/$10 increments when you go "over" your data "cap."

SO ready to switch from Sprint to Tmo! Hurry up Nexus 5!!!

T-Mo FTW...Glad I sold my Verizon plan and signed up for this...All I need now is a Nexus 5...

what phone are you using in the meantime?

Hope you enabled LTE Posted via Android Central App

anyone seen official announcement of this? nothing on site i logged into my.tmoble.com and its still trying to sell me $15 plan. can't check phone where i am no signal in my bacemnet office.

Our statements quoted/shown above are official from T-Mobile. Can't say for sure when the changes will hit the website/account portal, but they have indeed already flipped the switch on the plans.

Not letting me tether on prepaid T-Mobile Note 2

Not on my note 3 neither, turned on hotspot, connected my laptop, open browser try to go somewhere, boom, redirected to tmobile sales page telling me I don't have mobile hotspot. @T-Mobile GN3

JOHN LEDGERE IS GOD!!!!! Posted via Android Central App

Only $360.00 for an entire year of service and you STILL throw in a bonus.
Unreal..
Thanks T-Mobile. :)

+1
And where I live the LTE is faster than VZW and AT&T and the 3G is faster than Sprint LTE. No joke Posted via Android Central App

Definitely a joke ----------------------------------------------------
My S-Pen went through hell to deliver this important message to you

except that their coverage blows Posted via Android Central App

Where you live, lol Posted via Android Central App

Montana Posted via Android Central App

southeastern massachusetts. Posted via Android Central App

T-Mobile keeps getting better. First my Nexus 4 and now G2 are consistently fast. Of course coverage varies everywhere. Posted via G2 Android Central App

I can't wait to dump Verizon and start giving (less of) my money to TMo every month.

U get what you pay for Posted via Android Central App

Not always, Verizon is so congested, I dumped them.

TMobild represent! Posted via Android Central App

Thanks for sharing information.great post.By http://www.24x7stores.com/

Glad to see Tmo putting that free big fat check from ATT up to good use as well as the ATT spectrum!
Way to go Tmo!! Keep it up!

I have $60 prepaid, they say mobile hotspot is included, but kept sending me to the tmobile sales page telling me that I don't have mobile hotspot service. Tmobile, get your act together, back up your ads with your action. @T-Mobile GN3

...AND unlike VERIZON and AT&T, T-Mobile did NOT give up your info VOLUNTARILY ( and with alacrity ) to the NSA during BUSH(CON)2 (...mighta had it snatched from T-Mobile without their consent, nevertheless..)

Did you ever hear about how to transfer data from android to php? how way do? do not get confused, the article will be discussing on how to send data from android to php. It is very possible, the data delivery model using post method. http://juniorinformatic.net - Lets learn from basic to be professional IT

Yeah if tmo wasnt garge on their coverage where i lived this would be a great deal. But I'll stay on straight talk att byop till their coverage gets better Posted via Android Central App

I'll. Be making the jump soon from att to T-Mobile Posted via Android Central App

I'm looking forward to switching to T-mobile prepaid ($30 unlimited 4G) as soon as my Verizon contract ends. I'd like to see T-Mobile go to more usage based plans like Ting has, and to pool the usage across all lines in the account. e.g. with Ting you pay $3/per phone per month, plus different amounts based on how much usage of calling, texting, and data that you use. They look at how much you use per month and that puts you into a "bucket" which determines how much you'll pay. It'd be great to see T-Mobile charge you based on how much data you *use* rather than have to choose allocations (<500MB, 2.5GB, etc) in advance per line.

I'm on the $30/month Unlimited Text & Web plan. Me: There's a line on my account page that says, "Mobile Hotspot Usage, 0.6MB/100.0MB," but when I try to use my phone as a hotspot, it says, "Hotspot service isn't included in your rate plan." Can you help me figure this out? T-Mobile: You don't have Mobile Hotspot service on your account. Me: Then how come there's a line that says I have 100MB limit for mobile hotspot, and HOW did I use 0.6MB? T-Mobile: You have unlimited data, but a 5GB limit on 4G. After that, all of your data is at 2G speeds. Me: I'm not asking you about my data limits, I'm asking you about mobile hotspot. T-Mobile: You don't have Mobile Hotspot service on your account. This went on for a few more minutes, ala Abbott and Costello, until she finally put me on the long hold. When she came back, she said: (T-Mobile:) We suggest you disregard that line and refresh the Web page. LMAO Nothing to see here, folks!

IM REALLY HAPPY,ALWAY BUY COFEE IN STAR BUCK FOR HOTSPOT, NOW GET FREEDOM WITH ME IPAD AIR
BUT BEFORE 2.5 Gb is possible get more gb o not?
Android Central Newsletter
Get instant access to breaking news, the hottest reviews, great deals and helpful tips
Thank you for signing up to Android Central. You will receive a verification email shortly.
There was a problem. Please refresh the page and try again.