T-Mobile brings back its four lines with 10GB of data for $120 promotion for a limited time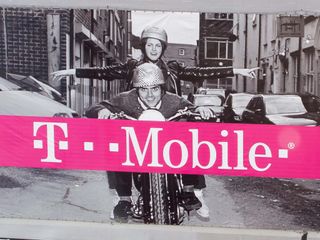 T-Mobile has announced that for a limited time it is bringing back its fourth line free promotion under the 10GB for all plan. The offer is the same as it was, families with four lines can get the fourth line free of charge, and each line gets 10GB of its own data. That's right, for $120 a month, you get four lines with unlimited talk and text, and 10GB of data each.
In addition, you can take advantage of T-Mobile's other great features with this plan, like unlimited calls to and from Mexico and Canada, Wi-Fi calling, unlimited music streaming on various services and even unlimited in-flight texting with Gogo. T-Mobile does note that this promotion is only back for a limited time, but it will remain on your account for as long as you are a customer if you make the switch. If interested, be sure to give them a call or head to your local T-Mobile store to make the switch.
Shop T-Mobile plans (opens in new tab)
Jared started off writing about mobile phones back when BlackBerry ruled the market, and Windows Mobile was kinda cool. Now, with a family, mortgage and other responsibilities he has no choice but to look for the best deals, and he's here to share them with you.
This is a great deal for anyone in their coverage area needing 4 lines. Personally the wife and I are using their $100 unlimited everything plan and even that is a great deal Posted via the Android Central App

There's no reason to include the word "even" in that 2nd sentence of yours. The plan is the bees knees, i got it as well. Tmo FTW! Posted via the Android Central App

This is a pretty deal for those with families. Posted via the Android Central App

Wait.... Its 10gb for each line???? Or 2.5gb for each???

10GB for each line. T-Mobile doesn't have data buckets for all lines to share like AT&T and Verizon.

Yep, per line. 10gb Posted via the Android Central App

each line gets 10 gig. if one line needs more you can add an additional 10 gig (20 gig total) for an additional 10 bucks per line. I got this plan the first time around and is awesome!

This is terrific deal, as Verizon is about to jack up my rates I really might look into this as I know in a year my older son will probably will probably want a cell phone as many of his friends have them. I could just pick one up for my younger son as it would be nearly free!

its a bit of a bait and switch regarding data stash. they give you a free 10GB stash that expires at the end of the year. but they don't emphasize the fine print that says your unused data from your monthly 10GB is NOT stashed until you've burned that free 10GB. which means you must use 20GB in a month (easy for some, rare for others) to then start accruing data stash.

How is it a bait and switch if it's disclosed in the fine print? Also on the page for this deal, they mention nothing about the free initial 10GB of Data Stash - I believe that was an introductory offer for existing customers only. So no, there is absolutely no bait and switch in this deal. Source: https://www.androidcentral.com/e?link=https2F2F...

that's why I said "a bit". yes, we should all read fine print. but they should also explain it. you can't sign up for it online, you have to speak with someone--that person should make sure you understand. I was also told my monthly price would not increase. It did by $30. that's specific to my account, so I didn't write about it--but it was painful to have reps telling wrong info and not emphasizing important details. Posted via the Android Central App

@mmidgley.....This is not data stash.. read the god damn article Posted via the Android Central Ap

data stash is part of the 4 for $120 plan. an important part. especially for those who had unlimited full 4G previously (which is not allowed on a line on this group plan). I did read and understand the article. thanks for your cursing help. Posted via the Android Central App

That's...not true. I have data stash and I started accruing unused data as soon as I switched from the 1GB plan to the 3GB plan. I immediately had 10 GB but at the end of the first month it shot up to 11.5GB. Posted via the Android Central App

I was told by T-Mobile it wasn't true as well. but it IS in the fine print and they did enforce it on my account! 5 lines all used less than 5GB and NO stash to show for it in the next month, only their promo 10GB which continues to block any stashing. they're allowed to do this, it just goes against their "don't lose data" type advertising.

Did you switch to tmo after data stash was announced? Because I don't have that problem. Posted via the Android Central App

Coverage in South Texas is horrible, so many dead areas. No use in paying for service that doesn't work, I'll stick with att Posted via Android Central App on 1+1

On this we can agree. I have crappy coverage from all over PA, NJ MD But hey if it works for someone I guess it is great. +++ Insert witty signature, watch as others not get it, profit +++

Are u talking about Tmo? Bc i reside in central NJ and there's only a 1/4 mile stretch in Somerset that there's no signal... Everywhere else I go I get lte...no I don't cover the whole state from Cape may to Sparta but I'm very happy with Tmo coverage Posted via the Android Central App

Damn them for not having a great LTE coverage area in the places I go!!!! I may go make a threat to leave AT&T if they cant match this. I get 30GB of shared now with 4 lines for $220. $80 in savings is damn hard to pass on.

Talk to the retention department with AT&T. Not sure if you are on one of those grandfathered plans from last year or if you remember this or not, but last fall, they were doubling data for free (30 for the price of 15Gb, etc). I just had them to put the 40GB plan on mine for $150 (not including the access fee; I could also do 30GB for $130). Another $45 for the access (3 lines) and then I get a corporate discount of 25%. If you have a college email address, that's an easy way to get a discount. Point is, the retention department has more power to make things happen. I love what T-Mobile is doing and I won't say I won't ever be with them in the future. There coverage is fine in my city and the interstates have gotten better. It's just frustrating that in the MSA, I can drop service and pick it back up like it was never lost -__-.

I got on this last time. Since t-mobile does not count audio streaming as data use its really not hard to stay within your 10GB unless you're streaming a bunch of video. I was able to add my daughters line (4th line) and actually lower my bill, up the amount of data available to line 2 and 3 and if I ever need more data you can up it to 20GB on a specific line for 10 bucks more a month. Posted via LG G4

An excellent move my TMO after their recent data breach. They sure don't want to lose customers. I'm heading to the TMO store after work to get my 10GB shared data plan, bump to 10GB each. (Fam. of 4) sweet!!!

Does tmobile still block based on device ? I mean they really shouldnt on tiered plans but I remember they used to. IE , can i get the 4 line deal and stick one of the sims into a iPad for example. I never understood why tablet data pricing is different, data use is data use, if its tiered. You can tether your entire 10gb and its ok but not stick the sim into any device. Or has this changed? can anyone confirm?

Won't be going to t-mobile after the security breach they had. 15 million customers hacked. Names, addresses, social security numbers...... No thanks t-mobile you get what you pay for Posted via the Android Central App

U do realize a security breach can occur at any company right? It's like addiction, it doesn't discriminate Posted via the Android Central App

And you realize that it happened to Experia. Posted via the Android Central App

+1. T-Mobile wasn't hacked. Experian was. Posted via the Android Central App

Chris8414, this was at experian, not T-Mobile. Educate yourself Posted via the Android Central App

Thanks to that data breach, I signed up for 2 years of free credit monitoring. Anything that moves I get a text or call. I went to TMO yesterday after work and switched to 10gb each.

Hey T-Mobile,how about a $90 10GB 3 line family plan for non population polluters

I wish I could have my family switch to this, but keep unlimited on my line. Last time they ran the promotion I couldn't do that. Posted via the Android Central App

T-mobile sucks Posted via the Android Central App

Chris8414, not sure what your smoking, but could you pass me some. It makes you live in fantasy land...lol jk Posted via the Android Central App

I am guessing this doesn't include the price of the phone. So add around $100 for the phones, right?

No it doesn't. Then again,if you already have unlocked GSM phones you don't have that subsidy in your plan cost either. Posted via the Android Central App

I still like my 30 gigs for 5 lines at $140 from AT&T. But, 40 gigs is better... Posted via the Android Central App

yours is better because its a bucket so one line can use 20 of that 30. If you have others that are light data users. If tmobile's was a 40gb bucket id get the 4 lines even though i don't need 4 lines but seeing as one line cant use more then 10gb at high speed without an extra charge . not sure i will bite

On TMobile that would be 50GB for 5 lines at $140. Lines 5+ cost $20 each.

My 2 lines of unlimited data for 100$ deal through tmo is the good stuff. Lte best signal the whole time. I remember talking with rep at tmo store when I was first window shopping. He was explaining some of their plans go to lower quality signal after a certain point wondering if that's the case. My friend and I haven't come close to 10g, and thinking maybe get a couple more people in on this. Posted via the Android Central App
Android Central Newsletter
Get the best of Android Central in in your inbox, every day!
Thank you for signing up to Android Central. You will receive a verification email shortly.
There was a problem. Please refresh the page and try again.