Synaptics announces world's first in-display fingerprint sensor, launching with a 'top 5' smartphone OEM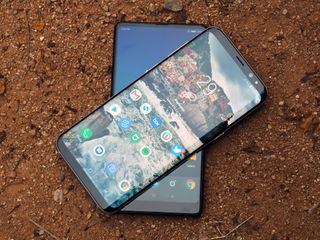 One of the leading biometrics technology companies, Synaptics, has announced a big breakthrough in phone authentication: in-display fingerprint sensors. The new "Clear ID FS9500" (catchy name) fingerprint sensor is designed for smartphones with near-bezel-free displays, and provides fingerprint authentication on demand completely within the display panel itself.
The Clear ID FS9500 sensor offers the same type of one-touch authentication we know today, but does it underneath the display glass — and it can handle a variety of situations including wet, dry and cold fingers. As you'd expect, it integrates a complete security stack with AES encryption and a variety of authentication features that companies can choose from. Seeing as it otherwise works the same as a dedicated hardware sensor, one of the great features of this in-display solution is that it can be turned on and off at will, meaning that unlike traditional sensors it doesn't occupy any space on the body of the phone when not needed.
We've seen technical demonstrations of this type of technology, but Synaptics is making this announcement because it says that it is already in mass production in partnership with a "top five" smartphone company. That already narrows things down a bit, but Synaptics has a couple other hints that seem too good to be a coincidence. In its press release, the company specifically calls out the demand for "bezel-free OLED infinity displays," which is interestingly the exact type of naming Samsung has applied to its curved displays in the flagship Galaxy S8, S8+ and Note 8.
This in-screen fingerprint sensor technology could certainly end up in all sorts of phones in 2018, but given the hints here we wouldn't be surprised if the Samsung Galaxy S9 was one of the first. Following the relative debacle of the Galaxy S8's rear-mounted fingerprint sensor and promises of upgraded iris scanning on the GS9, we could see the removal of the dedicated physical fingerprint sensor on the new phone.
In any case, we know a big-name manufacturer will have this Synaptics technology integrated into a phone soon. And that looks like it'll be a win for everyone.
Press release:
Synaptics Brings World's First In-Display Fingerprint Sensors for Smartphones to Mass Production with a Top Five OEM
Clear ID Optical Sensors are Faster, More Convenient and Secure than Alternative Biometrics SAN JOSE, Calif. – December 12, 2017 – Synaptics Incorporated (NASDAQ: SYNA), the leading developer of human interface solutions, today announced mass production with a top five OEM of its new Clear ID™ FS9500 family of optical in-display fingerprint sensors. Designed for smartphones with infinity displays, Synaptics' Clear ID in-display fingerprint sensors magically activate in the display only when needed. Clear ID is faster than alternative biometrics such as 3D facial, highly-secure with SentryPoint™ technology, and very convenient with one-touch/one-step biometric authentication directly in the touchscreen display area of smartphones.
The new Synaptics Clear ID optical fingerprint sensors deliver one-touch high-resolution scanning through full cover glass and enable sleek, button-free, bezel-free infinity displays. Synaptics' highperformance Clear ID FS9500 optical solution excels with wet, dry and cold fingers, and since it's protected by glass, is durable, scratchproof and waterproof. In-display fingerprint technology allows users to securely unlock the device in situations including while it's sitting on the table, at any angle, or while in a car mount. Synaptics' Clear ID performance is twice as fast as 3D facial recognition and requires only one touch to access your smartphone.
Serious Security:
Synaptics optical fingerprint sensors are available with SentryPoint™ technology, offering OEMs a widerange of unique and highly secure authentication features including: Quantum Matcher™ for adaptive fingerprint template matching and authentication; PurePrint™ anti-spoof technology to examine fingerprint images using unique artificial intelligence technology to distinguish between spoofs and actual fingers; and SecureLink™ which combines support for TLS protocol with ECC authentication and AES encryption.
"Consumers prefer fingerprint authentication on the front of the phone, and with the industry quickly shifting to bezel-free OLED infinity displays, the natural placement of the fingerprint sensor is in the display itself," said Kevin Barber, senior vice president and general manager, Mobile Division, Synaptics. "Synaptics' Clear ID fingerprint sensors are faster, more convenient, and more secure than alternative biometrics, and this optical technology represents a major innovation shift and opportunity for the smartphone market."
Android Central Newsletter
Get instant access to breaking news, the hottest reviews, great deals and helpful tips
Andrew was an Executive Editor, U.S. at Android Central between 2012 and 2020.
I really hope it's the S9.
'cause the oversize of the phone and lack of double tap to wake is bad enough without them hiding the fingerprint scanner on the worst place possible - the back - where it easily becomes inaccessible.

Samsung is the only company to call their displays "infinity displays" From the press briefing posted above: "The new Synaptics Clear ID optical fingerprint sensors deliver one-touch high-resolution scanning through full cover glass and enable sleek, button-free, bezel-free infinity displays."

Don't take that as any indication though. Samsung's term is possibly the most known term for bezelless display, which may also explain the choice of term. When Apple coined their 'retina display', it also caught up and was being used outside of Apple, especially by people, just because it's more catchy than 300+ PPI.
What you should take as an indication is that they said top five OEMs, and you can't be any close to the top without Samsung.

Samsung also manufactures the best OLED panels and makes a LOT of them so it's definitely Samsung.

I've never heard or read anyone refer to a bezelles display as an infinity display outside of Samsung and people talking about Samsung displays... And I read tons of smartphone articles and websites daily. Can you source even one article where a non Samsung display is referred to as an inifinity display?

Also Samsung predominantly uses fingerprint sensors from Synaptics.
Hence I do believe this will be in one of the galaxy devices. Just hope it's the gs9 and that we don't have to wait for the note 9

I have a Note 8 - and the fingerprint placement suits me fine. But I use the iris scanner more, basically pick my phone up and it unlocks immediately, with glasses on too.

I can confirm. The iris scanner will unlock my phone while wearing polarized sunglasses as well!

Well, what if you can't pick up the phone? Imagine you have it on a table, a charging pad, a car mount etc? Then what do you do?
The back is the only part of the phone that on a daily use can become unaccessible. That makes it, to me, the worst place possible. The iris scanner might help tone down the inconvenience in a few situations (if you have gloves or on a vertical stand) but it's still not a good replacement.

People who already have these phones simply refuse to admit any faults. I guess it's human nature

It's in a bad spot, could be better there is no doubt. But between smart lock options and iris scan, the pain points are so minor and rare that it's not worth complaining about in my opinion.

Since when was it a bad thing that a consumer was satisfied with a product and did not have any issues with it? Not everyone has a faulty device and that is a good thing. Some people have problems with their devices and some people do not. It is very popular in some circles to jump on bandwagons. With the cast of the newest devices comma it is a good thing but there is so much consumer satisfaction. Spend your money, by what you want, if it works the way that you expect it and want it to you then you have spent your money well and it doesn't matter what anyone in a forum or YouTube says. If something works for you, it works for you.

Swipe and type 4 digits. Takes 2 seconds. Yeesh.

Right. I have no idea why anyone would want a fingerprint scanner under the screen. The best part about having the scanner on the back is that you can *feel* it - and unlock your phone as you're pulling it out of your pocket. You can't really do that with the scanner on the bottom bezel - but at least it gave you a physical home button, which I can see that some people might like. But below the screen, you really need to display a target to press and then look at the screen to see where to touch. That means at least one extra step to unlock - vs. just touching the scanner on the back. If you hate scanners on the back, then maybe the power button option is okay - though it seems awkward to me. But either you have a bottom bezel or a scanner on the back. Nothing else makes much sense.

Swipe up, use your pattern. Plenty of good options. But I do hope the in screen fingerprint sensor comes next yr.

Pattern lock is extremely insecure as far as I know.

Now about that Bixby....It's HORRIBLE!

Actually it's not if you know how to use it.

Is It? Works great on my Note8

Same here, I use Bixby a lot, and that's even with having the option of Alexa, Cortana, Google Assistant and more.

Don't even remind me of that. When you manage to remap it to open the camera it's fine. But otherwise...

I love Bixby, great voice command phone control.

Oh really? I guess that's why I NEVER use Google's ****** solution...

If you try and use it the same way you use Google assistant then you'll definitely hate Bixby. On the hand, if you used it like it was intended (a way to use your phone hands free), then you see its value a lot easier.

The regular s series is over size?? Huh?

Yes. It is. Believe it or not, not everyone wants a mini cricket bat as a phone. And 5.8" is pathetically big for a phone.

Exactly(for you) to each their own

The back or side are more natural placements than the front, imo.

The moment you place the phone on a table or a charging pad or a car mount, there goes the fingerprint scanner access if it's on the back.
Which is why I think it's the worst possible place for it to be.

I don't see very many people putting their phones on tables face up, most seem to always put it screen side down. That's why cases all have that raised lip.

I cannot remember the last time I saw a phone. Where you put the phone face down.

Agreed (about not recalling seeing people put an expensive smart phone's screen f'd e down). Most people try to avoid possibly damaging their screen.

You need to get out more ;)

I've never had an issue with the back placement of the fingerprint scanner on my Pixel but then I'm not a desk jockey so I'm always pulling my phone out of my pocket. For those of us who always use their phones in hand the back is a great place for the FP scanner, especially if it's centered. That said, if did have a desk job I'd want to use a dock that still leaves easy access to the FP scanner, in my car I use smart lock options so I don't need to unlock at all.

If I have to choose one I prefer the back over the front. Would be nice to have both options.

The best compromise between both sides is, well, the side of the phone. Sony (and now Razer) is the only OEM who apparently thought this one through. Yeah, they're stuck on 2013 designs but when it comes to the fingerprint scanner, they got it in the best place. If Samsung wasn't so damn stubborn with the Edges gimmick, they could solve the problem as well.

Ha ha! This is exactly what Apple wanted for the iPhone X. Looks like they'll be copying someone else again...

Motorola needs it bad. A new fresh looking Z3 with bezeless design would be awesome.

Downside is they create a new design and existing mods don't work. Not sure we will see a major design change for another year or 2.

I mean same size so mods would work, but with the fingerprint scanner in the screen that would provide a larger screen.

Qualcomm also have technology to give the same feature, so look for more large-screen-ratio phones with minimal bezels and tighter integration of fingerprint readers over the next 5 years, starting within the next 12-18 months with the high-end tiers. https://9to5mac.com/2017/06/28/iphone-8-embedded-touch-id-qualcomm-demo/

I don't think this will make it on the S9's, but I wouldn't be surprised to see it as a differentiating feature on the Note9. That said, the sooner the better.

Uhh, they say it's currently being manufactured. I doubt that Samsung has started manufacturing Note 9s since the Note 8 was just released. Qualcomm has already said they are making 845 for a manufacturer. So, all signs point to Galaxy 9 and/or perhaps the Galaxy 9+

I agree a March launch is still over three months away. Plenty of time to build and announce.

Everyone here saying this "phone" needs it to help them out. Uh, all phones needs this asap.

Would be great on tablets and smaller laptops too in my opinion.

Top five? Well, that means it's not going to be in the best Android phone you can buy.

Hopped in my DeLorean and caught a peak of a BGR headline from September 10, 2018: Apple CEO Tim Cook announces reinvention of the in-display fingerprint sensor: "The others may have been 'in-display,' but our sensor is in the in-display. Twice."

Now how long till Apple or Sammy offer billion dolla bids to buy the company.

If you want to see it in your favourite phone anytime soon... As this is how companies tend to advance with funding needed to pay their workers properly, hopefully very quickly.

Now this is some great news. I really hope Sony gets to use this in the redesign of their phones. Only in-screen beats their power button implementation. And with this, they'd finally get rid of the US patent issue, haha

Not feeling so bad I had to skip the 8 series. If, in fact, the S9 gets this feature that is. Only four more months (approx).

Although the verbiage uses a Samsung term, they could have said "top two" instead of top five. Seems odd that they would expand the list that far, and it would be hilarious if a less popular company had it first. I don't know if Sony is in the top five anymore, but this would fix some things for them, and I could see a squared off monolithic design that was all screen except for two speaker slots. HTC is in the top five (AFAIK), and I'd love for them to have a feature that does not get ignored until after others adopt it. Like dual camera portrait mode or live photos...
I can just hear Apple and Samsung saying "Sh**! Sh**!", lol.

is this the same Synaptics that installed hidden keylogger software on HP laptops?
http://www.bbc.co.uk/news/technology-42309371

Don't worry. In five years Apple will announce they are the first to do it.

Consumers prefer fingerprint authentication on the front of the phone, and with the industry quickly shifting to bezel-free OLED infinity displays, the natural placement of the fingerprint sensor is in the display itself," I guess I'm in the minority. Not a fan of front fingerprint sensors. Keep it in the back. When I set my phone down it's back side up. So when I pick it up my finger hits the sensor naturally.

Interesting... my phone is always screen side up . I do not mind rear facing fingerprint sensors but I use the Iris sensor on my phone more than anything. I do not like having to move my phone around to see what's going on on the screen when I'm in bed if my phone is beside me on a table I just like to look at it. At least with my Note8 I can wake up the phone by pressing where the home button would be and it will wake my phone

I can't wait until Apple invents the "in-display fingerprint scanner"! That's the type of innovation only Apple can do.

Lol it will have 7 gazillion points of pressure sensitivity dots giving the most accuracy! And if you press down on 3d touch it will check your blood for diabetes all in .0000001 seconds.

Actually, that would be very handy.

There is no single placement that is right for everyone.
There are going to be people who genuinely get on with any placement, and those who have just convinced themselves that they do. I expect this to be a trend whatever people's preferences for rear sensors or not.

As long as Samsung continues to use curved glass displays...I will never buy one...completely stupid, fragile idea.
But I am sure other better OEM's will incorporate this tech in their phones also. So I will wait and see.
What if you leave a greasy fingerprint on the screen...will it continue to unlock on it's own?
Android Central Newsletter
Get instant access to breaking news, the hottest reviews, great deals and helpful tips
Thank you for signing up to Android Central. You will receive a verification email shortly.
There was a problem. Please refresh the page and try again.