Swype Keyboard is officially being discontinued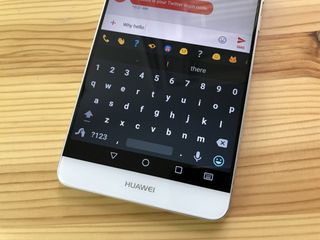 Like a lot of my fellow Android users, I often used to jump back and forth between keyboard apps on my phone. I've dabbled with just about every popular option out there, but today the Play Store is losing one of its long-standing champs as development for Swype Keyboard has officially ended.
According to one Redditor that contacted customer support at Nuance (the company behind Swype), they were told that "Swype+Dragon for Android has faced end of development." This was then followed up by a message from Swype's Product Team that reads:
Shortly after this, XDA Developers received a statement from Swype's PR department confirming what the Reddit user was told.
Swype has been on the Android Market/Google Play Store since as far back as 2013, and at the time of publishing this article, the Play Store indicates it has between 1,000,000 and 5,000,000 installs. In addition to being around on the Play Store for so long, many Huawei devices still ship with Swype preinstalled out of the box.
The Swype Keyboard app is still on the Play Store, but it won't receive any future updates from here on out. I've personally been using Gboard for well over a year as my keyboard of choice, and while it can take some time to understand all of its different features, it really does offer one of the best typing experiences on Android.
If you're currently a Swype user, what keyboard app will you be moving to?
Get the Android Central Newsletter
Instant access to breaking news, the hottest reviews, great deals and helpful tips.
Joe Maring was a Senior Editor for Android Central between 2017 and 2021. You can reach him on Twitter at @JoeMaring1.
SwiftKey. I've been using it since my old Note 2 with no problems.

Still a great choice, used that one as well.

SwiftKey is where it's at

Pixel 2 XL, so been using G Board, and stick equivalent for a couple of years or more now. Swipe was awesome back before that.

How well do you like the 2 XL comparative to the first XL? if you had the first that is.

I wish Samsung would hurry up, get their head out of their ass, and release their updated keyboard.

Progress is always welcome... But I have a 'who cares?' attitude regarding Samsung keyboard. Samsung has never had a decent keyboard. The most glaring fault is awful predictive text. Thankfully, it is easy to try and chose a free keyboard alternative to Samsung. I was a longtime SwiftKey user, but Gboard is my preference now. I've tried gesture typing... It's not for me.

PS Speak of the Devil.. Samsung Keyboard was updated today, Feb 20. Version 2.1.03.23 53.38MB Nothing major... bug fixes and improvements. No idea why they don't offer a high contrast white key and black background keyboard.... the yellow keyed high contrast option mess is just that.... a mess.

I always thought Swype did better at the gesture typing than anyone else. I really grew to hate their theme though. They kept that orange color for the swype trail way too long. It annoyed me because it was like using a gingerbread themed keyboard during the time of the most beautiful of Android themes which was Holo. Nothing Android can do will ever compete with Holo. Material design and round icons pale in comparison to how nice Holo looked. Now I prefer to stick with the stock keyboard on my phone which happens to be google's at the moment.

Did you not know that you could change the theme for Swype to whatever color you wanted? I change mine regularly.

Swype was amazing when it first came out. Then feature creep and lag killed it for me. At one point, my phone would lag so bad, it was unusable due to Swype. When GBoard came out, it was the last nail in the coffin. Now, hopefully GBoard doesn't bloat itself out of existence.

Damn, this sucks..SwiftKey is really the only keyboard I use for customizing the keyboard the way I want it. GBoard is cool and all, but customization is not as good as SwiftKey, imo..

Swype is ending, not Swiftkey.

In regards to Swype that is. Closest clone (Flow) that I've seen for SwiftKey. Wonder if they'll take Flow out of SwiftKey too??

Nope, the developer behind swype will no longer develop it. Why would it affect other keyboards?

Been using Swype for quite a long time now, have tried the others but always ended back at Swype. Guess it is time to try the others again and see what I choose next.

It was great back in the day

I'll probably just stay with Swype for a while, then someday try again. Swype still works the most consistently for me, even allowing swipes in password fields, a great boon for development

Same here. I won't switch it until I have to. My wife uses Gboard and we've both been unimpressed with it. I always felt Swype worked better for me than Swift so I doubt I'll try that again. It is bloated but functionally I find it best.

It was pre-installed on my Verizon S3 from 2012, also had it on an older LG phone from T-mobile but can't recall if I downloaded it or not. Personally never liked it.

I will not be switching unless and until Swype actually stops functioning. GBoard cannot compare.

I've tried all of them and I only like using Swype. Very disappointed. I have to use Swiftkey on my work phone and it's like running fingernails on a blackboard for me. Can't stand it. I guess I'll use it until it breaks.

I love Swype! Use it in several languages on Samsung's keyboard and find it elegant and efficient. I have horror of tapping individual letters... what a pity! Will have to check what the others are mentioning below. Sad.

I moved from Swype to SwiftKey several years ago. Mostly for the themes at the time. But most recently I've found myself flat out impressed by the BlackBerry Keyboard.
https://cobalt232.github.io/blackberrymanager/
It's available for any Android device running 5.0 and newer. Granted, it has to be "side loaded", but the developer is maintaining updates as fast as BlackBerry is pushing them out and also offers the entire BlackBerry productivity suite of apps.

Blackberry virtual keyboard is still the best. ;)

Not used Swype for a long time since I moved to SwiftKey. I tried Gboard in it's early days and it was terribly laggy so I deleted it within hours. I've tried the Samsung keyboard as a part of the Oreo Beta and it's better but I just can't get a long with it so Swype is where I'm at though I might just have a peek at Gboard again as users are reporting it to be much better.

I tried a few different keyboards when I started on Android - Swiftkey, whatever came with each phone (Samsung, LG), Google Keyboard - and nothing worked as well for me as Swype. I'm going to hang onto it until I get a new phone at which point I probably won't be able to reinstall it. Their swipe typing worked better for me than any other. Don't know why I didn't like the Google one last time I tried it, but I couldn't swipe as effectively with it.

Gboard is my go-to keyboard. I ditched Swype when they switched to Nuance Dragon Dictation instead of Google voice typing. It does a much poorer job than Google's voice input. I've never liked the gesture typing on Swiftkey, I find the error rate to be much higher than Swype or Gboard. Every once in a while I'll try it again to see if the gesture typing has improved but it never does.

Very disappointed in this news. I've been using Swype since the beta days, setting it up is one of the first things I do on a new device. I guess I'll have to give GBoard a try. I'd be like the others and suggest I'm sticking with Swype until I can't anymore but I think I'll try to make the switch while I still have Swype as a backup.

I tried using GBoard but the gifs won't post, just emojis. Worthless if it won't do gifs etc. I did like the photos you could put behind it.