Swiftkey launches Swiftkey Analytics to VIP's, want to analyze how you interact with the app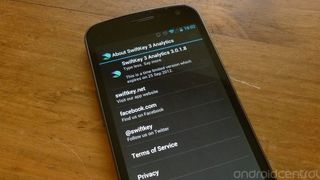 SwiftKey is somewhat of a favorite around these parts, and already this week we've been treated to an update filled with new features and themes. Today though, for their VIP Forum's members anyway, comes the opportunity to help the developers in their work by downloading the SwiftKey 3 Analytics app. In essence, this is the same great SwiftKey 3 keyboard but that submits anonymous mathematical data to the developers.
The data collected will indicate how a user interacts with the keyboard and its predictions and analyze typing habits. SwiftKey isn't any old two-bit developer either, so when they say this is all anonymous and mathematical, and that no text entered is transmitted, we're pretty much inclined to believe them. The service is time limited until Sep 25, and entirely voluntary. 5 lucky VIP's who take part will also win themselves some swag. And we all love swag, don't we? If you want to take part and help SwiftKey shape the future of their app, head on over to the VIP forums and grab it now and read up some more.
More: SwiftKey VIP Forums
Android Central Newsletter
Get instant access to breaking news, the hottest reviews, great deals and helpful tips
If Swiftkey had a layout like the Thumbkey keyboard it would be the most superior keyboard. And if Thumbkey keyboard would get prediction like Swiftkey it would be the greatest. So whoever is first to combine will be the top. I use Swype for portrait and Thumbkey & Swiftkey in landscape,

Seriously, you switch keyboards each time you rotate your phone?
That's crazy.

I use Keyboard Manager (requires root) to automatically switch my keyboard from Swiftkey for portrait to Thumb Keyboard for landscape. As stated above, until one or the other combines the features of both, neither is a perfect solution.

One of my first apps and love the early access that being a VIP gives and happy to share to help make it better.

When I got my email from the VIP forum about this, I went and downloaded it immediately. I love Swiftkey and it's been my primary KB for a good while now. I'm all for helping them make it better. :)
Android Central Newsletter
Get instant access to breaking news, the hottest reviews, great deals and helpful tips
Thank you for signing up to Android Central. You will receive a verification email shortly.
There was a problem. Please refresh the page and try again.