SwiftKey Beta for Android gains integrated Bing search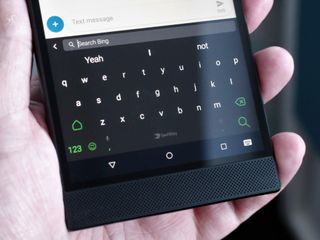 Microsoft's SwiftKey keyboard on Android is getting some added functionality, with integrated Bing search implemented into the latest beta version of the application. Anyone can download it from the Play Store (opens in new tab) right now and take it for a spin.
In the bar above the word suggestions, you'll now see a small search box on the left-hand side which, when tapped, slides out and allows you to perform a Bing search. It doesn't matter which app you're currently in as you won't have to leave it. Your search will appear in a pop-up window that covers most of the screen, but you can tap out of the pop-up and back into the compose window easily.
The feature is fairly basic, and not nearly as well-integrated into the keyboard as Gboard's Google searches, but it certainly has its uses. From the web search which just pops up over your current app you can either share a URL or snap and crop a screenshot to do the same with.
It works pretty well for what it is, and it's a nice addition to SwiftKey, which is already one of our favorite keyboard apps.
The newest SwiftKey Beta update also adds some language improvements, including a new Arabic layout. If you want to give it a whirl yourself, hit the Play Store and grab it at the link below.
See at Google Play (opens in new tab)
With the current implementation, this is NOT a good thing. First, there's no way to disable it or hide it. There's a box on the ribbon that's the size of 2.5 other icons in the ribbon, forcing me to scroll to access them all now. Needs to be able to be turned off, for one. Second, there's no details about what it's doing with search history and whether it's tied to your MS account or not. Third, there's no way to move it to the end of the ribbon, or make it just an icon. There is absolutely zero reason to have what essentially amounts to a giant icon that is 2.5x the size of other icons, especially when it just expands to full width anyway when you tap it. So there's zero benefit to having it that big other than laziness. Just make it an icon only, like the magnifying glass that's inside the even bigger icon right now, and make it able to be re-ordered or disabled just like everything else on the ribbon. Forcing your search box in there and moving my icons in the ribbon out of the way because you feel like it is not the way to do things. Also, any plans to ever follow through with an editing panel? SwiftKey has the absolute worse text editing and navigation tools of any keyboard — mainly because there are zero editing tools, and the arrow keys are obnoxious and take 8 taps to toggle on or off. They're not even in the bloddy quick settings panel in SwiftKey! Really? You've been promising editing tools for nigh on two years now, and all we get instead is an uninvited, unremovable, giant search ICON that searches with Bing of all things (I know, MS=Bing, but it doesn't mean I have to like it). This new addition is the worst thing SwiftKey has done in years.

I think it's bloddy brilliant

It is the Beta. This is the initial release to ensure the feature works before the polish it.

Exactly... It's a beta. That means submit your feedback and they will likely change some of your valid points. But it's certainly not the worst thing ever from swift key lol.

Girls from your area:
http://SexDating1.com
Open in browser, register for free!

If only being was actually useful.

Sometimes I use bing over google search simply because it resembles search results like the google of old. The new google search results often bring up tweets and amazon listings that i dont want to see.

I tend to use bing for most of my searches now. Sounds daft but I have found it gets me better results google gives me to many paid for adds at the top I find and also what I search for bing tends to give me better results.

A good way to get rid of those Amazon results from your Google search....is to search from the Amazon site. Plus if you are using chrome to access Twitter or Amazon, then it will probably still show up. If you can use the windows Amazon app, or the app from your Android phone, you can at least loose the congestion a bit.

I actually predominantly use Bing. It usually gives me better results for my area.

The one thing I'd love for them to do is have a one or two tap option to switch between full and compact mode. Really hate having to go into the menus to do it.

That's a good idea. Like a swipe on the space bar or something.

I use bing... good option for search engine

I still believe that the BlackBerry Virtual Keyboard is the most business friendly in functionality and ease of use. I have it installed on my LG V35 ThinQ and it works great. Emojis, clipboard, cursor movement, and microphone all within a touch a button.

Hui! Gotta do a swift backup of my current apk in case this thing is as horrible as it sounds!

For those who just dismiss Bing I think you are irrational. There's nothing wrong with it. You can use both Google and Bing. This feature is kind of cool. It's not intrusive enough to put hate on it. Just ignore it if you don't want to use it. But, I can see this as a convenience in a way.

The search results that Google gives me and the way that they're laid out just seems so much better to me. I can't stand Bing.

Then don't use it. I actually get better results from Bing with most things.

That's a very generous use of the word "gained".
And like mentioned elsewhere, it looks to be pretty LARGE and forced. (Standard MS attempt to make things "convenient", aka "wewantyoutoloveanduseuspleaseuseusplease") Another reason pushing me farther away from SK. I was a fan for many years. But the changes since the acquisition are not great, converted to Gboard a year ago, and not looking back.

Same, uninstalled Switfkey the moment it was bought by MS, because I just knew these kinds of changes were coming. Better to have a clean, instant switch to another keyboard app.

I've been using SwiftKey for a few weeks now. Gboard just refused to work for me even weeks after they supposedly fixed the issues, so I finally gave in and moved to SwiftKey. It's been a huge improvement. I was afraid it would still have performance issues like I heard they did before but Microsoft has apparently fixed those and added a ton of neat features. It's a solid keyboard. The search function could use some polish and let us customize it more, but overall it's a good move.

Seems to me I remember Bing being baked into a variety of Windows phones, and unkillable. Is there a correlation here?

Well, I can already pull up my search of choice while typing, so this feature is redundant and unwanted. Is Bing paying them?

Microsoft owns SwiftKey. Microsoft owns Bing. There's no one paying anybody here, except for the employees wages. This is just a neat feature that no one is forcing you to use or even acknowledge. It isn't even in SwiftKey yet, just the separate Beta.

They keep adding silly features but have not fixed the sizing issues that persist on Galaxy devices. All S8, and S9 models have issues and they are among the most popular phones. Keyboard is too small even on the largest setting. Luckily, I just downloaded an older APK. I will not update until they address this. But maybe if I'm lucky, in the next update they will ad an Amazon or Ebay search button to the cluttered settings bar. 😂

Wish they allowed NSFW gif searches. The rated G search results sucks.

I'm really disappointed they chose bing, bing is *****!
Android Central Newsletter
Thank you for signing up to Android Central. You will receive a verification email shortly.
There was a problem. Please refresh the page and try again.