SwiftKey 7.0 adds stickers, location sharing, new languages, and more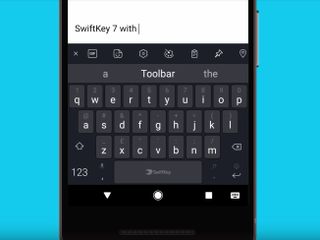 Microsoft purchased the ultra-popular keyboard app SwiftKey in April of 2016, and since then — well — let's just say the keyboard's had better days. In an attempt to better compete with the likes of Gboard and other competitors, SwiftKey is getting its biggest update since the Microsoft acquisition.
There's a lot going on in SwiftKey 7.0, but perhaps the biggest change lies with the new Toolbar. The Toolbar is represented as a small "+" icon near the top left of the keyboard, and tapping it reveals a new menu for finding all of your favorite features, including emoji, GIFs, themes, and your clipboard. However, if you're on Android, you'll find even more goodies tucked away here.
The first Android-exclusive new feature is stickers. Similar to many other keyboard apps, SwiftKey now lets you send a variety of different stickers to whoever you're messaging. You can send these stickers as they are, or edit them to get the perfect look.
Coming soon, SwiftKey will also add location sharing so you can quickly send your current location or a saved address, as well as a calendar feature that lets you insert any upcoming appointments in your default calendar app. Last but not least, SwiftKey 7.0 adds eight new "lish" languages — which SwiftKey describes as "a hybrid language that lets people shift seamlessly between languages, in this case English and Indic languages."
SwiftKey 7.0 is rolling out for both Android and iOS right now.
Download: SwiftKey (free) (opens in new tab)
Joe Maring was a Senior Editor for Android Central between 2017 and 2021. You can reach him on Twitter at @JoeMaring1.
Swiftkey has it's issues. I tried using it several times and interestingly enough a few of my Apple buddies seem to cause inteference in the flow of my phone.

Not my thing, either. But their inclusion doesn't inconvenience people who don't use them so... no big deal.

I'm typical Microsoft fashion. Location Sharing will be U.S and India only The Calender event thingy is a pretty cool edition though

Still, better than Google... That'd cut out India and be US only.

I just wish they allowed you to sync your clipboard/shortcuts between devices.

If I had to guess, that will be a thing for W10 PC's very soon, especially if your using Microsoft launcher and Swiftkey

Yeah the lag got to me to. Converted to Gboard and I love it. This update has me curious though ,I will admit.

Getting too bloated. I switched back to the Samsung keyboard.

I use SwiftKey on my OnePlus phones and the prediction has always been better for me than Google keyboard. Not only that but it just "feels" better and smoother compared to Google keyboard. No reason for me to switch and I've been waiting for GIFs and stickers to be included. Finally it's here!

I used SwiftKey for years before moving to Gboard last year. It didn't feel quite as bloated, and it definitely had less lag. I also love having Google search baked in. This update does have me intrigued, though, so I may try it out.

This new toolbar is a joke. It didn't add anything new that the emoji key didn't already have. It did add an additional step to get to settings though, not a good change. I've been totally sold on SwiftKey for years and this is the first bad change. Well, I hope this isn't indicative of typical MS programming. Microsoft use to rock back in the 90's, but that was a whole generation ago.

Apparently, it no longer allows the sending of VCards. :(

Swiftkey is garbage. Has been for a while. Was a decent keyboard around the KitKat days but has since become a bloated and laggy pile of ****.

Still the best keyboard by a long way

You're right. After trying so many different keyboards from time to time, I'm always coming back to SwiftKey.

Has anyone noticed what happened with voice typing?

is there any way to remove the text prediction?

There used to be a way in previous versions but it doesn't show up in the new settings. So many suggestions on the SwiftKey help section seem to be redundant and needs an urgent update. It's a shambles. Example, my comment about Voice Typing, the help section still tells me to long press on the comma/microphone key to access it when, in fact, you now have to tap on the keyboard symbol, bottom right and select Google Voice Typing.
Android Central Newsletter
Thank you for signing up to Android Central. You will receive a verification email shortly.
There was a problem. Please refresh the page and try again.