Straight Talk bumps full-speed data allowance to 3GB, still costs $45 per month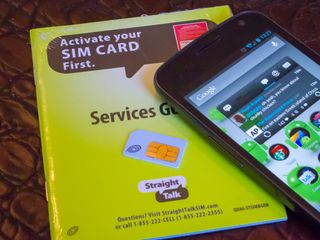 Straight Talk, an AT&T MVNO and one of the most popular prepaid carriers in the U.S., has increased its data allowances by 500MB without bumping prices. Though the carrier still advertises its $45 per month plan as "unlimited," following mild outrage it has chosen to clarify that users are throttled after a certain point of data usage. At the time of clarification Straight Talk was offering just 2.5GB of full-speed data, and has now bumped that to 3GB at no additional cost.
The extra 500MB of full-speed data applies to its $45 U.S. plan and $60 international plan. Straight Talk claims that's up to 10 times more data than other prepaid $45 plans, and that's roughly accurate, depending where you look. Straight Talk continues to be one of the best prepaid choices in the U.S. for unlimited talk, text and data at a great price, with the added bonus of having the choice of both AT&T and T-Mobile networks and the ability to bring your own phone.
Source: Straight Talk (PRNewswire); Straight Talk (opens in new tab)
Andrew was an Executive Editor, U.S. at Android Central between 2012 and 2020.
Are there taxes built into the price and is it LTE data?

My bill comes out to like $52 after taxes, and yes it includes LTE. Posted via Android Central App

You can probably add auto pay to get 2.5$ saving.. i pay 46.53$ monthly.

This is what me and my wife are doing (with auto-pay discount). After buying a like-new Nexus 5 on eBay for $330, we love it!

You will need to pay sales tax and depending on where you live there may be a a 911 fee. Buying over the phone tends to be higher sales tax. Posted via Android Central App on my daily driver, the Droid MAX

Yes it's lte, either att or T-Mobile depending on the sim card you have. Posted via Nexus 5 Android Central App

Paid $49 for a refill from their website on Sunday.

My last bill was $46.37 (including all taxes). I have auto-refill through Straight Talk's website. Never have to step into a store.

Yes on LTE data. I autopay with my Visa ATM card from checking, and I am not charged any tax. But then my city and state don't have sales taxes.

Now if I could just decide on a new phone - too many exciting choices strung out over the next few months. I might just try out Straight Talk when I finally get the new phone.

throttled to what? whatever 3G standard each carrier uses? Posted via Android Central App

So basically unusable. Straight Talk only gets away with calling it unlimited because they don't completely shut you off but for all pracatical purposes you get 3gb of days for your money. Posted via Android Central App on my daily driver, the Droid MAX

Nothing new, though. 2G is plenty usable for lots of things, and it means that you don't get charged overages or have your data "randomly" shut off. I think it's far preferable to having hard caps.

When I'm on 2G on T-Mobile I'm only able to call and text. Internet won't load. Can't use GPS. Maybe AT&T is better, but to me 2G isn't usable for everyday activities. Posted via Android Central App

Same here, but text (through Google Voice, which is via data) and various chat apps work just fine on 2G, which means it's not totally useless. Posted via Android Central App

True.. I couldn't do anything on T-Mo's 2G.. Posted via Android Central App on The Nexus 5

Unlimited Nation-wide talk Unlimited texting. Monthly 3GB LTE data, and unlimited 2G thereafter, if you go over. That's a pretty good deal. Where I live, carrier charges $40 a month just for unlimited nationwide talk/text. It's another $60 for 4GB of LTE data.

I have LTE on Straight Talk T Mobile, refill on Walmart.com and taxes & fees are included $45. Posted via Android Central App

Walmart.com is cheaper to refill than Straight Talk directly, true. But you do have to pay taxes and fees for Straight Talk in addition to the $45.

Can you explain how it's cheaper if you buy in Walmart? Posted via Android Central App

Less sales tax Posted via Android Central App on my daily driver, the Droid MAX

go to checkout...you pay tax on the card. AIO is still a better option then this. I'm on AIO right now

I don't know about that AIO has a cap on how fast you can actually download.

I'm on AIO now too. They cap LTE at 8Mb/s and HSPA+ at 4Mb/s. Still plenty fast for my needs, and it is only $45 pr/mo (including taxes) for 2.5 GB.

Ya im a tech junkie and i was worried about the cap at first too. 8Mb/s is plenty fast for those times your not on wifi. even when they throttle you down its still fast enough to stream music and even netflix lol I came from tmobile...verizion before that and this is the happiest i have been with a phone plan in a long time. its near perfect. The Tmobile $30 plan is great but service is still shit most places.

Yeah, I agree. I've never found myself frustrate Aio's LTE speed, and 7GB for $65 is just unbeatable. Posted via Android Central App

AT&T ST doesn't have an advertised cap but it isn't quite as fast as Go-Phone or Post Paid AT&T. I've gotten as fast as 18 down and as slow as 2 down. It really depends on the network loads I'm guessing. The thing that can really disappoint me from time to time is the high ping times. Thats mostly due to being routed through tracfone's equipment to the AT&T network. The ping wasn't as bad in the HSPA+ days before "tfdata" APN.

How bout roaming partnerships? Does ST have full access to ATTs infrastructure? Nexus 5

I've got an unlocked S4 Google Play edition, currently on T-Mobile's $30/month pre-paid plan- that has basically unlimited data and text, but only 100 minutes of talk. I usually spend the $10 to throw an extra 100 minutes on there, getting me up to $40/month. If I switch to StraightTalk, am I going to lose anything, like LTE speeds or tethering?

I have this same plan.. $30 a month for unlimited text and data (although it's throttled after 5 GB.. Still plenty for my use) and I do the same thing... Throw an extra $10 in my account for when/if I go over the 100 minutes.... Great little plan... I use it with my Nexus 5 and it's a heck of a lot better than the Sprint coverage I was getting...

I was thinking of trying the tmobile $30 plan..just not sure if tm is strong enough in my location. I'm guessing u can't use wifi calling? Posted via Android Central App

I get VOIP through work, and I've used it over Wifi at home and LTE on the road, but I'm not aware of anything directly from T-Mobile that would allow this.

You won't lose anything except tethering which is strictly prohibited on straight talk. Posted via Nexus 5 Android Central App

It also users the sprint network Posted via Android Central App

Yeah it does I moved my gs3 from sprint. To straighttalk. And it still uses the sprint network. Posted via Android Central App

Yes there are still Sprint Straight Talk smsrtphones. Posted via Android Central App on my daily driver, the Droid MAX

Incorrect. There is no Sprint network. It's a hoax.

Lol!!! Posted via Android Central App

Planning to try this in a few months after sprint contract is up. Do you get throttled to 2G or like decent hspa speeds? Posted via Android Central App

Never got that close to 2.5 anyway. Posted via Android Central App

Straight Talk terms of service does not allow tethering... Posted via Android Central App

Just make sure not to tell them that you're tethering.

And risk loosing your phone number when they cancel your service without warning due to network abuse. Posted via Android Central App on my daily driver, the Droid MAX

They also don't allow streaming and I've never had a problem with either. The people who whined the loudest about getting capped/dropped were those who tethered their laptops to their mobile and then torrented 2GB in a day.

Works flawless on my Note 3 from TMOBILE and using Att sim card. Always streaming music in my car. Ian B

I'm going to give straight talk a try when my Verizon contract is up. I've heard a lot of good things. Posted via Android Central App

Andrew most Straight Talk phones actually work on Verizon 3g these days. There are a select few phones that work on AT&T now as well as T-Mobile and Sprint. Further you don't "have a choice" what network you are on. You need to buy the correct phone for the network you want to use. Only with the bring your own phone program do you have s choice and even then you need the right SIM and phone. Oh and these changes happened the first of the month so you're a couple weeks behind :-) Posted via Android Central App on my daily driver, the Droid MAX

Straight Talk also offers a $2.50/month discount if you use Auto Pay. so cost will be $42.50 + your state's sales tax + $1.00 911/Emergency Fee. i'm tempted to try Straight Talk with my Nexus 5 and nix AT&T GoPhone. that would save me about $20/month. BUT my concern is losing network priority for AT&T towers and less coverage map and and also having slower speeds because of the special Straight Talk proxy vs. AT&T "proper". another concern is using "Google Voice Lite" Google Voicemail. i'm not sure CCF/GV Lite works on Straight Talk even with the AT&T option. i could not get it to work on a friend's phone. my AT&T GoPhone works fine for CCF/GV Lite.

I've been using straight talk on my nexus 4 now since day 1 and have never been happier. Posted via Android Central App

Straight Talk isn't bad. Sometimes your picture messaging won't work. You only get lte if you're on an att compatible phone though. But 3gb of data at that price is pretty good. My bill came to 49.52 a month after taxes with the auto pay. Figures I ported my # over to aio last month. I will say data speeds are good and I always get my picture messages. The 2.5gb plan is a straight 45 after the 5 discount. I'd recommend either one if att is better than tmo in your area. Posted via Android Central App

I never even use 500MB in a month on ST. I really wish they would offer a 500 MB plan with unlim talk/text for $35-40, similar to AIO. And including taxes in their pricing, also like AIO and others, would be nice! Posted via Android Central App on my white Nexus 4 with StraightTalk ATT

If you never go over 500 MB, might as well go to AT&T's Go Phone $40 plan of 500 min, unlimited text & 500MB data. You get full AT&T coverage and LTE speed, plus you can save more by buying refill card through newegg.com's 10% off coupon(those come by every 2 month if you sign up to receive Newegg newsletters).

Straight Talk uses MULTIPLE networks, not just AT&T.

Now that I don't have any issues purchasing straight talk pins from Walmart dot com, I've been buying the 3 months of ST service for 125.99, no tax in California. Comes to $42 per month.

I use Net10 which is a sister company to Straight Talk and usually has the same rules and allowances. Anyone know if they're also being bumped up to 3GB? Posted via Android Central App

I have 4 phones on straight talk, In our area we can get the lte no problem as it uses AT&T my bill with AT&T was almost $375mo. I now pay less then. $200 for the same connection. I state connection as if you need support forget it. Straight talk is like asking a rock for answers. Posted via Android Central App
Android Central Newsletter
Thank you for signing up to Android Central. You will receive a verification email shortly.
There was a problem. Please refresh the page and try again.