Google Stadia head Phil Harrison believes ISPs will lift data caps for game streaming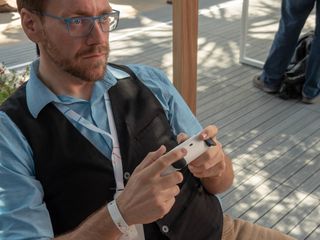 (Image credit: Windows Central)
What you need to know
Google Stadia is an upcoming game streaming service.
You pay $10 a month for "Stadia Pro" to stream at 4K resolution and 60 frames per second.
Google believes that internet service providers will raise data caps for game streaming.
The launch of 5G wireless technology may also remove data caps.
Google Stadia is an upcoming game streaming service. You can stream games from the company's servers to your television or mobile device. As with any streaming service, consumers have to be aware of internet restrictions and data caps imposed by their internet service providers (ISPs) like Comcast.
In the United States, many regions have 2 TB limits after which you may have to pay more. Stadia chief Phil Harrison believes that ISPs will raise data caps for game streaming services in the future. He said the following when speaking with GameSpot.
It seems quite naive to assume that ISPs will raise data caps. Companies could simply charge consumers more for game streaming because it's a burden on their networks. It's unclear what possible incentive they have for backing Stadia. Affordable internet is another area of concern.
According to Harrison, 5G wireless technology may fix the data cap problem, but it's going to be expensive. He believes that spending $50 a month on faster internet is worth it. Unfortunately, there are tens of millions of Americans who can't afford spending that much on such a service. This is why federal programs like "Lifeline" exist for those who can't even afford basic packages because they're too expensive. You can read Harrison's comments below.
Stadia wants to bring gaming to the masses, but right now it seems like it caters to those who can afford expensive routers, aren't worried about going over their data caps, and have the ability to pay $50 or more each month for internet. Why would these consumers choose Stadia over the next-generation Xbox or PlayStation which will offer lower input lag and 120 frames per second (FPS) gameplay?
Google is currently selling a Stadia Founder's Edition for $130 on its website. It gives you a controller, Chromecast Ultra, and three months of "Stadia Pro" which lets you play games at 4K resolution and 60 FPS. The free version, "Stadia Base," is expected to launch sometime in 2020, possibly around the same time as next-generation consoles hit retailers. Stadia Pro comes with free content and discounts on select titles. It's a lot like Xbox Live Gold or PlayStation Plus. You can buy additional games through Stadia, and with Stadia Pro, you have access to content on the platform, including Destiny 2, which is the first free title.
All-in-one
Google Stadia Founder's Edition
Game streaming for the masses
The Founder's Edition of Google Stadia offers three months of Stadia Pro and includes a Google Chromecast Ultra and Stadia controller. Whether it can live up to its potential is yet to be seen, but features like State Play and Crowd Share are intriguing.
Get the Android Central Newsletter
Instant access to breaking news, the hottest reviews, great deals and helpful tips.