Sprint officially announces the ZTE Optik, available Feb. 5 for $99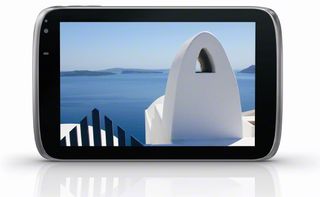 We first outed the $99 ZTE Optik Honeycomb tablet a week ago, and today Sprint has made it official. The 7-inch Android 3.2 device will be available Feb. 5. Spec-wise, the Optik is right up there with most other Android tablets. To wit:
7-inch display at 1280x800 resolution
Android 3.2 Honeycomb (No mention of an Android 4.0 upgrade)
Dual-core Qualcomm Snapdragon processor at 1.2GHz
1GB RAM
16GB storage
GPS
Wifi (802.11 b/g)
4,000 mAh battery
Bluetooth 2.1+EDR
Stereo speakers
Do we finally have an Android tablet that beats all others on price while matching many in specs? We'll have to wait until we get it in our hot little hands. But consider our intereset piqued.
Source: Sprint
I'm guessing that's with a 2 year agreement.

was this 3g only if i remember?

Please update this post, it is misleading. Directly from your link: "ZTE Optik will be available through Sprint direct ship sales channels, including Sprint Stores, Sprint Business Sales, Telesales (1-800-SPRINT1) and online (www.sprint.com) for just $99.99 with a new line or eligible upgrade and two-year service agreement. It will also be available without a service agreement for $349.99, and business customers may qualify for special pricing. (All pricing excludes tax.)" And it is a 3G/WiFi device.

3G only and on HC. I'm not sure it's such a steal. Even now we don't know how good the screen quality is. Also what kind of screen does it have, IPS, LCD, etc... Until we have this info I'll hold off judgment.

It does not specifically say 3G only from the link: "Wi-Fi® (802.11 b/g)" There is nothing stating that the WiFi can only be used for hotspot data sharing. As I pointed out above it can be purchased for $349 without a plan. Why would you purchase what I assume is a locked to Sprint device without a contract unless you were planning on using it as a WiFi tablet? I could very well be wrong, but I haven't seen any 3G/4G tablets that can't be used as WiFI only tablets.

Specs omitted from the article It's a 3G device with a two year contract. * 3G tablet
* Dual cameras.

even at $349 this is a deal!
dual core 1280x800 with 1gb of ram???
gps and 4k mah battery!
wow!
i would go month to month and buy it outright.

For anyone who thought for a second that a CARRIER would release a tablet for $99 without a contract involved....... You're an idiot.

We are surrounded by idiots.

But even with a contract its a steal. At $349 for a 1280*800!
dual core and 1gb ram!
and its ZTE, how hard will that be to crack and get ICS on it?
STEAL!

You're an idiot. A 2yr contract costs >$700. "with a contract at $349" would bring it to over a thousand dollars. $99 with a contract, adding up to >$800 is enough of an extreme ripoff. Keep in mind that these crippled toys will be selling for <$99 within a few years. Buying one now at anything over $300 (and that includes all the apple jewelry) is as moronic as buying a 42" plasma tv for $10,000, dvdrw drive for $600, etc. Settle down and wait for the prices to do the same.

Yeah, but who want's to buy 3yr. old tech??? No one that I know of. Once that HW is $99 you'll want that Octo Core processor tablet with the Tegra 5 chipset, not the old school Dual Core Tegra 2!

Actually a contract could be had for as little as $19.99 a month, correct? That would be ~$480 over the two year span. That only gives you 1GB a month of 3G. Add the $99 to that and you get ~$580.

No mention of gApps or Marketplace.

Not bad at $350 without a contract, actually... but not until it's running ICS.
Android Central Newsletter
Get the best of Android Central in in your inbox, every day!
Thank you for signing up to Android Central. You will receive a verification email shortly.
There was a problem. Please refresh the page and try again.