Spotify clears up Wear OS offline playback miscommunication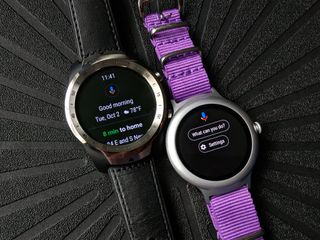 (Image credit: Android Central)
Update, October 21 (03:00 pm ET): Spotify has moved offline playback to "Under Consideration."
What you need to know
Wear OS customers have been requesting access to offline playback on Spotify's dedicated app as alternatives like Google Play Music are discontinued,
A community manager marked a feature request for the idea as "Implemented" for Wear OS.
They also claimed that due to the large number of devices on the Wear OS platform, it was "impossible" to set the request as "implemented."
With the loss of Google Play Music and the lack of a YouTube Music client on Wear OS for now (but not WatchOS), it's now hard to play music offline on your Google-powered smartwatch. Customers have taken to Spotify's community forums to request for the addition of offline playback. Today, the company finally marked the feature implemented. Not because there was a Spotify update coming down the line to add this, but for reasons that don't quite hold water.
Writing on the community forums, a Spotify community manager shared links to Google's Wear OS landing page as well as Spotify's Wear OS support page, noting the ability had been implemented. Neither page makes any reference to offline playback on Wear OS.
As for why users weren't seeing this on any device, they went on to explain:
It's likely there's a miscommunication there — otherwise Spotify would be unable to take any requests for its Windows and Android apps at all since they are "big categories" which encapsulate many more devices than Wear OS could hope to ever feature on. It's also not clear how it's possible to mark the idea as implemented and claim that it would be "virtually impossible" to mark it as an implemented feature. It's one thing to say that verifying it works on all devices is impossible, it's another thing to not be able to point to a single smartwatch or perhaps a set of minimum specs. In the meantime, offline playback in the Wear OS app remains unavailable.
We've reached out to Spotify for a clearer response and will update this when we have more information.
Update, October 21 (03:00 pm ET) — Spotify acknowledges that mistakes were made
As expected, there was an error in communication. The feature has now been moved to under consideration.
A Spotify community manager updated the thread, saying:
A Decent 2020 Wear OS watch
(opens in new tab)
A good update that could be better.
The TicWatch Pro 2020 seems like a good follow-up to the previous model, albeit one held back by its outdated processor. With durability updates and boosted RAM, the 2020 model at least has some solid improvements
Get the Android Central Newsletter
Instant access to breaking news, the hottest reviews, great deals and helpful tips.
Because wearos is awful. Who would want to support it

Spotify doesn't support offline playback on iOS either. So you think that is awful too?
Take your trolling somewhere else.

Agree troll somewhere else, this isn't the place to bash wear os.

@RobotDave: "Spotify doesn't support offline playback on iOS either. " Really? That's a fundamental feature of the Android app. You're sure you're not using the free tier?

I believe RobotDave meant to say WatchOS, as we were discussing WearOS. You cannot download Spotify songs to an Apple Watch either.

My mistake, I did indeed mean WatchOS. Thanks for spotting and clarifying :-)

Jeesh don't rely on the Spotify forums or their Moderatos for accurate information. They closed a "New Idea" asking for an ARM64 version of Spotify because it wasn't popular enough but it wasn't popular enough because they closed it 🙄. Reading the quote it seems like they think WearOS is another word for wearable and not a specific platform.

They've updated the forum page. Looks like they didn't understand the Idea and incorrectly marked it as implemented: https://community.spotify.com/t5/Live-Ideas/Wear-OS-Offline-Music-on-Wea...

They dismissed this idea "by mistake" as they claim one time in the past already, just read that thread on their forum. So i think they are trying to get rid of the idea, not by a mistake, but because they are lazy. Look, that idea is "under consideration", or any other random status for 6 years already. This is ridiculous.

I tried to download Spotify music to MP3 then import to Wear OS for offline listening with Tunelf Spotify Music Converter. works perfectly.