Sony's impressive Xperia XZs is available Apr. 5, but you should wait for the Premium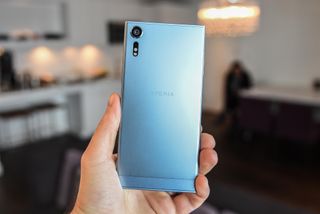 Sony makes a lot of phones, and many of them aren't particularly noteworthy in the U.S. Thanks to a long-term contract with Verizon that isn't set to expire until next year, Sony can't sell phones with fingerprint sensors in the country, making them more of a difficult proposition than they otherwise would be.
This week, the Xperia XZs is going on sale at Amazon and other online retailers for $700, a steep price to pay for any phone, never mind one that doesn't include the latest and greatest technology. The XZs was one of four phones that company announced during MWC 2017, and while it is an impressive handset in every way, it doesn't stand up to the competition.
Sony Xperia XZs specs
The phone is, for all intents and purposes, a repackaging of the Xperia XZ released in September, swapping out the 3GB of RAM and 32GB of internal storage for 4GB and 64GB, respectively. It also has a Snapdragon 820 processor, which is unchanged from the XZ, along with a 2,900mAh battery. The major difference, aside from the bump in memory, is the new 19MP Motion Eye camera, which reportedly brings a new camera sensor that's better in low light and faster to autofocus.
For $700, the above sounds like a pretty lousy deal, especially with no fingerprint sensor. Sure, Sony's got some great software in there — the phone ships with Android 7.1.1 Nougat — but if you're really into the whole "I need a Sony" thing, you can get your fix in a couple of months with the gorgeous, far-more-impressive Xperia XZ Premium, which bumps up the spec sheet considerably, sporting a 4K HDR-ready display and a Snapdragon 835 platform.
If you're not into waiting, though, you can get the Xperia XZs starting April 5 at Amazon.
See at Amazon (opens in new tab)
Daniel Bader was a former Android Central Editor-in-Chief and Executive Editor for iMore and Windows Central.
No fingerprint sensor for whatever reason.. No buy.

Reflash Intl official rom from Sony, good to go. The hardware is there, just can't sell it thru official channel.

How come they can't sell it with the fingerprint sensor activated?

Something about some deal they made which is stupid.. It's going to expire soon and they'll be able to sell it with the sensor enabled.

Those darn Verizon contacts... *Joke* Happy Tuesday all!

I will seriously consider a Sony phone... Next year

I hope makes the Pixel in 2018

That would be fantastic. I know Sony gets a lot of crap for their chunky bezels, but I absolutely love their design aesthetic and I've been really happy with the build quality of the Sony devices I've used. I'm sure Google is more concerned with consistency of style with the Pixel line than they were with the Nexus line, though, so I'll bet they stick with HTC as their manufacturer.

I really want to check out a XZ Premium in person. Do you know if Bell Canada will sell them? They've been pretty supportive of Sony in the past.

"impressive"? This is just a XZ 1.5.
It had a new SoC and a new camera (which will be as bad as the one on the XZ). And the Premium isn't worth it either, really. Sony phones are currently lacking too much to justify their prices.

Best Buy is going to sell them in store, I'm not sure they're going to sell them in their stores in Canada.

The weird thing is here in Europe, I can pick it up for like $525 (adjusted). Don't know why they price it that outrageously in the US. I mean I'm even struggling to justify paying over $500 for it. If it was $400-450 it might be worth it. Note: it's not the dual SIM version so it's only got 32 GB of eMMC storage.

I loved Sony phones in the past but they just do too many weird things that I just can't justify the money.

SD 820 for that price!? No thank you!

I hope Bell sells XZ premium and if they do, I would considering getting one

The no fingerprint sensor is a deal breaker here. I can't go back. Also, battery is meh, and price is too high.... And, it's a Sony. No gracias.

Leadership was so dumb to get themselves in a position where a contract dictated they couldn't have a fingerprint sensor. I love sony phones. Still have my z3 compact. But until they get fingerprint sensors I can't buy one. Definitely a deal breaker to have to type in a code to unlock your phone vs the ease of fingerprint usage. Sucks because they have made some good phones over the last few years. I guess we wait until 2018 when they can include it.

Dumb Verizon deal (but typical of Verizon strong-arming an OEM). That said, I really don't care about a fingerprint reader. It is worth the tradeoff for me to have a physical camera shutter button. I've had a Z3 Compact for 3 years now and can't imagine going to any other brand of phone now.

I have that new phone bug right now and I really want to try a Sony phone but can't get myself to switch for the cost. Was looking at just the Xzs but for $700 no way. I'll try to hold out a bit and see what the Premium offers. Also might wait and see what Nokia phones come out soon
Android Central Newsletter
Get the best of Android Central in in your inbox, every day!
Thank you for signing up to Android Central. You will receive a verification email shortly.
There was a problem. Please refresh the page and try again.