Sony Xperia Z5 Compact specs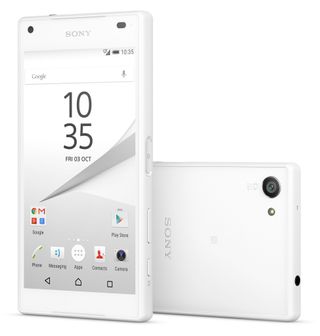 At its IFA press conference in Berlin today, Sony took the wraps off the latest member of its popular Compact series, the Xperia Z5 Compact. Once again, the manufacturer has brought leading high-end specs to a smaller handset, packing a Snapdragon 810 chip and its latest 23-megapixel camera into a phone with a 4.6-inch 720p display. For all the important numbers, head on past the break.
Swipe to scroll horizontally
Category
Specification
Colors
White, Graphite Black, Yellow, Coral
Size
127mm x 65mm x 8.9mm
Processor
Qualcomm Snapdragon 810 octa-core 64 bit processor
GPU
Adreno 430
Weight
138 grams
SIM Card
Nano SIM
Operating System
Google™ Android™ 5.1 (Lollipop)
Rear (main) camera
23MP camera with Exmor RS™ for mobile image sensor, with fast autofocus
4K video capture and output
24 mm wide-angle G Lens
5x clear image, without loss of quality
HDR for photos and videos
ISO12800 Photo / 4000 Video
SteadyShot with Intelligent Active Mode
Superior Auto
Front camera
5MP with Exmor R™ for mobile image sensor
Full HD 1080p for video chat
25 mm wide-angle lens
SteadyShot with Intelligent
Active Mode
Superior Auto
Audio codec support
DNC, HRA, DSEE-HX, LDAC
Automatic headset compensation
S-Force Front surround
Stereo speakers
ClearAudio+
Display Resolution
4.6" 720p HD (1280x720 pixels), IPS display
PPI
323
Glass panel
Chemical tempered glass + Anti-fingerprint coating
Display Technology
TRILUMINOS™ display for mobile, with Sparkling Contrast and Live Colour Creation
X-Reality™ for Mobile
Design
IP65 / IP68 dust-tight & waterproof
Capless USB
RAM
2GB
Flash memory
Up to 32GB
Fingerprint sensor
Yes, in power button
Expansion slot
microSD™ card, up to 200GB (SDXC supported)
Networks
LTE (4G), LTE Cat6, GSM GPRS/EDGE (2G), UMTS HSPA+ (3G)
Battery (embedded)
2700 mAh (up to 2 day battery life) and Battery STAMINA mode
Quick Charge
Yes
Alex was with Android Central for over a decade, producing written and video content for the site, and served as global Executive Editor from 2016 to 2022.
In other words: it's a Z3 Compact with a sh*t chipset and a fingerprint scanner.
No OIS.
No Qi charging.
Likely no full manual controls. I'm done with Sony.

It has steady shot Posted via the Android Central App

Steady Shot is digital stabilization. It's not the same as actual OIS. The Z3 line also has Steady Shot and it's worthless. Low light photos? Good luck with that without actual hardware stabilization.
Sony manages to introduce phones AFTER Samsung and LG and still be able to let those brands offer a better camera using Sony's own hardware. Unbelievable.

Well, Engadget seems fairly impressed with the camera after their brief hands-on. And maybe - just maybe - Sony really has figured out a way to make DIS compete with OIS?? ... Naw, who are we kidding, it'll be a disappointment. There's no substitute for hardware. Posted via the Android Central App

Disappointing VZW Moto X 2014/2013 DE

It's got OIS and also PDAF (from the a6000 and A7 series cameras), America just hates Sony becuase they don't want to sell in your Walmart bargain basement cheap ass country

I disagree, more like 50/50, if the 810 with 2 gigs works fine and doesn't overheat, then Sony has outdone themselves once again in this form factor

IF Still doesn't justify anyone with a Z3C upgrading unless all you care about is having a fingerprint scanner.

Yep. I wish them the best. Posted via the Android Central App

I totally agree - I would be very interested in this phone if it had QI chargeing. But that omission takes it out of any consideration.

No nfc or wireless charging? Posted via the Android Central App

NFC is there (you can see the logo above the Sony logo on the back). Wireless charging, yet again, no.

It does have NFC but no wireless charging

There is an NFC Logo on the back of the device.

This looks great to me, wish other manufacturers would start going smaller to be honest.

I get the feeling that Jerry is smiling right now.

will it have the metal frame like its big brother, or is it cursed with the awful plastic frame from z3c?

The Z3C's frame is not bad at all - I don't really get all this obsession with metal frames anyway, I really don't. The design works really well on the Z3C IMO. The Z5C looks more like the old Lumias. a design I also like.

Perception :
Metal = Premium and Durable
Plastic = Cheap and Fragile If it was cars we are talking about than Yes, but for cell phones not really.
First, that "metal" is most of the time Aluminum and is super soft in its nature, so it dents very easy (much easier than plastic) and the paint on it scratches off even easier. So, the only thing left to brag about is the "feel" , which in many instances works against you, simply because it makes it slippery and likelihood of dropping your phone get that much higher, so there goes your glass screen.
In the end, you either have to treat your phone like a precious baby or put some protective case on it, which kinda defeats the whole purpose of having that Premium feel in hand. VZW Moto X 2014/2013 DE

Damn, what a letdown. What is the benefit here over the Z3 compact?
With those bezels, you could have made the screen maybe 4.8" and possibly upped to 1080p just for kicks.
No quick charging or wireless?
No NFC for mobile payment with the fingerprint scanner?
No front-facing speakers? Sigh...

Quick charging is available and so is NFC and front-facing speakers (the speakers are the lines at the top and bottom of the front screen. But there's still no real benefit over the Z3C here, unless the Frying-Pan810 and a fingerprint scanner is all you care about.

Agree. Should have been 4.8" with 1080p.
My (temporary :)) 2013 4.5" Moto G is 720p and it's not all that ... This puts the basics in budget territory.
Great if cost say 25% more than a Moto G 3, but it won't.

Why do people think it has no NFC - the flipping logo is on the back! Whilst I am not feeling as negative as DJCBS, the point he/she makes about upgrading from the Z3C is spot on, there is no real benefit in doing so.
Slightly better camera, a fingerprint scanner, a bit more speed (and more heat?) and a slightly less attractive design? I'll stick with the 3, thanks. This feels like a slight opportunity lost by Sony. Shame. If you are looking for a good compact phone then the Z5C would be a decent choice though (if it sells for £330 ish) What are its rivals?

He. And as for the rivals, I think that the biggest competition to the Z5C is the Z3C, specially because the price will drop.
The Z5C should retail, if Amazon is anything to go by, for 550€. And Z3C is now retailing for less than 400€. If I had to recommend one, I have no doubt about which one I would recommend, and it wouldn't be the one with the SD810 in it :P (Z5C on amazon http://www.amazon.de/Sony-Xperia-Compact-Touch-Display-schwarz/dp/B013WS...

Unfortunately not everyone bothers to read the articles correctly before posting. I'm definitely interested in the Z5 Compact because my N5 is pretty scratched up now, and this is the only real phone Android have to offer if you don't want a phablet, which I don't. Even the supposed new N5 is bigger than the previous model. Posted via Android Central App

Without real competition in this mini flagship segment you cant expect them to try hard. Now if others made flagship minis than they would have to work hard to make people buy their phones, so until someone else jumps of bandwagon and builds mini flagship, we will continue to get disappointing in Sony devices.

Was looking forward to this but after doing a quick comparison on gsmarena i don't think that coming from my Z3C I'll see any real extra benefits especially if Z3C gets Marshmallow.

Why is it 2gb of ram instead of 3? Posted via the Android Central App

Because "no compromises"...*cofcof*

Cause u don't need it... At least never been any issue on my z3c so far. The best mini out there.

A device other a 720p screen doesn't require quite as much memory to keep things running smoothly. The Z3C was almost Nexus snappy. More memory is always better, of course, but I never once wanted for more RAM in the Z3C. Posted via the Android Central App

I'm really curious to hear what Jerry thinks...

I really wanted a 1080p screen. I had the z3c but now the g4. I don't think going back to 720p is going to be fun. Even though people say it doesn't matter on a 4.6 screen. I'll pass. Actually I kinda glad so I don't have to be worried about hiding money from the wife. Hehe Posted via the Android Central App

It'll be interesting to find out how z5 lineup camera will stack up as I find z3c's camera to be the only flaw in an otherwise perfect device.
Anyway, camera won't make upgrading worthwhile for me, especially, because apparently superior Snapdragon 820 is being touted already.

This is by no means a deal breaker, but.. What's up with the volume rocker placement? I just can't think of a logical reason to put it down there. I'm not really complaining, everyone could easily live with it, it's just weird haha. Posted via the Android Central App

Why do you want 1080p in a 4.6" tiny phone? I'm glad it has 720p. I'm totally buying this phone.
I hope I won't miss the Nexus family (I've been using nexus for 4 years). All the companies (with the exception of Z compact and iPhone) keeps increasing screen size and resolution over each generation and forget that their costumers are happy with the current size/resolution. The best examplel here is the Original Moto X, a totally successful phone with 4.7" abandoned in 2013, all newer Moto X could have the same or similar names but they are just different models. (This was like a jump from Z3 compact to Z5 normal version). Sony is doing it perfectly with the ZX compact line. Keeping the phone size/resolution and just upgrading all the other hardware, like the SoC.

Totally agree! Posted via Android Central App

The Adreno 430 is overkill for 720p. Considering this, I think this phone will know how to save battery, using less GPU frequency/voltage, and only raising it when it is needed. If you know how to control the Snapdragon 810, You shouldn't have overheating issues. But If you focus on Benchmarks and reach the max frequency for some numbers of course you will face some issues.

I'd love to have Qi charging -- MagSafe is a vast improvement over USB, but it's just as flaky as on Macs. But the form factor is my deciding factor. I can't stand the phablet form factor, and for the size, the Z3C / Z5C are still the leaders. And, yes -- fingerprint is a welcome addition. It's the only feature from my work iPhone that I miss on my Z3C.

Good processor stabilized in temperature with a new building mode with cooling system.
Stereo speakers
Sd card ready
Ip 68
Great battery
The best smartphone for taking pictures
First class raw materials The xperia z5 series is simply better than others I will buy the z5 premium
Android Central Newsletter
Thank you for signing up to Android Central. You will receive a verification email shortly.
There was a problem. Please refresh the page and try again.