Sony Xperia Z1 Compact versus Z1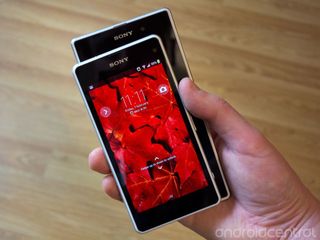 Sony's miniature marvel delivers almost everything that made the Z1 great, in more hand and pocket-friendly design
The Sony Xperia Z1 is a great phone. It's also a big, blocky phone with enormous bezels and an unashamedly chunky design. So we gave a warm welcome to its smaller sibling, the Xperia Z1 Compact, when we first saw it at CES 2014. The Compact, as we'll call it, incorporates just about all the high-end hardware of the full-size Z1, only with a significantly reduced footprint, making it an easier fit for hands and pockets alike. Unlike some other "mini" phones we could mention, you don't have to settle for lower-end hardware if you want a smaller handset.
So now that both are on the market in the UK, how do they compare? We've got a full walkthrough, including video, after the break.
Video walkthrough
Z1 versus Compact, head-to-head
Swipe to scroll horizontally
Xperia Z1
Xperia Z1 Compact
Display
5-inch 1080p "Triluminos"
440 pixels per inch
4.3-inch 720p IPS LCD
342 pixels per inch
Dimensions
144 x 74 x 8.5 mm
127 x 64.9 x 9.5 mm
Processor
2.2GHz Qualcomm Snapdragon 800
2.2GHz Qualcomm Snapdragon 800
RAM
2GB
2GB
Storage
16GB + microSD
16GB + microSD
Battery
3,000mAh internal
2,300mAh internal
Connectivity
3G/DC-HSDPA/4G LTE (Cat. 4)
Wifi a/b/g/n/ac, Bluetooth 4.0, NFC
3G/DC-HSDPA/4G LTE (Cat. 4)
Wifi a/b/g/n/ac, Bluetooth 4.0, NFC
Waterproofing
Rated IP55/58
Rated IP55/58
Software
Android 4.3 Jelly Bean (with update)
Android 4.3 Jelly Bean
Colors
Black, White, Purple
Black, White, Pink, Lime
UK Price
£478 (Amazon)

(opens in new tab)

£400 (Amazon)

(opens in new tab)
The hardware
From just about every angle, the Z1 Compact is the spitting image of its full-sized forerunner. An aluminum band around the outer edge holds all your various buttons and ports, as well as the bottom-facing speaker. The arrangement of ports is slightly different — the SIM tray lives on the left now, and the USB port is a little higher up — but for the most part the Z1 Compact resembles a shrunken-down Z1, which is something of a running theme throughout this feature.
The front of the Compact is reserved entirely for the screen — a 4.3-inch 720p IPS panel that's actually noticeably better than the Z1's screen in a few different ways. Firstly, the wash-out present at wide angles on the Z1 (and many other Sony phones) doesn't affect the Compact, and colors seem to pop a little more than they do on larger model's the 5-inch 1080p panel. At the same time, the step down from 1080 to 720 might seem like a sizeable downgrade — but the Compact's 342 pixels per inch make for crisp text and clear photos.
As far as colors go, the Z1's whites are a little yellowish on our unit, while the Compact's colors are a bit cooler than we're used to. Thankfully, both can be corrected using the White Balance option, found under Settings > Display. And both devices include Sony's optional "X-Reality for mobile" enhancer too, to reduce noise and boost contrast in photos and videos. On the Compact, however, this feature seems to blow out blue areas, and give an odd blueish tint to grey areas.
On the inside the Compact and Z1 sport almost identical innards — a Snapdragon 800 CPU at 2.2GHz, 2GB of RAM, 16GB of storage plus microSD expandability. The only difference of note is the battery capacity — the Z1's juicer is a 3,000mAh unit versus 2,300mAh in the Compact. But the smaller display means it doesn't guzzle quite as much juice as its big brother, and we've found battery life on the Compact to be at least as good as the Z1.
Around the back is the Z1 Compact's 20.7-megapixel Exmor RS camera plus Sony G lens — you guessed it, the same setup found on the Z1. And performance here is essentially identical too. As we've said in previous articles, the Z1's camera is among the best on any Android smartphone right now, taking oversampled 8-megapixel shots most of the time. Sony's camera software likes to over-process images a little, but with time, practice (and, OK, a little skill) it's possible to get some excellent shots out of both handsets.
Sony unfortunately persists in its use of permanent screen protectors on the Z1 Compact, though curiously there's no fixed plastic sheet covering the back of the Compact, as there is on the Z1. Sadly, though, the back of the phone still doesn't feel quite like glass. The texture is difficult to describe, but it feels like glass with some weird plasticky coating, even if there's no visible film covering it. In summary, both are glass phones that feel a bit more like plastic than you might expect, which is a running theme across the Xperia Z line.
The Z1 Compact is the more ergonomic phone because of its smaller size, but the design is still decidedly angular, meaning it's not as comfortable to hold and use as the likes of the HTC One and Moto X. Regardless, it's certainly an easier fit in the pocket than many larger phones.
The software
Right now both the Z1 and the Compact run Android 4.3 Jelly Bean — the Compact ships with it, the Z1 has recently been updated with the newer OS in many countries. On 4.3, both handsets offer almost exactly the same software experience. Sony's Xperia UI is minimalist and speedy, offering preloaded apps for Sony's content ecosystems like PlayStation, Video Unlimited and Music Unlimited. You also get a few preloaded third-party apps such as File Commander, MacAffee security and Neoreader, though these can be easily uninstalled to reclaim storage space.
There's also a range of connectivity options for other Sony hardware — you can pair the phones with Dual Shock 3 controllers, and wirelessly "throw" content to other Xperia devices. Sony's excellent power-saving options are included too, including Stamina mode, which can save battery life by cutting down on background data usage.
Whichever Z1 you pick up, you're getting the same software experience, just on a different-sized display. That's no surprise given the matching internals, but it is nice to confirm that this consistency extends to the software as well as the hardware.
Which to get?
For iPhone converts, as well as anyone not in immediate need of a larger screen, the Z1 Compact is definitely worth a look. Devices like the Moto X deliver a larger display in a similar footprint, but no Android phone offers the Z1 Compact's sheer hardware muscle in a chassis of its size — and we're not just talking about the processor, but also battery life, camera and waterproof credentials.
Elsewhere, the full-sized Z1 offers a larger (though slightly less dazzling) screen that'll make for a better photo, video and gaming experience, backed up by similar internals. Though if you're buying a Sony device at the time of writing, you might want to hold off and wait to see what Sony unveils at Mobile World Congress.
Right now Sony is the only Android manufacturer attempting a true flagship-class handset in a smaller form factor, making the Xperia Z1 Compact something of unique product in the Android space. You've still got to deal with Sony's manufacturing and design quirks to get in on the action — specifically a more plasticky-feeling device than you might expect, along with fixed screen protectors and a chunky hardware design. And both Z1 devices run Android 4.3 out of the box, rather than the newer 4.4. But the Compact sees Sony kicking off its 2014 phone lineup with an enticing device, and we'll be watching with interest to see whether other Android OEMs follow its lead in the year ahead.
More: Xperia Z1, three months on; Xperia Z1 Compact hands-on at CES
Alex was with Android Central for over a decade, producing written and video content for the site, and served as global Executive Editor from 2016 to 2022.
While specs are not everything, it is great to see someone with a "mini" that doesn't sacrifice hardware to get there.

Definitely agree with that.

Agreed Posted via Android Central App

Here here Posted via Android Central App

So when is it gonna be on amazon US site :( Posted via Android Central App

You don't have to wait for it to be on Amazon. There are several retailers selling it from the UK and you get it in as little as 3 business days. I ordered mine on Tuesday and just got it today. :)

Hi, tell me more. Like what network did you get for your z1 compact? What plan? Is the charger US compatible? Is there anything that might render it incompatible in US?

See Samsung? THIS is how you do a "Mini" version of a standard phone. When buyers want a "Mini", they want reduced dimensions. Not reduced specs.

+1 Posted via Android Central App

Simply the best compact Android phone around.

Better than the Moto X? The only thing I see that is better is the SD800, otherwise I would take the Moto. At least there is a chance of updates, the Sony doesn't even have Kit Kat yet! Posted via Android Central App

Moto X isn't exactly in the same size category. It has a 4.7" screen which is closer to the 5" phones that are mainstream. This is probably the only 4.3" phone that is running with the same hardware as current mainstream phone. Yea it doesn't have a 1080P screen but at 4.3" I'm fine with that. There are many screens that aren't even 720P on 4.3" and below. Only thing that kills it is the thickness of the phone, and the somewhat large bezels.

The Moto X dimensions: 129.3 x 65.3 x 10.4 mm. Also it's curved form factor make it very comfortable to hold. But to bad 1cm is too thick for you. I hate thin phones. sent via my Le Motonovo X

I'm 100% sure that your Le Motonovo X will be bigger and thicker if motorola put 1/2.3" camera sensor, 2300 mAh battery and IP58 certification in your Le Motonovo X

Droid Mini has the same hardware as the Moto X, and basically the same screen as the Z1 mini. Of course, that requires Verizon to get there, though.

But Z1 has larger camera sensor 1.2/3", battery 2300 mAh and better durability IP58 than droid mini.
all the things that i've mention makes Z1 Compact little bit bigger than some other 2013 4.3" phones.

Or living outside the US and importing it. Most CDMA phones (not all, but most, including the latest DROIDs) have global HSPA+ bands in them

It's not that thick. It just looks thick because it's being compared to a thinner phone and the back is flat. Also, the large bezels are exactly what put it in the same size category as the Moto X. Not the same screen size, but the same overall size of the devices. I don't care how big the screen is. I care about the size of the phone and bezels.

"Only thing that kills it is the thickness of the phone, and the somewhat large bezels." How else can you expect to run such a beast without throttling it back ? We all want powerful and battery life, and with current tech, this still requires a little bulk. I'll take the thickness and bezels over a spec-down in a heartbeat. You can have the fudged-down, slowed-down and downspecced stuff from Samsung and HTC. As soon as he compact hits the shelves in my town, I'm getting one.

It's hard for anyone on this thread to say if this phone is better than another, because I highly doubt anyone on this thread has actually held and used the Z1 Compact. There is more to a phone than a spec sheet. Talk to me after you've used both phones, then I'll believe your opinon on which is a better phone for you...not a better phone in general, but for you.

I have. In fact I am using it to write this. It is glorious. I also have a Moto X.. It is too soon to say which is better. Posted via Android Central App

let's see
1. S800 = better performance (especialy in multi tasking and heavy games) and more future for many people its very important.
2. Better durability thanks to IP58 certification.
3. Glove mode so Z1 Compact can still be use even when your wearing thick glove.
4. Bigger battery in slimer body and smaller screen = Better battery life.
5. Faster download speed.
6. Better camera thanks to larger sensor, higher pixel count for more detail and superior lens. When it comes to updates sony maybe not the fastest but they keep getting better, there is no doubt that Z1 Compact will get kit kat update in near future.
http://www.sonymobile.com/global-en/software/phones/xperia-z1-compact/ I think any phone with Android 4.1 + good specs is still able to serve everything you needs and with stable custom rom your most phone can enjoy the latest android version thats the beauty of Android. Lets see are Lenovorola can keep fast update for moto x after kit kat.

Are you sure the updates will come as fast as they have been, Google does not own Motorola anymore.....and the camera is better too

Let me start the complaint thread. Please add all your complaints below this one so we can filter out your nonsense. 720p! Meh
2600 mAH Battery! Meh
Android 4.3! Meh
No SD.. oh, wait.

~340 PPI = Good enough
2600 mAH Battery = Good enough when powering only a 4.3" 720P screen
Android 4.3 = Good enough most phones don't have a 4.4 even flagships, an update is bound to come.
Thickness = Meh, too thick with only a 2600 mAH battery.

No, no, no. You don't get it. This is the thread for all the complainers. (Note: I'm not complaining about any of the specs.)

I'm laughing so hard right now. This is hilarious

Ooh I wanna play, too! Hmmm... Magnetic charging port makes it look like Pebble Steel. Meh. Posted via Android Central App

Now the million dollar question... Is it coming to AT&T or T mobile in the US?

If I were a betting man, I'd say at least T-Mobile in a few months.

Or at least an unlocked version with all the US LTE freqs. If that happens, I'd buy this phone in a heartbeat. But as we've seen from Sony so far, that's unlikely or it will finally make it over once it's completely irrelevant spec-wise.

I'm among those who are impatiently waiting for MWC to see what Sony will present. And by that I mean to see if the Z2 will be a considerable improvement or just a couple of twitches to the Z1. Otherwise I'm definitely going for the Z1C. I'm actually tired of big phones which I can't properly manage with one hand...and that's using WP which doesn't even have a notifications centre at the top of the screen. So when switching to Android I'm definitely giving priority to the phone size...and definitely to Sony as they produce the best looking phones to me. Just a shame the Z1C didn't came in purple though... Also, I think Sony said something about 4.4 being impending release? I think they'll probably start pushing it to their devices at MWC.

WP user wants purple? Gasp! Haha. Just curious, which WP model are you loving over from? Mine was a 920 with a cracked screen. Posted via Android Central App

LOL I wanted purple because I actually really like Sony's dark purple. Otherwise I'll go with black as per usual. To clarify I'm a WP user because that's what runs on Nokia phones, not because it's my OS of choice. But since Microsoft managed to destroy Nokia's D&S division (thanks, Eflop), I'm jumping out as soon as Nokia leaves the mobile industry (their customer support is excellent in Europe...unlike Microsoft's). I'm not putting up with Windows Phone's shortcomings nor Microsoft's sluggish development teams any more (really...3 years and 2 OS incarnations to bring custom tones to sms? wth?!) Anyway, I use a 920 as my daily driver and the 1020 as a dedicated camera (sorry to hear about your cracked screen. I never had any hardware problems with Nokia, really. And I buy exclusively from them for 15 years)

Amen to that. Nokia is dead to me now. And I work there. Posted via Android Central App

A 2600mah battery with a 720p screen and an sd800...unless Sony effed up the software to constantly drain the battery, I don't see why this won't have excellent battery life. Posted via Android Central App

It does :) Posted via Android Central App

That's what I'm thinking!

Yeah there is no way it couldn't be excellent -------------------------------------------
Kit Kat tastes like Jellybeans. Can't tell them apart...

Probably 7- 8h of screen on time in a day of use (14-18h stand by). This would be the ultimate device when it comes to performance to battery life ratio.
Can't wait to feel it in hands.
Going down to 4.3 for many can be a deal breaker (like myself) but it's worth giving a try. I'm def open to upgrading to something like this in a few years. Posted via Android Central App
VZW Moto X

Very nice phone Sony, well done. T-Mobile before 6 months time? I may just get it. Posted via G2 + Nova

I beginning to understand why flagships pair down their minis. It is a very challenging and competitive market niche. You have a smaller footprint iPhone on one side and tad bigger footprint Moto X on the other. Then you have feather-lite S4 mini for - what - $200 less? The monster specs outshine them all buy you'll pay a premium and people considering a compact will value other factors as well. Power users will be most interested but they typically are drawn to larger displays. I hope the trend continues because I like the smaller phones but all the momentum seems to be going in the other direction.

The sweet spot would be right between these, two size-wise. Said Goldilocks...

See I'm thinking the sweet spot is keeping the exact same footprint, but shrinking the bezels and increasing the display size. This is the first phone to get a second glance from me since I bought my Moto X. I hate when that happens, but it always does! Posted via Android Central App

It's also about being creative within your constraints. Moto got creative with battery design to have that curved back in a comparatively small and thin form-factor.

Sony has got to do something with those bezels. The Moto X is essentially the same size but gives you a 4.7 inch screen. Other than that, looks good. http://www.phonearena.com/phones/size#/phones/size/Sony-Xperia-Z1-Compac...

If Motorola put 1.2/3" camera sensor, 2300 mAh battery and IP58 in moto x it will be bigger than any other 4.7" phones. just do size comparison between Optimus GJ vs Optimus G and S4 vs S4 active.
waterproofing usualy makes phones little bit bigger than normal phone + Z1 Compact has larger camera sensor and big battery.

hard to compare two phones with such different specs !

Time for Sony to let the US buy the Compact.

Me and my wife have the z1s I love the size but she thought it was to big at first and didn't want the older z so I know she would of loved this.. Posted via Android Central App

Nice article and i like xperia Z ultra. It has nice features (just check http://www.gadgetride.com/review/sony-xperia-z-ultra-review.html).

Such great software ruined by bulk and bezel. Do we really need a water proof phone? Posted via Android Central App

Sorry how anyone can complain about the bulk and bezel of this phone is beyond me. I have one and it is perfect in the hand, any smaller it would start to become fiddly to use and not as comfortable. The phone is waterproof therefore we have the bezel for me a trade off I am more than happy with. The battery life is excellent including standby there is hardly any drain. I have hardly used the phone over the last few days apart from checking E-mails and texting, I am now at 2days and 19 hours and still 33% left. The screen is far nicer than the Z1, no comparison and also it doesn't seem to be such a dust/fingerprint magnet as well, I put the Sony included protector on as soon as I received the phone. Anyway anyone looking for a small high specced Android phone need look no further. Also the sound quality through headphones is excellent. I am moving away from my Nexus 5 to use this as my daily driver now.

Love the smaller size of the Z1. Would be top of my list right now for sure.

Smooth like an Iphone 5S !!
congrats to Sony... looking for an under 4.5 inch challenger...
Android Central Newsletter
Thank you for signing up to Android Central. You will receive a verification email shortly.
There was a problem. Please refresh the page and try again.