You can now preorder Sony's Xperia XZ1 Compact for $599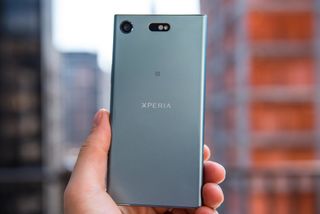 When you think of 2017 flagships, devices like the LG V30, Galaxy Note 8, and iPhone X are likely the first to come to mind. These big, bezel-less beasts are quite intriguing, and are the future. But for those of us that just want to be able to use a phone with one hand again, Sony has the answer in the form of the Xperia XZ1 Compact that just went live for preorders.
Sony announced the Xperia XZ1 Compact back at IFA 2017 alongside the larger XZ1, and while it may look considerably dated compared to other flagships we've seen so far this year, the XZ1 Compact certainly differentiates itself with a 4.6-inch screen that's decidedly tiny by today's industry standards.
You're only getting a resolution of 1280x720 with that display, but for something this small, the HD resolution should be more than adequate. The main camera on the back is a 19MP sensor with Sony's new 3D scanning technology, and on the front, you'll find a 13MP selfie camera that can make use of a display flash for brightening up your shots.
Other specs for the XZ1 Compact include the Qualcomm Snapdragon 835 processor, 4GB of RAM, 32GB of built-in storage, and Android 8.0 Oreo right out of the box. Unfortunately, there's still no fingerprint sensor on the side in the U.S. — you'll have to import an international model for one of those.
The XZ1 Compact is compatible for use on all GSM networks in the United States (AT&T, T-Mobile, Straight Talk, etc.), but since no carriers will actually be carrying the phone, you'll need to pay the full $599.99 asking price outright. The phone is, however, optimized for T-Mobile VoLTE and VoWiFi.
Preorders are available now, with shipments expected to go out starting on October 4.
See at Amazon (opens in new tab)
Android Central Newsletter
Get instant access to breaking news, the hottest reviews, great deals and helpful tips
Joe Maring was a Senior Editor for Android Central between 2017 and 2021. You can reach him on Twitter at @JoeMaring1.
The 835 must just scream on that thing, with so few pixels to push.

The few reviews that I have watched have said that battery life is excellent on this,

By the combination of the efficient 835, the small screen, and relatively few pixels, it seems like the XZ1 Compact is a beast on battery life, as well!

I'd even go so far as to underclock the 835 a bit to improve power efficiency even more.

So conflicted.. My ideal phone but is the camera going to be enough for me is the question. Otherwise, performance would be great, as is battery life...

Why are you showing the non-compact variant in the pics? And no matter how often everyone says this but no, HD isn't enough for a 4.6 inch screen. Especially on high brightness settings the pixels can be really obvious. If this phone had a FHD screen i might have upgraded from my x compact, but like this there isn't enough of an upgrade to justify the cost.

Tell Apple: The Sony compacts are very slightly smaller than iPhones (4.6 versus 4.7 inch) and the resolution is little different ( 4% less in both directions, presumably because Android's preferred scaling aligns to TV screens, i.e. 720, 1080, 1440 rather than 750 and so on). Apple sell quite a lot of iPhones, I believe.
I've just gone back to a Sony compact from a 5.5 inch 1440px screen. Resolution is not a problem, convenience is a big benefit.

I'm not saying the compacts don't come with their own benefits. I would just like to point out that there are people who are bothered by sub 400 ppi resolutions, be they iPhones or Sonys. I do come from 1440p screens as and while I'm happy with my compact, i do miss the clarity and detail of a high ppi screen.

Yeah, anything below 400 ppi and I can see pixels on most phones but Sony seems to do a really good job of hiding them. I never really noticed any pixels on my Z3 Compact. The build quality and customer support is pretty top notch as well. Had it for over 3 years and it still runs like the day I bought it. Even the battery still lasts over a day. I'm thinking it will last me another 2 years at least.

Right there with you. My Z3 Compact still runs as smooth as butter. Battery life is outstanding still. Best battery life I have ever had on a phone. I expect this new Compact to be the same. You don't realize how mediocre battery life is on other phones until you use a sony Compact phone for awhile. Just hoping Sony gets past the fingerprint sensor issue soon and starts including it. That's a deal breaker for a lot of folks, myself included.

The picture in this article is of the Compact.

Tell 'em to make a CDMA version then I'll pay attention. Can't take a manufacturer seriously unless they make a phone everyone can buy.

What you shouldn't take seriously is a carrier that uses a standard that NO ONE ELSE IN THE WORLD uses.
If you want to use a carrier that uses an outdated tech - CDMA - network, then you have to learn to live with their offering. Otherwise, Sony is under no obligation to waste money producing a special version of a phone to be used in one carrier, in one country in the entire world. Neither is Sony nor is any other OEM ;)

CDMA is dying, and is slowly being replaced. The issue is that Verizon, Spirit, and a number of smaller, regional carriers still use it. When you live in a more rural area, often that is the only game in town. For myself, if there was a practical, non-CDMA carrier in my area, I would be there in a heartbeat. Until that day comes, I watch for unlocked, CDMA compatible phones.

Funny, CDMA technology is built into every Qualcomm SOC sold throughout the world. Sony just didn't want to add the antennas and activate the chip because of two reasons that have nothing to do with antiquated radio tech. One: Sony would want to get Verizon and Sprint to approve the phone so they can provide excellent support and service backed by network providers and two: getting Verizon and Sprint approval would require Sony to load the phone up with bloat and create special, carrier specific model, again, hindering Sony's mission to provide excellent service.

you are being mislead. Verizon doesn't require bloat in order to be certified and used on their Network. all factory unlocked Motorola phones can be used on Verizon network and have 0 bloat - Apps or any other OS changes. what you are referring to, are VZW requirements to sell the phones in their retail stores and that is attrocious behavior. they pretty much blackmail OEMs. they should be u dumb pipe, but since they have Govt officials by the ballz, they can do whatever they please.

true. I can't stand that fact, but still have to use their services because coverage.

Love the compact series. I think ill pick this up but I'm kinda waiting to see if the regular pixel 2 is going to be any smaller than last years model. Word on the street is the same big bezels though :(

Gonna wait to see what pixel 2 has to offer but this phone def on my watch list.

I'm looking for broader (amazon prime) availability of the G8441 (international variant) in the US via importers. Fingerprint sensor will work out of the box. I'm looking forward to this phone, but I have zero interest in the US variant.
Android Central Newsletter
Get instant access to breaking news, the hottest reviews, great deals and helpful tips
Thank you for signing up to Android Central. You will receive a verification email shortly.
There was a problem. Please refresh the page and try again.