Sony Xperia XZ Premium specs: 4K display, Snapdragon 835 and 19MP camera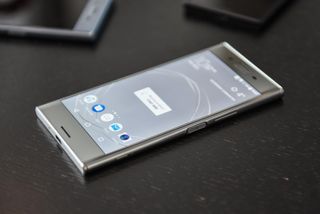 As is the case with each Sony release window, there's one phone that stands high above the rest. In early 2017, that's the Xperia XZ Premium, and as the name would suggest it comes with a few top-end specs inside. The XZ Premium differentiates itself internally with a 4K display, a new 19MP camera, a Snapdragon 835 processor and all of the other bells and whistles you expect from a flagship phone.
Here's the complete spec sheet for the Sony Xperia XZ Premium.
Swipe to scroll horizontally
Category
Spec
Operating System
Android 7.1
Display
5.5-inch LCD, 4K resolution
Gorilla Glass 5
Processor
Snapdragon 835 64-bit
Adreno 540
Storage
64GB
Expandable
microSD card
RAM
4GB
Rear Camera
19MP Exmor RS, hybrid AF
960 fps slow-mo, 4K video
Front Camera
13MP Exmor RS, f/2.0, 22mm wide-angle lens
Connectivity
Wi-Fi 802.11ac, Bluetooth 4.2, NFC, USB 3.1, GPS
Battery
3230mAh
Non-removable
Charging
USB-C
Quick Charge 3.0
Qnovo Adaptive Charging
Water resistance
IP68
Security
Fingerprint sensor (except U.S.)
Dimensions
156 x 77 x 7.9 mm
Weight
195 g
Colors
Luminous chrome, Deepsea Black
Andrew was an Executive Editor, U.S. at Android Central between 2012 and 2020.
●▬▬▬▬▬▬▬▬ஜ۩GIVE IT FEW MINUTES۩ஜ▬▬▬▬▬▬▬▬● <a href="h"><strong>
Bella . I see what you mean... Willie `s st0rry is unimaginable... on tuesday I bought a new Mitsubishi Evo after I been earnin $7881 this-past/5 weeks and also ten-k this past-month . this is really the coolest work I've ever done . I actually started 7-months ago and right away started making more than $77 p/h . navigate to this site hgfdyrtujytikuyktyhjutrygh ....... http://paypro8.com

How the heck do you report these users on here to get them banned? Didn't there used to be a 'report' or something button/arrow thing?

I don't know why it's gone. The only way now is to police the comments constantly. That person was banned 3 minutes after the account was created BTW.

Any news on a Sony smartwatch 4??

This is actually looking like a great device and I'm still really more of a fan of Sony's hardware design.

Will buy two. Finally I can park my two HARO BMX oldschool bikes on smartphone bezels.

I thought LG didn't put an 835 cause they couldn't put it out quick enough when's this officially releasing?

Do you trust what they say? The 835 is much more expensive, LG can't put out a low price tag (at least below 599) , they have to cut costs somewhere. Of course it was possible for LG to release the G6 with the 835.

It seems G6 is goint to be US$ 800 in South Korea

Well they're not lying. Sony will only ship this one in a couple of months. That's why they could put it

Audio Output: Good? Any DAC? Batterylife: 24hours, no matter what i do? ( got used to it) Dual-Sim: is it there ,if yes: only hybrid? Memory Card: yes or no If 4 times yes, interested. Otherwise have to look for a V20 , checks all the Boxes plus removable battery, which is this Sony also lacking. Very hard nowadays, not many manufacturers doing it right, even the new LG G6 suc.ks monkey balls.

I know there is LDAC when you use earphones.
Hi Res Audio
Xperia can performe upscale on audio files.

This is very interesting. Sonys problem in US always was marketing, if they sell it in all big 4, they will get bunch of them out the door.
It will be good year for Sony to get up some speed to, considering there's less big name flagships to compete with so far. LG is a flop, Nokia nothing yet, huawei will not sell on big 4, so forget about it, blackberry is a niche market. With all that, we are left with SGS8, note8, V30 and that's all I can think of right now. If there ever was a real chance for Sony, it is now.

Exactly... I really hope they do sell it on US carriers. They could do really good if they did.

>4k screen
>3200 mAh battery
Uhhhhhh

On the Z5 Premium, it was only 4k when accessing 4k content. It defaults to 1080p (I believe). So hopefully thistle do the same

4K is total overkill for a smart phone. Good luck getting through one day of without charging your phone with that 4K resolution. Hell, 2K is almost too much.

I set my S7 Edge display to the lowest resolution and haven't really noticed (I never use the free Gear VR I have). If the resolution is adjustable, then the 4K doesn't seem like an issue. And you'd want it if you are going to use the phone for VR.

The s7 edge does a pretty good job at having great battery life with a 2k screen.

Wonder what US bands this will support 🤔???

Probably same or better than the last flagship they produced. Considering its using an 835, I would not be worried at all.

Seems like a nice phone, but super low battery and 4k screen probably 4k on demand but still, that sucks. Why they put such low battery in 2017? other companies can fit in more juicy battery, and the phone gonna need all the power it can get, another phone to skip...

Make a XZ Premium Compact and I'll be interested Sony old boy.

If they could get T-Mobile to carry this I would strongly consider using my upgrade for this. Seems very promising but I'm interested in seeing how it actually performs especially that camera.

What is going on with all the spam lately, and no way to report it?

Many website say it is a 4K Display.. No.
It is a 4K HDR display.

Watch it have terrible performance.

Wonder will it be gimped in the US and what is MSRP gonna be

Of course it will. No fingerprint sensor and it will be at least $799. Sony doesn't care about the US market. And we have to wait at least 3-4 months before the phone will go on sale. It's gimped for US consumers and it will be forgotten by most consumers by the time it is released.

Great for you americans it is only 799..
In my country must be 1300

"and all of the other bells and whistles you expect from a flagship phone" Except in 2017 I expect flagship cameras to have OIS.
This one is the same old sh*t as before from Sony. No OIS.

The best phone that no one will buy...
And the bezel king! Dang that's an ugly face

> Fingerprint sensor (except U.S.) What the... It was looking good until this line. I mean, really!? We still have to deal with this foolishness?? I know the UK has had to deal with this garbage as well.

Very nice! I hope it's on US carriers!

Is the 4K resolution the same as the Z5 Premium where the display was only 4K when you viewed 4K content and Full HD the rest of the time or is it actually 4K all of the time?

This sounds pretty good, I could see some market trends resulting from it. I only have one problem with Sony phones though, the edges hurt, when it stabs you in pocket, on a belt holder, etc,. Sony has to get away from those sharp corner designs.

I've always wanted an xperia phone but the cost of them has always seemed sky high

Lol no fingerprint sensor in the U.S. DOA.

What's with Sony not offering a fingerprint sensor in the US? Ugh. That's one of the reasons why I'll never purchase a Sony phone.

The guess is it's a patent issue but we don't know the exact reasons. Guess is they don't want to spend the money on using or buying the patent. Also, the scanner is there but just disabled so you can flash a UK ROM on it, for example, and it will work. But that's a guess. Seems silly though.

Looks quite nice but I wouldn't buy it if I was in the US without the fingerprint scanner. Having tried the S7 this year though I will being going with the S8.

The finger print scanner is there. Just not enabled. Just flash another ROM on it and it works.

It's gorgeous, especially the mirrored finish. I really like the somewhat unique design of most Sony phones (although a little less bezel was probably needed this year), but the glass back and size aren't a good fit for me. I even like the power button and FPS combo a lot. It's a shame the FPS isn't officially included for the U.S. And it seems like OEMs are excluding more features from the U.S. this year, offering its best abroad. I hope Apple and Samsung's U.S. dominance doesn't result in fewer good options for American buyers.

No FPS for the US market. F'ck off, Sony.

Not their fault...they are being strongarmed by either the carriers or other manufacturers to disable (not remove) the feature in the US. If it's THAT important to you, you can re-enable the scanner by rooting your phone!

Should this not have quick charge 4.0?

The screen will default to 1080 for normal use...I read it several times already. So only when 4K HDR content is in use will the screen go to 4K. Under normal use then with the new Snapdragon 835 battery should be great! Two things bother me...GLASS BACKS on phones is STUPID and I wish all the manufacturers would just STOP it!!! Who cares how premium it looks when you're forced to put a case on it? Not to mention scratches and fingerprints galore. My 2nd complaint is the 2.5 curved front screen! STOP IT!!!!!! This makes it impossible to get a properly fitting tempered glass screen protector! SO even though the LG G6 has a glass back also...the one redeeming thing is that it has a FLAT front screen which will accommodate a properly fitting tempered glass screen protector. Also, the previous Sony flagship could have the fingerprint scanner turned on very easily. Just go to XDA for the details. I am sure they will do the same for this phone so it's a non-issue. Decisions, decisions, decisions.

Sony says it is 4k all the time, not like z5p

No FP sensor in the US will be a deal breaker for me, too bad.

Root the phone, it's pretty simple to re-enable the feature.
Android Central Newsletter
Thank you for signing up to Android Central. You will receive a verification email shortly.
There was a problem. Please refresh the page and try again.