Sony Xperia X Compact now on sale for $499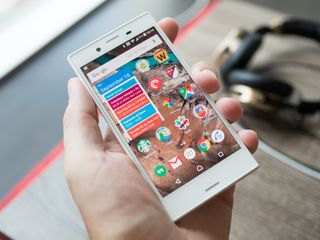 The list price on the Xperia X Compact is a somewhat-steep $499, but if it's the phone for you and you want it right at launch you can now pull the trigger on one. At $499 the X Compact is a bit more palatable than the $699 Xperia XZ, though it still lands in an awkward pricing bracket — slightly above solid mid-range phones that hit the $399 price point, but below flagships near $600.
More: Our complete Sony Xperia X Compact review
If you aren't up to speed with what the X Compact offers, let us offer a quick primer. The 4.6-inch little sibling to the Xperia XZ offers a really solid (and undeniably Sony designed) build, and runs on a Snapdragon 650 processor with 3GB of RAM and 32GB of storage, plus an SD card slot. Though it's smaller than the XZ, it isn't short on performance or battery life, and even has Sony's latest 23MP camera setup.
The phone doesn't quite match other flagships as it's lacking a fingerprint sensor and waterproofing, but in nearly every respect is the "small flagship" many have been clamoring for. And of course it's less expensive than Sony's last couple of high-end phones. If it seems like a phone worth your consideration, be sure to read our full review and then hit up the link below to order.
Amazon was running a $50 off discount for pre-orders of the X Compact, but at the time of writing that offer seems to have disappeared. Keep an eye out if it happens to come back.
See at Amazon (opens in new tab)
Android Central Newsletter
Get instant access to breaking news, the hottest reviews, great deals and helpful tips
Andrew was an Executive Editor, U.S. at Android Central between 2012 and 2020.
I feel this phone should have been priced at $349.. it would sell well.

Yeah that would be a better price.

I think $399 MSRP would be realistic.

Agreed. If the price drops to around that price point, I can say for certain that they'll sell at least one.

That's why you wait 6 months and the price always drops to that.

for 399, there are devices with fingerprint sensor, 1080p display, larger battery, additional RAM and top of the line processor.. that was my thought process behind 349 price point..on a separate note.. inspite of using sd650.. I'm seeing YouTube videos indicating the phone still running hotter than competitors, however, it's not as bad as the z5c camera app forced shut down due to heating issues.

Yes, but if anyone is considering buying this phone, it's because of the size. Xperia X Compact compared to a OnePlus 3 is a huge difference in size.

Is this available at any retail locations? I couldn't find it at Best Buy like most Sony phones normally would be.

Should be at Best Buy, B&H, etc. once they hit retailers.

It's not that small TBH. http://www.phonearena.com/phones/size#/phones/size/Samsung-Galaxy-S7,Son...

Yeah that's yet another thing against this very crappy "Compact". Sony has been increasing the sizes of the Compacts year after year (without increasing the display). If everything else about the X "Compact" (Mini) wasn't bad enough, this yet another size increase over the previous Compact (the Z5C) kills it.

Like the size and features. Can't understand the absence of a fingerprint sensor. Someone please explain this to me. It's almost like Sony doesn't have any interest in success.

It just lacks a fingerprint sensor in the USA. And apparently is because of a patent dispute.

Wow... the Sony Xperia X regular for $479 on Amazon is way better. Same 23mp camera, same 652 processor, same 3GB ram, still a not too big at 5.0 inche screen, and actually has a 1080p screen instead of the 720p on this phone. Also more premium build. All for $20 less and youre getting the same or better.

launch prices are always high. the price will go down for sure in a month or two, especially with the holiday season coming soon.

Did anyone read the 3 reviews on Amazon. Amazon Vine member reviews. Amazon vine sends them free stuff and they write a review... sounds wonderful, unfortunately it seems that these people don't know much in terms of cell phones. Maybe Amazon Vine will send me some shampoo to review. But I'm bald, I'll still write a 5 star review. So dumb. Most of these people have no interest or background in the items the review.

Our complete review is a bit more in depth than those :)

This exact thing is ruining all reviews on Amazon. Now I have to scroll to the bottom of the review to read the "I received this product at a discount for an unbiased review" BS.

My 77 year old grandmother just got a Binford 6100 Air Hammer with 5 piece chisel set from Amazon Vine, cant wait for her review.....

I automatically thumbs-down when I see that disclaimer.

also, I read an article last week that it is skewing the rating on amazon as the reviews tend to lean towards 5stars and often biased.

I wonder how many of these they will even sell, and why they even bother with the US market anymore? It's obvious that it's even way less than a half-hearted attempt.

on sale or for sale? for $500 and those specs that is no on sale.

Soooo overpriced, especially with a 650.
It should be priced around 249 or something. It's pathetic Sony didn't put a 820

At this screen size and resolution, I wonder if we've reached the point where putting a top-tier SOC in it would just not offer enough of a performance boost to justify its inclusion. That said, if they had either bumped the display to 1080p or used an 820, I'd be much more comfortable with the $500 price tag. As it is... no.

Priced too high for this kind of specs. There are many other "flagship killers" priced at $400 or lower.

None of those have this display size.

At that price, SoC, and resolution there battery life better be ludicrous. Though after having a finger print sensor for almost a year (6p) I don't think I could go back to boot having one.

That's how much my used s7 edge cost me.... It has a much better screen and processor plus a fingerprint scanner.

If apple can put out the iPhone se for cheaper than this sale price then c'mon Sony. I'm not saying the iPhone se was a great accomplishment on their part but the point is that APPLE used reason and made it cheapish. They could've easily sold it for 500 or more but didn't. I've never met someone with a Sony phone,where are they getting these prices from?

Ya but the iPhone SE is only cheaper for the 16GB model. Also, I get what you're saying. But that is iOS vs Android. It's difficult to compare just by specs. Depends on what you'd think suits your needs.

No, it is also cheaper for the 64 gb too, which has had a price change down to $450, so this is just silly of Sony.

Keep in mind what I said though. Android vs iOS.

I'm not saying the answer is to buy an iPhone,its to look at a company that managed to make apple look extremely generous and avoid them.

Sony phones have been expensive for quite awhile now. Unfortunately, I think we will just have to accept it as Sony doesn't seem to be listening.

I can't even remember the last time I bought anything from Sony, let alone a smart phone.

Not priced very well.
The mid-range makers are stomping phones like this into the ground.
Does Sony even look at what everyone around the globe are buying these days.

Of course not. Sony is deeply convinced they're Apple. In case you haven't noticed it yet.

At this point, I don't even consider Sony a contender in Android smartphones. It's like they have no clue what they're doing.

Might as well just close their mobile division. Every year they release their lackluster overpriced phones that can barely sell.

I see Sonys everywhere - most of my friends and colleagues own one with the occasional Samsung or iPhone to be seen. That said, I think this is a bit of a downgrade from the Z3/Z5 Compact. I went budget this time and bought an XA to go with my iPhone SE.

I don't know. For $499, it's kinda steep. I know it's a solid phone and all, but there are better options around that price-bracket, or less. However, those options are also bigger in size, both in screen and overall size. So if you fancy a solid performing Android device with a smaller form factor, maybe give this a shot. It's gonna cost ya, though. However, there's one pretty competitive option, though some might consider it too small. The iPhone SE.
Android Central Newsletter
Get instant access to breaking news, the hottest reviews, great deals and helpful tips
Thank you for signing up to Android Central. You will receive a verification email shortly.
There was a problem. Please refresh the page and try again.