Sony Xperia 1, Xperia 10 and Xperia 10 Plus hands-on: A new (tall-screened) era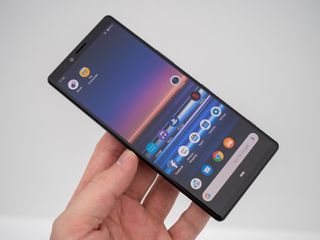 Sony's mobile division hasn't done particularly well as of late, and many feel its stale design and features with subpar execution match with the end results. With new management in the ranks and a renewed sense of unity with the rest of the Sony organization, Sony Mobile has three new phones that are trying to reboot the business: the Xperia 1, Xperia 10 and Xperia 10 Plus.
The phones introduce a new aspect ratio that changes the identity of Sony phones, and lean more heavily on Sony's overall strengths in displays, imaging and entertainment. Here's how it all comes together.
Image 1 of 5
The Xperia 1 is obviously the standout device, as it takes the new top position for Sony phones. Its most striking differentiator is the display: a crazy 21:9 aspect ratio 4K HDR OLED panel at a rather large 6.5 inches defines the whole aesthetic of the phone. The OLED looks amazing (at least indoors), and Sony puts a large importance on being able to offer 4K resolution and great color accuracy. (See our initial article on the Sony announcements for a full breakdown on the specs.)
But just as important to Sony is the 21:9 aspect ratio, which is far and away the tallest ratio I've seen in a phone. Sony's promoting as being a synergy with its entertainment business because so much video is shifting to at least 2:1 if not 21:9 itself. On the face of it, it makes sense — when you're watching a 4K video shot in 21:9, it looks absolutely amazing on this screen. Just how often you do that will depend on your viewing habits. But there are of course other benefits, like gaming on the wider screen with on-screen controls that don't obscure as much of your view; or seeing more of a webpage or feed with less scrolling.
Sony is carrying the 21:9 theme over to the camera, once again leaning on its entertainment and photography businesses. The phone is set up to record 4K video in 21:9 (16:9 is also available), and has an extensive pro mode that offers tons of manual shooting options and filters developed in house. The triple-camera setup follows the modern theme of a telephoto, standard and ultra-wide lens arrangement — and I'm happy to report that Sony has added OIS! What a relief.
Unfortunately the phones available at the MWC trade show didn't have fully functional software, so Sony wasn't comfortable letting anyone use them outside of controlled demos. So we just have to wait before we can form a full opinion on the complete package.
Image 1 of 5
The aspect ratio is immediately noticeable as something different than you're used to — even compared to other "tall" phones. The Xperia 1 is taller than the already large Galaxy S10+, but in return is actually narrower and easier to grip; it just requires some acrobatics to reach the top of the screen with your thumb. Once you get over the initial odd feeling of the aspect ratio, I assume it'll feel normal.
The rest of the hardware is very nice. And very Sony. The design ID has evolved considerably even from the Xperia XZ3, with more gently curved glass on the front and back, and a nicely rounded metal frame that seemed easy to grip. The fingerprint sensor also moved back to the side of the phone, though it's separate from the power button. The color palette is basic, aside from a deep blue/purple that's a throwback to some of the older Xperia phones and their bold colors. I particularly like the grey model.
Image 1 of 5
After playing with the Xperia 1 for a while, it was quite the downgrade in experience to switch over to the more typical Xperia 10 and Xperia 10 Plus — although these mid-range models, coming in at $349 and $429, are arguably just as important as the high-end Xperia 1. They fill out the range by incorporating the same 21:9 aspect ratio, though the screens aren't nearly as nice and are just 1080p. The 6.5-inch Xperia 10 Plus and 6-inch Xperia 10 give off the same vibe as the Xperia 1 at a glance, but the metal back is gone and the cameras switch back to basic 12 and 13MP units supported by an additional smaller camera for depth information. Their 2870 and 3000mAh batteries are a tad on the small size considering the overall size of the phones, but Sony has typically offered great battery life for the size.
As a set, the new Xperia lineup clearly points toward a new chapter in the Sony Mobile story. At this point there isn't really anywhere to go but up, but I'm excited that we're seeing a fresh design language and lots of new ideas that aren't simply a refresh of the same phone(s) in a twice-yearly cadence. We'll see the Xperia 10 and 10 Plus in mid-march, but will be waiting a few months to see if the Xperia 1 can play ball with the big competitors of 2019.
Get the Android Central Newsletter
Instant access to breaking news, the hottest reviews, great deals and helpful tips.
Andrew was an Executive Editor, U.S. at Android Central between 2012 and 2020.
All I can think when I look at these phones is ... That isn't going to fit in my front pocket.

None of those phones in flagship segment are gonna fit. May be you gotta redesign your front pocket then

Sony's support of US carrier features has been pretty mediocre. I'm assuming these will only have the radio bands for AT&T and T-Mobile. Any word on if these will work on VoLTE on those carriers, wifi calling on T-Mobile, and Band 71 on T-Mobile?

Hey msatlas, The 1 will have ALL the bands for T-Mobile (2, 4, 5, 12, & 66) except 71, which isn't even available in all of the U.S. just yet anyway. In Chicago for example it won't be active until maybe the end of the year. But they always could send an update with 71 too. See bands here: https://www.gsmarena.com/sony_xperia_1-9543.php The XZ3 was the FIRST UNLOCKED U.S. Sony phone to have T-Mobile VoLTE work on it, which I MYSELF verified first hand! So I'm guessing the 1 will have it too. I don't think they will have Wi-Fi Calling too, but that could change. Hope this helps!

Thanks for the info. I'm on AT&T at the moment as I'm in the DC area and T-Mobile's network is just a little too unreliable in too many places around here. Including at my house, which is in the middle of a busy part of town, but when I was on T-Mobile the signal was just not strong enough and the only way to consistently make calls was wifi calling. I switch networks somewhat often so I always try to get universally compatible unlocked phones. Since T-Mobile is the only carrier that supports wifi calling on unlocked phones, usually what I look for is compatibility with all US carriers including VoLTE, and T-Mobile wifi calling support. While Band 71 is still relatively new, T-Mobile is doing a lot of network expansion on it, so for travel throughout the US, and general future-proofing, I'd want it.

"changes the identify of Sony phones" I think I have identitied an error in the text.

Did they remove wireless charging? I personally kind of like it really depends on how they price it. $1000 would be a pass I think. Or knowing Sony it will be a wait 2 months after release and then buy for a reasonable price.

Looks like Xperia XZ2 Compact is indeed the last of a dying breed, which is unfortunate.

Agree. The very tall phone here makes my thumb hurt just thinking about how it'll have to stretch so far. I would love to see a modern 16:9 flagship phone.

Sad. I was hoping for a new compact phone with good features. I'm tired of carrying a brick around, as I don't game, edit photos, watch tv, or type a lot on my phone. I like to use it for calls, text and sat nav. Looks like a xz2 is in my future.

"it just requires some acrobatics to reach the top of the screen with your thumb. Once you get over the initial odd feeling of the aspect ratio, I assume it'll feel normal." Yup, it won't. These phones will be a nightmare to use daily. The only way Sony could try to pull off such a ridiculous aspect ratio AND screen size is if they were to completely redesign Android the way Samsung did with OneUI.
But they'd need to go further and actually force ALL apps (including 3rd party apps) to either display on a smaller size or open up in something like the "One handed view" and then upon scrolling fill up the screen. There's one positive thing about the Xperia 1, though. Sony FINALLY added OIS to the cameras. So, assuming their software will not be as bad and limited as it has been so far, it means maybe we'll finally see a jump in quality in the Xperia cameras which Sony desperately needs. Of course, all of this will be in vain though, if Sony doesn't release an Xperia 1 Compact. Their Compact line was always the best seller flagship and the one thing people praised about Sony Mobile. If they kill their goose that laid the golden eggs, their chances will be close to zero.
And their mobile division will have a 2019 even worse than their 2018...which is becoming really really hard to achieve.

They did UX alteration to omit the need for you to hand travel from top to bottom and vice versa. You can swipe up or down and double tap anywhere on the edge of the screen in order to perform navigation such as back, drop down notifications, app drawer, app switcher, etc.

And where have you seen that? 'cause so far I've seen no evidence of such features.
Also...does that even affect 3rd party apps?

Yeah, it's called side sense. New version that will debut on Xperia 1 will even have a quick launch option to fire up two apps at the same time in split screen and save them as shortcuts. Side sense can either track your finger by seeing where you tapped or scrolled on the screen and show the thin white bar on the side of the screen for you to use or it can be set to always be active along the whole edge on the screen. It has three gestures, double tap which always brings out the shortcut for user defined apps and toggles for wifi, bt, torch, etc and swipe up and swipe down along the edge which both could be user defined.. I think default for swipe down in go back but you can switch it to drop down notifications, app switcher, etc.

Also you can drop down the notifications panel by swiping down anywhere on the homescreen. That's new feature for 10 and 1 series. Previous phones had the search function by swiping down.

Sadly the hardware in the 10/10P is woeful for a midrange device. When was the SD636 released again? The XA and XA1 were excellent value for money. The XA2 wasn't and neither is the 10. There's too much competition in the mid range to be releasing underpowered devices at the price Sony are asking.

SD636 is from 2018. While the name suggests it's similar to the SD630 and lower chips, it's actually not too far off from upper midrange chips like the SD660, etc. Benchmarks are about 85% of an SD820 in everything except GPU performance. It's in the Nokia 7.1 and Moto Z3P. Of course, the 2019 replacements to those phones will likely be more powerful, for example the Moto Z4P is rumored to have an SD675.

We already can't reach the top of current tall phones...

OOoh, that Xperia 10 Plus might just be the Xperia Z Ultra successor I've been waiting 6 years for.

Other thing I wonder.... Is Best Buy going to get these (and will they replace the XA line currently carried?)

Sony FINALLY makes a phone with acceptable bezels, and then screw it up making it so dang long.
Then they could have won me over on the 2 lesser models, but instead of keeping the bezels they off set it with a huge ass forehead.
Sigh- still waiting

Who the hell cares about bezels??? (Well, I guess you do. Sorry. ) Bezels,. IMHO, help protect the screen, because the extra framing prevents cracks.
Bezels are a fake spec, because no one wants to rate their phone on how good it holds a signal. Bezel madness gave us the fake trauma of the notch. Heck, give me a phone with a half inch bezel all around, and one inch at the chin, if it gets service like Mulder's phone did on the X-Files. (He got calls underground!! ) :)

By and large, the Hardware looks solid and promising comparing to the other phone in MWC 2019. Regarding Sony Mobiles, I have a major concern and that is regarding its software update delivery. They are known to provide the update till the very end and they do not make any promises unlike HMD Global who is in a way pioneering Android One program and providing Swift updates comparing it to the other players out there.

Ugh Sony. I love the Xperia 1 phone. They are shooting themselves in the foot by not releasing the 1 until late spring/early summer. By that point people will have already purchased a Galaxy 10 or will be waiting on the new iPhone which will only be a few months away. Sony makes a great decision and then sabotages it with another bad decision.