Sony takes viewers on a journey of light in new Xperia Z3 ads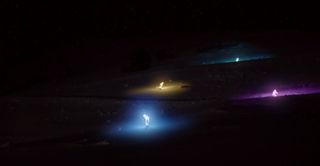 Sony has released two new advertisements for the premium Xperia Z3 smartphone. The new commercials mainly focus on the optics, illustrating just how well the Z3 performs with little to no light at all. Coupled with a sweet melody, these new videos take the viewers on a journey full of light as we see snowboarders dress themselves in LED lighting to put on quite the show.
There's also the part where the owner takes full advantage of the waterproof feature and dunks the Z3 underwater to snap a close shot of accompanying fish. When ready to have a closer look at the hardware itself, be sure to check out our hands-on coverage of the Z3. We've also compiled a handy list of retailers in the UK where the Sony smartphone can be purchased.
Sony has also uploaded different video shorts on some highlighted features of the Z3. These can be found on the official YouTube page. Let us know your thoughts on these new adverts in the comments and if you plan to purchase a Z3 for yourself.
Source: Sony
Get the Android Central Newsletter
Instant access to breaking news, the hottest reviews, great deals and helpful tips.
So does the Z3 honestly have a technology that beats other phones in low light photography / videography?.... that, along with weatherproofing, looks interesting.
(and this is my first "first!")

as far as specs this device seems top notch.. And Sony has been laying it on thick... The only thing missing is the detail regarding the Sony UI.. how far off from a vanilla android experience is it.. will there be a Google play edition.. The US market is deep as it is bountiful.. there are the normal consumer that will eat up their advertising pitch like thanksgiving dinner.. And then there is the gadget nerd that wants close to perfection available with their device.. Sony has to spill all the beans.. also the update change log is like looking for the lost Ark inked n nerdy

As for the Sony UI - if it's the same like on Xperia Z2, it's quite similar to the stock Android experience. Personally I use Nova Launcher.
And battery in Z2 is a beast. And it seems that it is even better on Z3.

The Sony UI seems alright to me. A bit of getting used to (coming from the Nexus 4). Appears the bundled Sony apps can be simply uninstalled from the phone, rather than disabled, which I think is alright - only the initial hassle of pressing the uninstall button a few times. At least that way they don't take up space in the phone. Now all that's needed is a root method. Loving the phone so far. The feel is top notch and the size is perfect for me.

Watched some samples in youtube, not impressed with the camera, this time it's trash (for me). Note 4 is so much better + the spics you get.. It's a win ;-)

Cameras are only as good as the person handling them. If the reviewer is a moron and can't take photos, not even the 41mp of the Nokia 1020 would help.

With my gs5 all I got to do is hit the camera button and I get a pretty great photo. Posted via Nexus 7 2013 or Galaxy S5

Yeah, Now here's the thing: Sony cameras aren't for food-for-Instagram shooters. Sony's cameras, much like the Nokia PureView cameras, are aimed at people who know at least a little about photography. Which is why Sony gives you a Manual mode. If you want a camera to shoot food and feet for Instagram, the S5 is good enough. If you want a really good camera, on Android, you go Sony.

Check out this video. https://www.youtube.com/watch?v=kMrybYOm8Sg

I've said it before and I'll say it again. I have a z2 and the camera is truly unbelievable. In manual mode, you can achieve a good shot in almost any light. No blurry pictures at all. I doubt they've taken a step backward with the same lense. Posted via Android Central App

Sony has had my attention since the Z1. Now let's see what they do in the UNITED STATES MARKET Posted via Android Central App

With jump on T-Mobile, this will be my next.

My days have been saddened this weekend when my Z2 slipped out my hand when grabbing it with my wallet on top of the car and landed face flat on the concrete. There screen won't even respond. Preordered the Note4 for more but will wait to see what Sony announces. If they only are releasing the TMo branded Z3 Note4 for me. Hopefully they will announce the unbranded option too. I might get the Z3 fixed but read it's pricey.

This phone can't get to T-Mobile fast enough. Posted via Android Central App w/G2

Buying this for Tmo. Currently have the Moto X but not ready to go to a bigger device yet. I love the one handed use.

Anybody know when this will be available for T MO can't wait Posted via Android Central App

Great camera would be cherry on top.
Can't wait to see it on US carriers. Posted via the Android Central App on VZW Moto X

AT&T please bring us the Z3

IT looks totally awesome--i love the sony product