Sony ditches permanent screen protectors for Xperia Z2 devices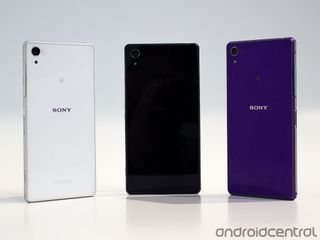 'Anti-shatter film' no longer used on Xperia Z2 and Z2 Tablet
Good news for would-be Xperia Z2 buyers today, as one of our major bugbears with previous Sony smartphones has been consigned to history. At a meeting today at Mobile World Congress, Sony confirmed to Android Central that fixed screen protectors — officially known as "anti-shatter film" — are not used on the Xperia Z2 and Z2 Tablet. Instead Sony's latest smartphone and tablet are furnished in bare glass and metal, just as nature intended.
We've long bemoaned the use of the anti-shatter film on Sony phones, which scratches more easily than the reinforced glass of the display and gives the devices a more plasticky feel, while also picking up smudges and fingerprints. So it's great to see this finally addressed as Sony launches its 2014 portfolio.
Be sure to check out our Xperia Z2 and Z2 Tablet hands-on posts for more on both devices.
Alex was with Android Central for over a decade, producing written and video content for the site, and served as global Executive Editor from 2016 to 2022.
Great news. This phone is so much better than the S5. I really hope AT&T commits to it. Posted via Android Central App

It's definitely uglier than the s5 Posted via Android Central App

You mean the S3 2014 edition? The one that has had the same boring, cheap design for years? I'll go for the premium design personally. The photos of the S5 make me sad and a bit nauseous. It's hideous.

-1,000! I don't use, or acknowledge the word ""troll"".

I'm looking for Jimbo?
Posted from my "KNOX-FREE" 4.3 Sprint GS3 Maxx...!!!
(ZeroLemon 7000mA battery and ZeroShock Case)

You shouldn't use the word troll in this case, it wouldn't apply. I'm not trying to be provocative, I genuinely feel that way about the S5 in particular. I honestly don't know what Samsung was thinking. This is probably their weakest major launch since they started using Android.

+1000 I agree with you on this one, I really don't get why or how they came up with this design choice :(

Delusional Posted via Android Central App

Sorry nothing is uglier then the S5.

Have a look in the mirror...

Congrats, you got the ugliest comment of this season with the ugliest phone of the year.

I hope america gets it before its out of season (Z1 for example) Posted via Android Central App

And not exclusive to T-Mobile!!

I wouldn't mind since I'm on T-Mobile!! Posted via Android Central App

Hallelujah ! Posted via Android Central App
VZW Moto X

Ips and no protector. All the stuff that bothered me. This is my next phone, doubt HTC will sway me. Posted via Android Central App

For me its either this phone or the HTC M8 but I doubt that Verizon would pick up the Z2 but I would flip my lid if they did :), for a company like Sony that is trying to make a push into the US market I don't understand why they went to just one carrier than releasing it to all carriers instead of just T-Mobile.

I hear that Posted via Android Central App

Yeah, I like that it has everything I want (especially expandable memory!), looks awesome, and it's from an underdog brand in the mobile market. I don't like buying from the top dogs for some reason. HTC has me very interested, and my wife and I both really like HTC's design capabilities... so they'd better get some more leaks out before Sony releases the Z2.

leading candidate to be my next phone

Always chuckle when I see the "I hope this comes to my carrier!" posts, because I used to be like that lol. Just give me this thing SIM Unlocked I believe it already has At&T LTE bands #Gophone

"I hope this comes to my carrier!" just becomes "I hope this supports my carrier bands!" Basically the same thing.

I'd really like to see this phone in the states. Makes me wonder if that @evleaks tweet last month had any truth to it. Sony Sirius (2014 flagship) tipped for MWC debut: 5.2-inch display, MSM8974AB SoC, and a home on Verizon in the US.
— @evleaks (@evleaks)

So is it using Gorilla Glass then?

I bet Andrew Martonik is happy now!! Posted via Android Central App

Nearly had a heart attack when I heard the news ;) Posted via Android Central App

I have the Z1s. I simply put a regular screen protector over the anti-shatter film and I can't really tell that it's there. Then again, I put a screen protector on every device I own, so for me it's a non-issue. Posted via Android Central App

My only gripe with this phone is the bezels, but it seems like the competition is actually doing worse in the bezels department than both this phone & last year's phones. So unless Motorola delivers one last good phone, this might be it. (GPE or unlockable bootloader only, of course)

LG seems to be the only one giving reduced bezel any attention. I wish ore did. I don't use, or acknowledge the word ""troll"".

Yeah but LG needs better button placement, better design, and different materials. The Z2 uses aluminum and glass, the Moto X uses soft touch matte plastic and has almost no bezels. Also, I haven't had the greatest of luck with LG nexus hardware.

As awesome as the Z2 is I can't help but feel that Sony left US customers holding the bag. They took forever to release the Z1 (very recently) and just to T-Mobile for that matter. Now they release a slightly better device this shortly after the US launch. I think it was in late January. The Z was somewhat the same story with the Z1... If I was a T-Mobile customer that just bought a Z1 I'd be pretty ticked off to already see a replacement announced that fixes some of the shortcomings of the Z1. Posted via Android Central App

Awesome news! Now find out if Sony ever plans on actually releasing this in the states anytime soon. I'd love to have this on att. Better than that bomb of an announcement of the s5 in every aspect. Posted via Android Central App

Nice. Now, if Sony would release a GPe version on Sprint I would think about it... I know, never going to happen.

Having a screen protector ship on a device is a nice idea, just make it a standard one that can be removed easily if damaged/unwanted. Posted via Android Central App

Tempered glass screen protectors are the way to go. Pricier than plastic, but smoooooooth like butter. Anyway, this Z2 has definitely got my attention. If I was in the market for a new phone (my Note3 is fine) it'd be a tossup between this and the S5 (hate the back buttons on the LGpro2). The S5 has a removable battery, yummy AMOLED, and ROM support in its favor, while the Z2 has more RAM, no h/w buttons (tired of buttons), a better camera, and more. Not a fan of the side charging port on the Z2 either; like it on the bottom or top.

Do they really protect against cracking a screen? Been thinking about getting one, but not sure. Posted via Android Central App

There are a lot of stupid people in the world, that's why they buy Samsung. . Korean culture is based on theft, so no surprise they copy wholescale from apple. IPhone in gold and with a fingerprint scanner?? Lol, I accurately predicted the s5 as soon as the 5s was announced. They have no shame. Even s5 is a copy of 5s with the letters rearranged. You couldn't make this blatant copying up!! Posted via Android Central App

When Apple comes with a heart rate monitor, will you say the same??

The Atrix was the first to have a finger print sensor. Posted via Android Central App

I was already super close to getting a Z1s, the Z2 has fixed everything I didn't like about the Z1s. Guess we'll see if T-Mobile brings this over in 6 months time. Posted via G2 + Nova

Or just buy it outright when it's released. It will almost certainly have all the necessary bands out of the gate. It's not like T-Mobile will be subsidizing it anyway. Posted via Android Central App

That's what I'm thinking about. The only problem with that is I don't think I'll get a whole lot for my G2 especially if the G3 is coming out soon. Maybe like $200 if I'm lucky. So that's gonna be like what about $500 or so out of pocket. When I can just give my G2 to T-Mobile and JUMP to the Z2 for like $100 down. Posted via Android Central App

Where do Sony's smartphones stand when it comes to the embedded battery & lack of sd support issue? I don't use, or acknowledge the word ""troll"".

has microsd support upto 128gb and non removable 3400mAh battery

Where is the evidence that the Z2 supports 128GB microSD? I can't find it anywhere. :/ So far only Nokia and the Galaxy S5 have confirmed this. At this point Sony officially states that it only supports 64GB. Can you please show how you confirmed this because it's a big factor in whether I buy the phone or not. Thanks!

I know this is an old post, but if you are still insterested, the Z2 DOES support 128gb SDXC cards. It's in the phones whitepaper: http://www-support-downloads.sonymobile.com/d6503/whitepaper_EN_D6502_D6... HTH! Mines on order!

WOOHOO The news get better and better Z2 you will be mine!

Am I a Sony fan boy? You bet your ass! Will I get this phone? Never...I will stay with my Nexus 4 until the wheels fall off

Excellent - I spent nearly 2 years thinking I had scratched my Xperia S screen, only to find it was just the screen protector. It was also a dust magnet with all that static. Good riddance... If I want to look after my phone (or not) that's my decision NOT Sony's.......

Next ditch the carrier exclusives and on the Z3 ditch those huge bezels I really couldn't care less about front facing speakers. There's plenty of options if I actually used the speaker that much.

This phone is now on my list of phones to consider.

SHUT UP AND TAKE MY MONEY Posted by my Nexus 7 (2013) or my i9300 (custom rom)

That's what I said in my head. Posted via Android Central App

This was always my biggest issue with Sony. They finally get it.

Good news, having a screen protector should be up to the owner not a half way house which doesn't quite do the job. Another point to Sony in the battle of the handsets!
Android Central Newsletter
Get the best of Android Central in in your inbox, every day!
Thank you for signing up to Android Central. You will receive a verification email shortly.
There was a problem. Please refresh the page and try again.