Snag Game of Thrones seasons 1 through 4 for $99 on Google Play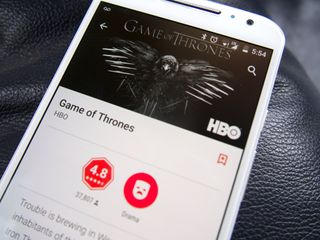 If Game of Thrones' heart-wrenching season 5 finale still has you feeling a bit down, you might want to relive your time with that one character (no spoilers). Well, Google Play has your back with a promotion that cuts the price of the first four seasons of the hit HBO show to $99.
It's a pretty major discount when you consider you're essentially getting each season in HD for $25 a piece. If you were to grab each season individually, on the other hand, they're currently running $39 a pop in HD on Google Play. In any case, if you're still cursing the Night's Watch and want to go back to better times (better for Game of Thrones, anyway), you can hit up the link below to grab the collection.
Buy Game of Thrones seasons 1-4 from Google Play ($99) (opens in new tab)
I can't figure out if it is the high definition versions or not.. I already own season 2 so I'm really purchasing that but the HD versions are 39 bucks a season.. So 99 is a very big savings even if I get season 2 again but only if it's the HD version...? Posted via the Android Central App

Well it says '$99.99 HD" right on the buy button.

Mine just says "Buy $99.99". I scoured for an indication of HD. Just sayin' Posted via the Android Central App

I think what he meant is if you click the "Full Season $99.99" button, the popup reads "$99.99 HD"

On the desktop it does indicate HD, but on my phone it doesn't, just the total after tax and a buy button.

Or pay $15 a month for HBO now and binge watch it in two months and pay 1/3 for something you'll never watch again. Posted via the Android Central App

This. I mean do people really re-watch stuff like this? Once I've seen it, I'm done and will never want to do so again. Posted via the Android Central App

Same. Lol. Even in movies. Its not that were horrible or bad it's just I saw it and I simple move on. Posted via the Android Central App for Sailfish OS on my iPad 7

Funny that someone downvoted you. I too see a movie or series once and hardly ever watch it again. There is simply too much to watch and discover to waste time on something I already saw.

I love having a big collection of movies because it's something I can share with my friends or can download to my tablet and watch with a buddy on a plane / in the car when I'm traveling. That's the only time I re-watch stuff.

Same here.. Posted via Android Central App on The Nexus 5

After a few years, yes i'll rewatch it. But then again, it's still cheaper to binge watch and just get HBO GO for a month.

"Sorry! TV on Google Play is not available in your country yet.
We're working to bring the content you love to more countries as quickly as possible.
Please check back again soon."
And then people ask why piracy is so high. I can't even BUY a years old season in my country.

In the UK you have to have sky TV or wait a year for a massively overpriced blu ray. Posted via the Android Central App

Or for free anywhere online (unlimited time offer). Posted via the Android Central App

Enjoy all the malware you're getting on your computer doing that

Lol this isn't 1998 any more.

Lol Posted via Android Central App on The Nexus 5

Lol Posted via the Android Central App

That's adorable Posted via the Android Central App

Lol, and with this price ppl wonder why we illegally download stuff. I mean why would I pay $99 on something like this? If I don't illegally download it then I just won't watch it Posted via the One M9

Um... No. Posted via the Android Central App

Or, alternatively download showbox and watch it for free.

For 10 episode seasons, it seems like $25 should be the regular price.

I bought the blu-ray DVD box set of seasons 1-4 for $125.
Android Central Newsletter
Get the best of Android Central in in your inbox, every day!
Thank you for signing up to Android Central. You will receive a verification email shortly.
There was a problem. Please refresh the page and try again.