Smart Remote on the Samsung Galaxy S5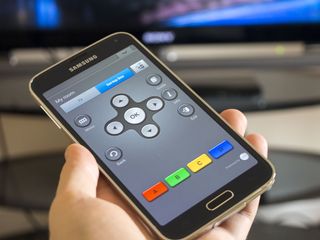 The Samsung Galaxy S5 features an infrared emitter at the top of the phone which can control your TV and other home electronics. The app, Smart Remote, requires a little bit of setup but is ultimately very useful in reducing the number of controllers you need to keep around in your living room, not to mention keeping track of what's on at any given time.
First, find the Smart Remote icon on your device and tap it
The initial set-up process involves identifying your location and service provider. Select your country, then punch in your ZIP or postal code when prompted.
Tap the service provider listed depending on your area
Next, you set up your devices. Tap the brand of your TV, or tap Show other brands at the bottom to find yours if it's not listed.
You'll then be taken through a scanning process where the app will try blasting different signals to turn on your TV. Make sure the top of your Samsung Galaxy S5 is pointed towards the TV and that the front of your TV is unobstructed.
You'll also need to go through a similar process to figure out which signal changes inputs on your TV. The first one on the list worked for me, so be sure to bounce between it at the second a few times before dismissing Input 1 out of hand.
Tap the Add Devices button under the Smart Remote settings for a specific room to add extra set-top boxes, like your stereo system, Google TV, Blu-ray player, or other streaming media box.
After that's done, associated devices will be linked to an activity, so you can tap a single power button on your phone, and all of the appropriate boxes will be turned on and off at once.
Set-ups for additional rooms can be changed under Settings, accessible from the top-right of the app. Just tap Add Room, and you'll be walked through the same process as initial set-up.
From the settings screen, you can check off options which provide pared-down remote controls on the lock screen and/or notification tray. I find these helpful, and eliminates the hassle of having to launch the Smart Remote app
The remote is accessible through the app by tapping the icon in the top-right. Initially this will display a simplified remote that will handle the major controls, but if you need more, tap the arrow in the bottom-right of the screen to bring up fully detailed controls.
The main body of the app displays shows based on the time of day and your subscribed services, but you can tailor which genres are more prominent through Profile section in settings. Tweaking the Genres section can prioritize or eliminate categories of programming, and marking programs within the primary guide as liked or disliked will tailor which shows bubble to the top in the future
That's about all there is to know about Smart TV. If you're a big TV watcher, the Samsung Galaxy S5 will definitely make your life easier.
For more tips, see our Galaxy S5 help page, and swing by our GS5 forums if you can't find your answer there.
Simon has been covering mobile since before the first iPhone came out. After producing news articles, podcasts, review videos, and everything in between, he's now helping industry partners get the word about their latest products. Get in touch with him at simon@futurenet.com.
Did Samsung rename WatchOn? Posted via Android Central App

Sort of. It's an app developed *for* Samsung *by* Peel (the folks who make WatchOn) so there are a lot of similarities. I've generally found the SmartRemote app (I'm using an older version on my Note 3) to be better than WatchOn was, since it will be more of a "digital remote" and less of an "automatic TV guide". Much more useful to those of us that don't actually have cable TV.

Help. After activating smart remote on my galaxy s5 the volume control on my Vizio TV has no sound. I've tried the U verse remote no sound . I've tried the TV remote no sound . I've hit the mute button on my phone and the other two remote. So now I hook up my lap top to the TV and sign on to Netflix great I get sound, so I know the sound does work . I just don't get sound by watching my cable channel's . I get a great picture no sound:( help..

I had something similar happen to me. In my case it switched my receiver from HDMI sound to analog sound, so I had to go into the receiver settings and change it back. If you're sound comes through your TV speakers, then I would go into the TV sound settings menu and mess around with the settings in there. Hope this leads you in the right direction.

That would be an infrared emitter, not a sensor. This is similar functionality to what's on my LG G2. Personally, it's more of a gimmick than useful.

not a gimmick, i use it all the time. on my tv at work, at my parents. my tvs, dvd players at home. I haven't touched a reg remote in over a week. How is it not useful, if i dont have to search for the remote anymore?

I use mine all the time too, love the remote feature Posted via G2 + Nova

I find it really useful when I come home from work, pop my phone out of the holster, point it at the entertainment center and hit the power button on the lockscreen widget (which is smart enough to only show up when connected to my home WiFi) to power on the TV and receiver. It can also be handy if I want to turn the volume up or down while I'm in the kitchen, since I will generally have my phone on me, but not the TV remote. Like many of Samsung's little features, it may not be something that *everyone* uses, but it's really nice for those of us that find a place for them in our routines. I have never believed that Samsung actually intends for every user to use every feature they pack into their phones.

Gimmick? boy you most be high, this is one of the most useful features their is.
Posted via Android Central App

As I said for me personally, it's a gimmick. That's probably because I already have Logitech Harmony remotes all configured.

Definitely not a gimmick. Since I got my Note 3, I havent had to wait for a server at a restaurant to turn the sporting event that I want to watch on TV at the bar. I just do it myself ;) Also I travel a lot for work, and I no longer touch the dirtiest item in every hotel room: the, um, very sticky remote...

Is this different from WatchOn on my GS 4? If so, will it be available for the GS 4?

It's the same as WatchOn, but with WatchOn the "Peel" involvement was apparent. I honestly can't tell if "Peel" is still involved...don't see their name anywhere on the app or setup.

It's made by Peel (you can see their logo in the bottom right on the lockscreen widget photo above). It's a little different than WatchOn in that it has more features as just a Smart Remote, rather than an automatic TV guide.

Yeah, the Peel stuff is new. It mostly gets in the way if, like me, you don't have TV service.

I believe it is the same app, they just changed the name. the UI looks very simular.

I do really enjoy having the smart remote..Had it on my S4 as well. Saved me a lot of money when I changed TVs and was kind of forced to connect it to an AV system/soundbar (new LG TV had terrible speakers). I had no single existing remote that could now control multiple devices and then I tried the Samsung remote and it worked immediately. With that said, I am finding the new version on the S5 to be a bit buggy (ongoing notification icon at the top of the screen (not the simplified controller in the shade) and the lock-screen being very inconsistent when it shows...it used to work very well with geo-locating when I was home and then everything would automatically enable. Hopefully, they'll fix these things soon.

Unless you live alone I don't see the benefit of this. Not to mention you would have to look at the phone to use it. There is no replacement for a remote with physical buttons.

It can be very useful for certain situations. It's not like after you set this up, you can only ever use your smart phone to control the TV. But many of us carry our smart phones around the house with us, but not the TV remote, so this can come in really handy if I need to turn up the volume or something while I'm in the kitchen.

If this uses an infrared emitter, how do you use it to control the TV from another room? Doesn't it require line of sight? Posted from one of an unnecessarily large collection of Nexus devices because I'm That Guy

Bounce it off a wall. Plus, there's a reason these things are called infrared blasters. They send out a less directional signal than a normal remote increasing the chance that the signal will be reflected back to the device being controlled if the phone is not aimed directly towards it.

I have line-of-sight from the kitchen to my TV.

The watch on app is available for DL in the samsung Apps .. This is a skinned down version

I have the note 3 and it does not work at all with dish network. It is listed as compatible, however still does not work. I have contacted peel at 10 times over the past couple of months, with no result. Not a good feature for Samsung phones.

Are you using the RF feature of the receiver? If so no infrared-only controller will work, phone or otherwise.

You have to enable IR on your receiver. I can't recall how I did it but I had to do this for my Hopper as I use a IR distribution system with some custom Android remote software. It's not WatchOn's or Samsungs problem. Try Google.com it works really well!

The ir is set fine. The app apparently only works with the hopper. I have the 722k and it does not work. Peel has told me for 3 months now that it would be fixed. I even tried the rf, but no luck with that as well

I find the LG Flex Quick Remote much simpler. I love this feature...I kept turning off the tv and cablebox or changing the channels and my sons thought our house was haunted. They finally busted me when they heard me laughing uncontrollably in my room and trying to stiffle my laughts, but it was so much fun while it lasted. Posted via Android Central App

Please make one more article like this for HTC one M8 remote app. Posted via Android Central App

It's a great feature for when ppl in your house steals your remote Posted via Android Central App

It's fun at bars or your local Best Buy to mess with the TV's

I was wondering what the differences between this and WatchOn. I guess I'll just delete WatchOn, although theres also a Gear version of that app which is very basic but cool. Posted via Android Central App

Can you add custom devices like light switches (etc)?

Help. I am traveling and I purchased a data roaming pack which I have done lots of times before however this time I am using the galaxy s5. I cannot conect to the Internet or recieve webmail when in 'mobile data' mode but I am receiving emails from work. I have checked all my setting and have enabled mobile data roaming but just cannot seem to xonnect to the Internet. What am I doing wrong. Do I need to enable or disable any particular settings? ?? Very frustrating

Didn't even know my phone had this functionality. When I saw the Smart remote app, I automatically assumed it was only for Samsung Smart TVs...

I much prefer HTC's TV app. This does seem like an improvement over Watch On though. Posted via Android Central App

Thank you for drawing my attention to this. I thought Watch On was my only option. Posted via Android Central App

Never mind, my little Rosannerosannadana

Now if it would only work with an Xbox One! Sadly it only works with Xbox. When I asked the support about this they kept replying yes it works with Xbox, uh, noooo, I'm talking about the Xbox One which it does't in fact work... I suspect a language issue?

Works great for my Vizio tv and Sony bluray, however no matter how much I try it will not work with my charter DVR. It shows it as listed under my devices when I set it up but I can't get it to change channels and none of the DVR buttons work for me. I even changed the imputs on my tv to work with the app, but still no luck. Anyone else have this problem or know how to fix it.

Are you selecting the right brand when setting up the DVR? Works perfectly on mine, I have a Motorola DVR receiver, provided by Charter. Give that a try if you haven't already figured it out.

Interesting enough I just finished setting up this smart remote app and couldn't get it to work for switching the TV (Vizio) inputs from blue ray (Sony) back to the tv without using an actual remote... came across this thread while looking for possible guidance.
I seen the comment about WatchOn and while the Samsung site talks about it, I couldn't locate a download location. When I went to Playstore it has the app but states my S5 isn't a compatible device... so I went to the Peel app and it states the same thing.
Tutor

I just finished setting up two rooms with this app, and it is fun! My question is how to set up the smart features for my smart TV (Vizio). I even got it to work with a ten-year old DVD/VCR combo. My kids constantly lose the actual TV remote, so I'd like to be able to switch to the YouTube/Netflix, etc. They do not have a separate input. Any suggestions?

It won't let me change the channels. Only turn the volume up or down, turn the TV on or off, and get to th email tv menu.

i dont have option for air conditioner in smart remote control app,any idea why ?

Same here! Is it Country specific?

I had my 4 flat screens and one dvd all set up with all the favorites and everything. Tried to use it this morning and it told me I had to reset to use and all my data was gone. Will be looking for something else.

Hi, I had the Air con option under my devices, I have setup the smart remote and it worked, after resetting the smart remote the Aircon option is gone, why and where can I find it again, PLSSSSSSS ..;-)

OK I FEEL STUPID. I SET EVERYTHING UP AND IT WORKS BUT I HAVE TO DO THAT EVERYTIME WHERE CAN I FIND THE SETTINGS FOR THE REMOTE

Peel Dumb Remote
Enough said?
Is there a feedback department?
Apparently, not.
Keep your device remotes near by; you will need them.

So, i had the app working just fine. Tried to add another room and now it wont work at all. I have reset it, uninstalled, reinstalled. Now i cant select my country (usa) its blue the other countries are white. If i do manage to get past that as soon as i enter my zipcode i get "unable to get lineups" help?

Does anyone know if devices like these Bluetooth speakers(1 is an iHome iBN24 & the other is a Sylvania SP258) &/or an iLive IAB13B Bluetooth receiver & adapter can & how it could be used with this remote? Posted via the Android Central App

App works great with all of my devices...i.e.TV Blu Ray digital media player etc. Does anyone know if you can add a netflix button similar to the one one my physical remote...I realize there is an option to watch it on my phone but I would much rather be able to access through my tv

I have an galaxy s5 and my remote disappeared. How do i get it back
Android Central Newsletter
Get the best of Android Central in in your inbox, every day!
Thank you for signing up to Android Central. You will receive a verification email shortly.
There was a problem. Please refresh the page and try again.