Skully Systems taking pre-orders for Android-based motorcycle helmet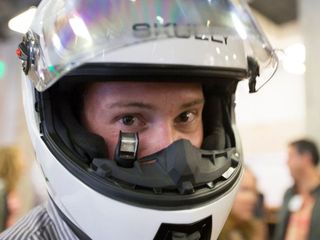 Skully Systems has started taking pre-orders, via Indigogo, for its Android-based motorcycle helmet, the Skully AR-1, with prices starting at a steep $1,399.
The AR-1 is designed not just to protect riders from being injured in a wreck but also to give them some additional information. It has a heads-up display that can show information such as navigation and more on a rider's eyes. It can also show what's just behind the rider thanks to the built in rear-view camera.
Naturally, the helmet can also link up to a smartphone for additional features, such as voice commands so that riders don't have to pull over to take a phone call. Skully Systems plans to ship the first AR-1 helmets to its pre-order customers in May 2015. There's even a $1,999 edition that's hand-numbered and signed by the company's CEO Marcus Weller.
What do you think of the Skully AR-1 helmet and do you think the price is right for its promised features?
Source: Skully Systems
Very cool... But when my head cracks the pavement, am I going to survive as well as I would with my Shoei?.. No DOT, Snell, or weight advertised for that price tag?

Their website says DOT and ECE - http://www.skullyhelmets.com/safety/

That is pretty cool, but unfortunately beyond what I can afford to spend for a helmet. Hopefully in a few years as other helmet manufactures get on board with this the price will come down. Posted via Android Central App

Agreed that it looks like a nice helmet, and on the price. Sorry, I'm just not spending 15% the cost of my bike on a helmet.

I'd be spending 120% of the cost of my bike so definitely not for me! Regardless, this seems plain dangerous. n5

That is cool but I had a Bluetooth helmet back in the day and I had a big problem with wind noise. Made it hard to hear. I'm sure they've gotten better since I had one. This seems pretty sweet if it's done right. Posted via the Android Central App

Check out the new Sena S20. It's what the wife and I use. The sound is fine, the noise cancelation is on point and it has quite good range ... I can still hear the wife yammering in my ear up to almost a mile away. ;)

The headsup display seems to always be on, which looks like another distraction to me. When I ride I'm more focused on what is around me. My simple helmet does me just fine for 1/10 the price

amen to that. these days, when everyone else on the road has bluetooth and other tech, it's better to be 100% focused on you and your surroundings.

Finally, a technology for motorcycle riders that's been around for car racing helmets for quite a long while now! GPS, Bluetooth, HUD, rear view camera in a DOT+ECE certified shell for $1400, seems reasonably priced...although still out of reach for most people. In comparison, a Schuberth S2 with built-in bluetooth costs $1200. Even if you pre-order one now, the delivery starts in May 2015 and as we all know, new product launches always and most certainly get delayed. Paying $1400 now and waiting for a year (best case scenario) isn't ideal. I would be curious to see some street/track expert reviews from motorcycle publications.

That's a very high price for a little convenience imho. I don't know how much regular helmets usually cost, but I assume it's probably 1/3 of what they are asking for this.

It seems more like a distraction than something that would help. Posted via Android Central App

Agreed. I ride motorcycles almost daily and this would be a distraction since we have to watch out for distracted drivers every day and we should keep focus on our surroundings Posted via Android Central App

I would rather see an industry standard. If helmets need to be redesigned to accept this then there should be some standard that keeps the helmets and electronics separate. I have the Blueant Interphone F4 system on my bike it under 100 bucks, works with any helmet, and gives me audio turn by turn, answers phone calls, controls music, speaks my SMS messages (because I have a Moto Droid Maxx with Assist), and access to ok google commands. That negates a heads up display for me.

Badass? Yes but I think it could be dangerous. When I ride my zx6 I am too focused on not getting killed by cage drivers to have a hud. Posted via Android Central App

I second that. Posted via Android Central App

I think there is too much going on in this helmet, riding on the open road in dangerous enough, I say keeping things basic for a rider is the way to go, things just happen too fast on a bike anyways, oh yeah, let's built in some Google maps, Skype and a toaster oven, if you need to take a call while doing 100 plus on a bike then I think the call can wait. The rear view camera is a good thing, that's about it. Posted via Android Central App

Pair this with a Moto X and you got something! The Moto X will respond to your voice commands from sleep mode without having to touch the phone.

This is awesome Posted via Android Central App

If you can't use Google glass in CA while driving you can't use this. Posted via Android Central App
Android Central Newsletter
Get the best of Android Central in in your inbox, every day!
Thank you for signing up to Android Central. You will receive a verification email shortly.
There was a problem. Please refresh the page and try again.