Should you upgrade to the Google Pixel 2 from the Nexus 5X?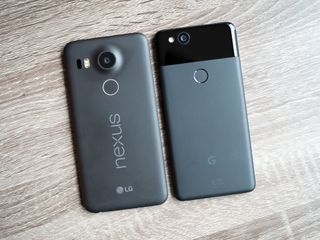 The Nexus 5x turns two years old this week. Developed in partnership between LG and Google, it was one of the last devices released under the Nexus brand as a cheaper option to the Nexus 6P.
The Nexus 5X offered a great value to Android enthusiasts looking for a reliable phone running stock Android. With the Pixel line, that budget option doesn't really exist anymore, but there's still a ton of similarities between the overall design of the Nexus 5X and the Google Pixel 2 making it a natural choice for those Google fans who loved the feel of the Nexus 5X.
Should you be considering an upgrade? Let's compare.
Hardware and specs
If you really love the form factor of the Nexus 5X, you'll find lots to love about the Google Pixel 2 — it's almost identical in size except you'll notice a significant upgrade in both build materials and internal specs.
Looking at them side by side, you can see that the Pixel 2 has slightly smaller bezels while maintaining the front-facing speakers. It's a design that some may scoff at when you compare it to other 2017 flagships like the [Galaxy S8], LG V30, and even the Pixel 2 XL, which has significantly smaller but it does let you hold the phone in landscape mode without obstructing the screen. It's ultimately a matter of personal tastes.
On the back, the camera has been shifted to the top left corner and the camera bump is also gone. There's no plastic shell to be found here, just premium aluminum and ceramic. It has quickly become an iconic look for the latest Google phones and a sign that you're rocking one of the best Android phones of the past few years.
The only hardware downgrade you could point to is the headphone jack. After throwing shade at Apple in 2016, Google has decided to do away with the headphone jack on the newest Pixel phones. In exchange, you get the latest Bluetooth 5.0 technology along with a USB-C to 3.5mm dongle included with every phone.
Here's a full specs comparison between the two devices:
Category
Google Pixel 2
Nexus 5X
Operating System
Android 8.0 with Google UI
Android 8.0
Processor
Qualcomm Snapdragon 835
Qualcomm Snapdragon 808
RAM
4GB
2GB
Display
5-inch 2880x1440
AMOLED
Gorilla Glass 5
2.5D glass, 441ppi
95% DCI-P3 color space
5.2-inch 1920x1080
FHD LCD
Gorilla Glass 3
423 ppi
Rear Camera
12.2MP f/1.8
1.4μm pixels
OIS, EIS
PDAF, LDAF
12.3MP, f/2.0
1.55-micron pixels
Front camera
8MP, 1.4μm pixels
f/2.4, fixed focus
5MP, 1.4μm pixels
f/2.2
Battery
2700 mAh
Non-removable
2700 mAh
Non-removable
Charging
USB-PD, 18W rapid Charging
Rapid Charging
Connectivity
USB Type-C, Bluetooth 5.0
USB-C, Bluetooth 4.2
Fingerprint sensor
Yes
Yes
Storage
64/128GB
Non-expandable
16/32
Non-expandable
Dimensions
145.7 x 69.7 x 7.8 mm
147.0 x 72.6 x 7.9 mm
Weight
143 g
136 g
The time is right to upgrade
Back when it was released in 2015 alongside the Nexus 6P, the Nexus 5X was the budget option starting at around $400 for the 16GB model. With the move from Nexus to Pixel, it seems that Google is now exclusively focused on creating high-end phones to compete with the other major flagships. But looking at the premium materials and spec comparison and it's pretty easy to justify the jump-up in price here. You'll once again get the best Android experience straight from the source, with all the benefits of a brand new phone.
One area in which you're sure to see better performance is battery life. A lithium-ion battery has a standard usage life of about two to three years, which means that if you haven't noticed your Nexus 5X battery performance slipping, it's likely just a matter of time. While the 5X received the Android O update, there's a number of users reporting issues after upgrading to 8.0 including some major battery drain — just another good excuse to upgrade to a new phone if you're running into issues.
The Pixel 2 has the same sized battery as the Nexus 5X, but you should notice significantly better performance thanks in part to the Snapdragon 835 chipset along with Google's focus on improving the rapid-charging performance.
But we all know that hardware specs only count for so much — software is equally important. The Pixel 2 comes with the updated Pixel launcher and Google has confirmed that the Pixel 2 and Pixel 2 XL will receive three years of software updates and security patches (that should mean Android P, Android Q, and Android R!), meaning you'll be able to rock the latest version of on the phone you buy today well into the year 2020. If your the type who likes to commits to a phone for multiple years rather than upgrading yearly, that's great news.
By comparison, Google's support documents show that Android O will be the last major software update for the Nexus 5X, and the devices will stop receiving crucial security updates after November 2018.
Should you upgrade?
The Nexus brand catered toward hardcore Android enthusiasts, and you'll still run into folks proudly rocking the Nexus 6P or 5X because they're still good phones. The Nexus 5X was — and still is in many regards — a great phone, but if the battery or performance issues haven't already started popping up, the clock is ticking — and the timing may be right to upgrade to the Pixel 2.
If you love rocking stock Android and can afford the cost of a 2017 flagship phone, you can upgrade to the Pixel 2 with confidence knowing you're getting one of the best Android phones of 2017 and a phone that will serve you well for three years if you take care of it.
Do you think you'll upgrade?
Let us know in the comments below!
Marc Lagace was an Apps and Games Editor at Android Central between 2016 and 2020. You can reach out to him on Twitter [@spacelagace.
Pixel 2? I would say yes even though it is missing the headphone jack. Although, grabbing a cheap original Pixel would probably be a better idea as it will perform almost the same but you will have a headphone jack and you will pay hundreds less. Pixel 2 XL? I would say no. Stay far away. There has been way too many issues that can only be fixed by Google using a different supplier for the screens which will not happen.

I agree. I actually just got the Pixel 2 because I love the size. Using the dongle for the headphones just gets getting use to if you don't have Bluetooth. And my service(Google Fi) works better with Pixel 2. Plus you can trade in your 5x in good condition for up to 115$ off the price. Which is nice. I love my Pixel 2, it's an awesome phone for android lovers

What's interesting is that in all the teardown videos I have seen of both the Pixel 2 and Pixel 2 XL, there appears to be an empty space in the interior where the headphone jack was located. So they didn't remove it due to lack of space or a bigger battery. They just removed it to remove it.

You know you bring up good point, I originally noticed the space and wondered to myself if that space was left open for something else like a spen type device. Great point though and would be sad if your theory is correct.

I already upgraded to the Android One Moto x⁴ mainly because I already use (and love) Project Fi and because of the price of the Moto x⁴. I'm very happy. The only real complaint I have is that it's a bit strange going from Oreo to Nougat but I know it's only temporary. I would highly suggest other Nexus 5X users to consider the Moto x⁴!

I agree. I got the x⁴ also. Price was the factor, along with Fi compatibility. It's not 100% pure Android, but darn close. I hope they upgrade to Oreo soon. Only problem I'm having so far is that Android Auto keeps disconnecting. I hope this is fixed soon too.

I have the same issue after the last update on my Moto z play

I also went from the 5X to the X4. I just got my X4 yesterday, and I'm still a little unsure that it's an upgrade. Oreo has really been working well for me on the 5X. Despite what others have reported, my battery life seems to have improved. The version of Nougat on the X4 seems a little strange. I also preferred the fingerprint reader placement on the 5X. It was easy to pick it up and place my finger on the reader. With the X4, I have to use 2 hands. And, while I haven't had time to use the camera very much yet, the camera on the 5X seems better.
Time will tell, though. I decided to keep the 5X and add my wife to my Project Fi plan.

Couldn't agree more about the fingerprint placement. As far as the cameras go, I definitely like having a wide angle lense. It's cooler than I thought it would be. But with that being said I'm afraid the quality of the x⁴'s cameras don't quite match up to the 5X's. So that's definitely a bummer.

My friend who has Fi did the same. He's only had his X4 for a couple of days as of this writing but so far so good.

I am upgrading from my 5x to a Pixel 2 XL. In my opinion, the 5x at this point is crippled due to it's limited 2GB of memory (same goes for the Nexus 9). My 5x is barely usable do to stuttering and lag. Looking forward to the upgrade.

That and then 808 in it was just terrible.

I upgraded from 6P to P2XL and couldn't be happier. No issues that others claim to have experienced. Haterz gonna comment but I have no need for expandable storage, removable battery, wireless charging or headphone jack. P2XL screen is perfect so far and the entire device experience has been flawless.

I have held off upgrading for a long time so I am really looking forward to the P2XL, just one more day before it arrives.

I've done the same (5X to 2XL), looking forward to it being a bit more snappy performance wise. My 5X is still perfectly usable though, no stuttering, just everything doesn't load instantly and the camera won't even compare to the Pixel.

I wish that was the case, I would probably keep the 5x for one more round. But the lag on my phone is terrible, there are times when the camera won't even start up and even more frustrating there are times when I take a picture and found out later that the camera never processed it.

The camera performance improved dramatically after I installed the version 5.1.014 from ApkMirror. I use Nova Launcher (without the badges) that that is fast and brings a Pixel-like feel to my 5x. Still, iPhone 5s performs much better with the latest iOS, but I am on Project Fi (for now). My dilemma is whether to go back to the iOS world now when being in Project Fi is just expensive, and the coverage is subpar to say ATT.

Given the price cuts on the unlocked (US) LG G6, I went that route. I'm not thrilled about the loss of updates, but I wanted something with good performance that wouldn't break the bank. The G6 is almost the exact same size as the Nexus 5X, but with a larger screen. Been very happy with the phone so far.

Neither! No expandable memory, NO DEAL! Why are people ok with that? Their Android iPhones, nothing more. Go Samsung!

You realize that has nothing to do with this since the nexus 5x didn't have that old school so slot either right?

What's 'old school' about an SD card? You're ok with relying solely on the cloud, on a server that you don't even know where it is? How about anyone who likes having a lot of music ON their phone? Expandable memory isn't old school, it's common sense.

this article is about moving from the nexus 5x to pixel 2, neither has an sd card, so your comments arent relevant to this discussion.
I haven't had a phone with an SD card for several years now, its not a problem, likewise, a phone without a removable battery, its just not really an issue any more.

Expandable memory is literally more prone to failure than cloud...no it doesn't make sense, not in 2017. Also this wasn't about SD cards at all. Why bring up SD cards on an article that goes over moving from one phone that has no SD card to another that also has no SD card? You're just rolling to try and make an antiquated point at best.

It's nice to have all options at our disposal. I just got back from the Dominican Republic. There was terrible WiFi so streaming music was not an option. Having 17 Gigs of music on an SD card and my Bluetooth speaker worked out real nice.

I can totally see that, part of why i get the 128gb version of any phone that doesn't offer SD slot haha.

why do you care where a cloud server is located? do you need to give your data a hug occasionally? i used a card in nexus one for music storage. since then (galaxy nexus, n5, 6p) I've always had enough local storage for enough music for offline areas/days. Not only do i not need everything with me constantly, it would be annoying. everyone's opinion is valuable and right. buy the device that meets it. kids have had moto's with almost no internal storage--was nice to have adoptable sd. but it was a headache as well. better to just have enough (or plentiful) storage to start with.

"Has the time to make the jump from Nexus to Pixel?"
Any editors over there???

"Google is now exclusively focused on creating high-end phones" I think you meant to say high-priced. Equivalent phone for twice the price ... what a deal!

High-end phones don't come with terrible displays that are prone to burn-in after only a week of moderate use.

Best Android Phone you can RMA.

Next up on Android Central, "Should you upgrade to the Pixel 2 from the Samsung Galaxy S3?"

Not sure if you have the Palm Pre yes...But the palm pre 2 no.....

So the old Google phone is experiencing issues after its second major software update, but the new Google phone will be a good device to keep through 2-3 major software updates? Ok...

I'd be surprised if there are people with Nexus 5x left. Not because it's old, but because 4 out of the 5 people I know (including myself) who had one, they lost it to the boot-loop nonsense. Really disappointed people still recommend it!

I've had the bootloop happen twice, but 2 year warranty so had it fixed and returned pretty quickly both times. Not ideal but still going!

I still have it, I'm running a Pixel Rom with the same features of the Pixel 2.. Not bad so far. Poor RAM performance though.

I'm on my third. lost my first due to boot loop, and 2nd one due to water damage just a couple weeks ago. They replaced it for free, and I'll be using it as a trade in phone for my Pixel 2.

Still have it , serves as my son's phone these days. *knock on wood* no bootloop issues with this one.

Yes that would be an upgrade... The Nexus 5x was great but it was really a budget phone so in any case the pixel would be an upgrade

If anything id upgrade to a OG pixel. The pricing for a 2 is outside my budget...

I believe you have the resolution wrong for the Pixel 2 (that resolution is for the 2 XL). The correct resolution should be: 1920 x 1080

"Looking at them side by side, you can see that the Pixel 2 has slightly smaller bezels". Sorry, but the N5X has smaller top/bottom bezels and has a better screen/body ratio: 70.2 vs 67.9. This N5X owner decided to upgrade to the Essential PH-1 instead (once it dropped to 499). A 5.7 screen in a body that's smaller than both the Pixel 2 and N5X. Yeah, I know the camera has issues...

I just purchased the Essential also. So far I'm really liking it. I kind of wanted the new Pixel, but I don't think I can live with a 5" screen, and those bezels are a little extreme for my taste. The Essential seems to be the perfect phone for me. And for $499, it's a no brainier.

I've owned every iteration of the Motorola and Nexus lineup and pixel lineup. Pixel 2 has the best camera. I downgraded to the smaller screen a few phones ago when I had a pure Edition 5.7 in and the smaller 5-inch screens are so much easier to use with one hand.

They must not have actually looked at the phones side by side, it's very easy to see that the Pixel 2 has bigger bezels than the N5X. Personally, that doesn't bother me, but they just published an obvious lie.

Came to say the same thing. You beat me to it! I would love the Essential phone at that price but the not as good camera made me shy away since a good shooter is one of my top priorities. Have you had time to compare photos you've taken on the 5X vs the Essential?

I just sold my pixel on swappa and less than an hour and I'm now holding my pixel to which really blows away the pixel itself.

And I just bought my girlfriend her second Nexus 5x because the other one blew up, and for sure the new pixel 2 is extremely better in every single way. We also have a Nexus 6p which the kid uses and he likes it but he thinks the battery could be better.

My husband likes his pixel 2. Likes it better then his old iPhone 7s..
When he turns his NFC on he can hear a ticking sound if he puts his ear up to phone... I just bought a note8 I like it... But knowing my husband he will go back to iPhone x in a couple of months. He's not much of an Android guy...

Better than his iPhone 7s? I wasn't aware they made a 7s. Also he prefers the Pixel 2 despite it having the ticking sound problem?

Oops 6s typo....he never Uses NFC he just seeing if it would tick and there is a very faint ticking sound ..He says he likes it over 6s....is there a crime in that?

No crime. I just don't understand why that would not put him off, I would be returning it straight away.

Still waiting for the follow-up article that says, "Sorry, we were wrong. The Pixel 2 really isn't the best Android phone you can buy."

Man, you guys are really beat up by that line huh? Issues with other people's phones and all, the Pixel 2 XL is still the best Android phone I've ever used, hands down. Got won over by the GS8+ for a short time, but Samsung still just won't get out of their own way software-wise. Absolutely beautiful phone, could not continue to use that software. Best part? If I DO have any issues, Google will overnight ship me a replacement without me being without a phone for even a second. I've done warranty stuff through Samsung before and never again.

I did not have a Nexus 5X, BUT I did have a Nexus 4 -8GB version..... It was time for me!

I just received my 2 XL yesterday. It's barely bigger and feels the same in the pocket, but you get much more screen. Love it so far. I would have kept the 5X, but performance issues (RAM) and the looming bootloop forced my hand.

I only got my 5X last summer and it's still running relatively smooth. The only thing I dislike about it is the battery life, but this Pixel does not appear to bring dramatic improvements in this regard. Why would I even upgrade? Still no dark theme in stock Android, no headphone jack in the new Pixel and questionable design choices in Android Oreo. Let's not forget about the price tag either... I think my next phone will be from Sony or OnePlus or someone else who brings some extra value to the equation.

I thought the same things you did, but I am getting double the battery life on my Pixel 2 then with my old 5X. It has to do with the chipset and the software optimization that gives it much better battery life with the same size battery.

Totally - Pixel phones are great ! Highly suggest to get a LAYER ultra thin case for your new one too. It ll protect your phone and keep it's original style ! #pixelteam

I'm pretty sure anything is better than bootloop 🙄

Even though I agree with you I'm skipping this generation altogether and waiting hopeful for a better device from OnePlus particularly on the radio bands for the US and international markets. A couple of days ago I purchased a new, unlocked Moto G5 Plus 4GB 64GB for 154 bucks. Couldn't be happier with the phone. It has great dev support, and does everything these two phones can do with the exception of NFC which I personally never had the desire to use.

Off topic but anyone prefer the Nexus 6 over the awesome 5?

I do (or did) but I think it's a little too old now. When it released it was the best Nexus form factor / size ever made but it was basically impossible to purchase one. I believe the 6 never really had the dev support and following the Nexus 5 / 6p had. I think it also lacked some hardware features that made Google drop it from further official software updates. But if it had similar SoC as say a Nexus 5, I'd take a long time in even considering an upgrade if I owned one.

I just upgraded from my 5X last week to the Pixel 2. I had just received 8.0 Oreo on my Nexus the previous week, and hadn't experienced any severe battery drain issues or anything like that. Still only got 2 hours SOT with the Nexus, but that was unchanged from Android 7.1.2. What DID happen is that my phone went through the dreaded bootloop of death and my phone was completely bricked. So I went out the next night and picked up the Pixel 2. I love it, the battery life is phenomenal. I got a full day and a half of useage out of it with 3+ hours of SOT. On a heavy use day I got 4 plus hours of SOT. Performance is also second to none. With three years of updates coming I will be keeping this phone until the battery won't charge anymore

Does it have screen burn issue ?

Loved my first 5X so much I bought another new one. Pixel 2 is way over priced and not a substantial upgrade over the 5X, in my opinion. 5X camera may not be as good but it's still a very good camera. Better screen to body ratios vs both the smaller pixels and also lighter. Root 8.0, throw elemental on it for a more conservative governor (I can easily get 4-5 hrs sot). The value is just not there, especially with the new pixels. At least last year's Pixels had headphone jacks. Hard pass.

The Pixel 2 is 1080p AMOLED. NOT 1440P.
There are a lot of typos in this article too. C'mon, ya pass English class?

I have the Nexus 6P and can't wait to get the P2XL. I'm just hoping that the issues reported are overblown. The screen reports are not stated by every reviewer or customer. I like the Pfi and stock Android expweience so that's why I'm looking forward to the new phone.

The N6P battery dies easily before Oreo 8.0, but still can't get a full day of charge. I still like the screen and camera, my friends always likes my pics and the front facing speakers are nice when in the bathroom listening to the morning pod casts. I get my P2XL Friday and look forward to the esim for Pfi, improved battery performance and the full Google assistant.that I recently have been enjoying since the Oreo update. Not much care about audio jack since all my headphones are Bluetooth.

I will be keeping my 5X for at least another year. Not interested in either of the Pixel 2's at the current prices.

Traded my Nexus 5X in for the Moto X4 Android One. Ends up being about $265. Received it yesterday.

Was thinking about upgrading from my 5x to the Moto x4 over the Pixel 2. But then I'm also looking at the OnePlus 5t... so many choices. I'm even considering just waiting until my 5x craps on me then making that choice. The problem for me is because my phone still does what I need it to do, doesn't make sense to upgrade just yet. I still can make phone calls and take pretty good photos. With all the software upgrades I've been getting over the past two years, it still keeps a full charge too. Let us know how that Moto x4 turns out. Good luck.

If I had a Nexus 5X I would probably upgrade for the following:
Stereo speakers
Squeeze Feature (Gimmick?)
Better camera
More software support
64gb base storage

I blacklist any phone that doesn't have a headphone jack (doesn't matter how good the rest of the phone is) so the Pixel 2 is out for me.

This article was written just for me (don't bust my bubble) as I have the 5X and have pre-ordered the Pixel 2. That being said, I'm not upgrading due to battery life. I'm upgrading due to lack of RAM. Android 8 is using over 70% of my RAM before I open any apps. And the 5X Is actually a good single-tasker but a horrible multitasker. Best case, apps have to refresh when I switch to them. Worst case, the phone freezes for minutes or until I hard reboot it. Worst case usually happens while I'm commuting using Android Auto.

I'll keep my 5x 'til it's dead. Fi project is awesome: I average about $23.00/ month. Clearly, I'm not a heavy user, so I don't need the best phone (these days), but I am very content.
When my battery dies I will replace it, non-replaceable suggestions be damned. Of course you can change out the battery!
That said, your comparison was valuable to me, so thank you for your efforts!

I thought the Pixel 2 screen was only 1080p. This article says different.

I'm pretty sure the article is wrong. I believe ur right, it's 1080

You used the screen specs from the Pixel 2 XL... Why don't any tech news sites proofread anything?

I don't think either phone is good value, however, if you really need stock Android upgrading to Pixel 2 is fine as it sports a better quality Samsung screen, but stay away from the shoddy, bad quality 2 XL. It's rubbish. Maybe if they do a recall and start providing decent quality screens, the XL can be considered. Though if you have a Nexus 6p, keep it, it's a far better phone.

I'm between the Pixel 2 (small) and the S8 (small too), I feel absolutely confortable with stock Android (I have a N5X right now) and I love the Pixel 2 camera (design and more), but with all those problems maybe a S8 will be a better option, it has a great camera too and seems that it doesn't have any serious problem; but testing it is not the MOST fast phone out of there, if they improve the system like the Note 8 (it has sense, they are almost the same) that will be really interesting, but well, I'm not a big fan of touchwiz.

The 5x is still a great phone.. No reason to upgrade...

Pixel line feels like a bit of a step backwards value wise in comparison to the Nexus line. If im spending that much i might just crawl back to the galaxy phones, i hear its causing many to even consider iPhones.

NO! Cause it is too expensive...And Not Worth the money!

I don't understand comparing phone that are two years apart. The Hardware is certainly better in pretty much every category. I can see not upgrading from the Pixel to the Pixel 2. I myself am in that camp. But a phone that is two years older, to me that's apple, and oranges.
Android Central Newsletter
Get the best of Android Central in in your inbox, every day!
Thank you for signing up to Android Central. You will receive a verification email shortly.
There was a problem. Please refresh the page and try again.