Should you buy a Samsung Galaxy Watch in 2021?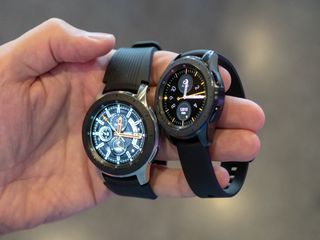 (Image credit: Android Central)
Best answer: No. There are better options available by now, including two successors that offer premium designs and more features. However, if you don't mind having an older wearable, you might be happy with the original Samsung Galaxy Watch. You can also get the more updated Galaxy Watch Active 2 for a similar price.
Should you buy a Samsung Galaxy Watch in 2021?
When deciding whether you should buy the Samsung Galaxy Watch in 2021, be sure to think about what features are essential to your purpose. If you're a fan of a more traditional aesthetic, then it makes sense that you're interested in the classic look of the Galaxy Watch.
Although, if you're more interested in the perks under the hood, you might want to think twice about buying it. Don't forget that the Galaxy Watch 3 is available now as well. It's a newer and more refined version of the original. It also packs in plenty of health/fitness perks that the original Galaxy Watch omits.
Speaking of which, if you're interested in a health/fitness smartwatch, you might want to buy the Galaxy Watch Active 2 instead. It's not crazy expensive, either. It comes in a sleeker, more lightweight package. It also boasts an electrocardiogram (ECG) feature for detecting an irregular heartbeat, an advanced accelerometer, a more accurate LED-based heart rate monitor, and improved GPS accuracy.
On the topic of perks, there are many of them to go around on the original Galaxy Watch. You can add LTE connectivity to your device, which allows you to stream music without your phone and take calls on your wrist. You'll also have health/fitness tracking, built-in GPS, sleep monitoring, heart-rate tracking, Samsung Pay, and 5 ATM water resistance. The Galaxy Watch is available in two case sizes: 42mm and 46mm. The large model might be too bulky for some wrists, but it will provide a slightly longer battery life at around four days.
Does newer mean better?
The Samsung Galaxy Watch might be a timeless buy for budget shoppers and those who don't need the latest features. With that said, those who enjoy having the newest tech will be better off with the newer Galaxy Watch 3. There's no denying that the original Samsung Galaxy Watch is an excellent value, especially now that it's gone down in price. However, remember that the price will go up when you add LTE to the equation.
If you have the extra money to spend, it's a worthwhile purchase. The Galaxy Watch 3 offers a slimmer and more polished design. It comes in a 41mm or 45mm case. It offers SpO2 monitoring and VO2 max readings. A SpO2 reading monitors your blood oxygen saturation levels while VO2 max tells you how much oxygen your body consumes during an exercise.
You also get an electrocardiogram (ECG) sensor as well as blood pressure monitoring. If you're not familiar, the ECG sensor can detect an irregular heartbeat that may indicate a more serious medical condition. Users will also enjoy built-in run coaching and recovery tools and have access to over 120 home workout videos on the Samsung Health app.
If you're going to be bummed about spending money on an older device when a new one is available, you may want to think twice about buying the Samsung Galaxy Watch in 2021. More importantly, the new Galaxy Watch 4 is expected to hit the market soon. This will make the original Galaxy Watch an even more outdated option. If FOMO isn't an issue and you're perfectly content with all that the Galaxy Watch brings to the table, then there's no time like the present! Some buyers might want to wait for the newest successor to arrive to see if it sparks their interest.
Timeless and classic
Samsung Galaxy Watch
Still a decent buy
The Samsung Galaxy Watch has a lot to offer even now that it's about to be a two-year-old device. You'll have optional LTE connectivity, onboard GPS, health/fitness tracking with heart-rate monitoring, mobile payments with Samsung Pay, and more.
Updated for fitness folks
Samsung Galaxy Watch Active 2
New and improved
If you're looking for a more updated wearable centered around fitness tracking, you might prefer the Galaxy Watch Active 2. It's available at the same price point and also offers LTE connectivity and two size options.
The latest and greatest
Samsung Galaxy Watch 3
Nothing better (yet)
Samsung's latest smartwatch manages to provide a perfect blend of smartwatch perks with better health/fitness tracking. The Galaxy Watch 3 is the upgrade that many users have been waiting for. However, the price tag may be steep for some.
Android Central Newsletter
Get the best of Android Central in in your inbox, every day!
Thank you for signing up to Android Central. You will receive a verification email shortly.
There was a problem. Please refresh the page and try again.