Should you buy a Galaxy Note 8 in 2022?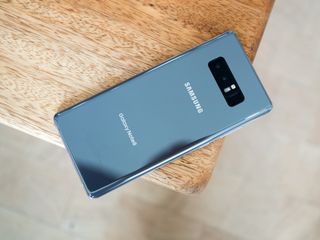 Best answer: Samsung's Galaxy Note 8 was one of the best phones of 2017, but if you're in the market for a new handset right now, it wouldn't be our first recommendation. The Galaxy Note 10 is the latest Note phone that Samsung offers, providing you with better features, specs, and software update support.
What the Note 8 still does well
There's no denying the Galaxy Note 8's age, but even so, there are a few things it continues to do surprisingly well.
The phone's Super AMOLED display continues to look just as stunning as ever, and with a resolution of 2960 x 1440, it is plenty sharp by today's standards. Its design also looks fairly modern (despite "large" bezels on the top and bottom of the screen), and you get fan-favorite features like a 3.5mm headphone jack and expandable storage — two things that are missing on the newer Galaxy Note 10.
Samsung Pay works as you'd expect on the Note 8, allowing you to pay for things at stores via MST and NFC transactions, and the 6GB of RAM means you still have plenty of room for seamless multitasking.
The S Pen lacks some of the more advanced features found in the Note 10's S Pen — namely its function as a remote shutter button and its ability to switch between various camera modes — but it works just as good for jotting down quick notes or drawing up a doodle in your spare time.
Lastly, the Note 8 has a clear advantage in regards to price. Since the phone has been out for quite a while, you'll pay considerably less for it compared to what you would have a couple of years ago.
Why it's worth spending more for the Note 10
There are some areas where the Note 8 holds up quite well, but if you want to buy a phone that'll be able to get you through the next few years without any trouble, we think it's worth spending more for the Galaxy Note 10.
First off, the Note 10's spec sheet is better-equipped than the Note 8. Its Snapdragon 855 processor is more future proof, the 8GB of RAM is more capable than the Note 8's 6GB, and you have three rear cameras as opposed to two.
We also like the Note 10's in-display fingerprint sensor more than the Note 8's awkwardly-placed one on its back, and as mentioned above, the Note 10's S Pen offers more features for you to play with.
Perhaps more important than all of that is the Note 10's future for software updates. The phone shipped with Android 9 Pie, but it's now running the latest version of Android 10. When Android 11 is released, it's likely to be updated to that, too. The Note 8 shipped with Android 7.1 Nougat and has since been updated to Android 9 Pie, but that's probably where updates are going to stop for the phone.
Android Pie does run well on the Note 8, but buying a phone that's already dead-on-arrival for software updates isn't exactly our favorite thing.
Samsung's latest
The newest Note you can buy
Yes, it's expensive, but the Galaxy Note 10 is the latest entry in the Note series with superior features and specs when stacked up against its aging sibling. The Note 10 has a faster processor, slightly bigger battery, and more impressive cameras. It's also running Android 10 — an update the Note 8 will likely never see.
Showing its age
A capable phone that's losing its steam
The Galaxy Note 8 was one of the most powerful phones of its time, but having been released back in 2017, it's no longer the most viable device you can buy. There are a lot of things that still hold up, including its AMOLED display, expandable storage, and 3.5mm headphone jack, but the trailing camera performance, lack of future software updates, and more hold it back compared to the Note 10.
Get the Android Central Newsletter
Instant access to breaking news, the hottest reviews, great deals and helpful tips.
Joe Maring was a Senior Editor for Android Central between 2017 and 2021. You can reach him on Twitter at @JoeMaring1.