More Sense 5 screenshots spotted on a Droid DNA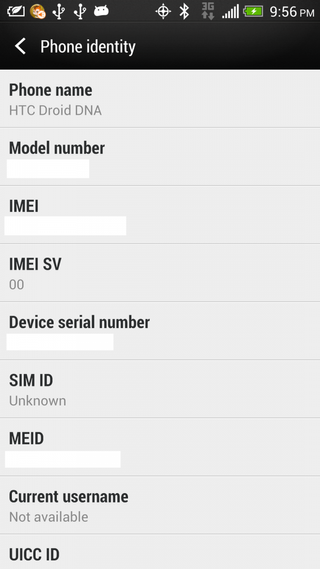 Following today's leak of an unreleased version of Sense 5 running on the Droid DNA, we're now seeing more screenshots from users claiming to have their hands on the software as well. Member mdeejay at XDA has just put up several screenshots of what is said to be a stable build of Android 4.1.2 with Sense 5 running on the Verizon phone, as ported from -- wait for it -- a Sprint version of the rumored M7.
We're not sure if that answers more questions than it creates, but it certainly gives us a lot to think about. This probably isn't the last leak (or purported leak) we'll see in the coming weeks, as HTC is likely set to show off a number of new devices at MWC in February. You can take a gander at several more screenshots at the source link below.
Source: XDA
Android Central Newsletter
Get instant access to breaking news, the hottest reviews, great deals and helpful tips
Andrew was an Executive Editor, U.S. at Android Central between 2012 and 2020.
What's with the weirdness with the fonts, etc? It looks janky and fake.

If by 'janky and fake' you mean 'snazzy and awesome' then I agree. :)

No. The font is all wrong. Compared to Roboto, whats in these screenshots is all stretched out and disfigured. That alone is suspicious.

I really think it's Roboto Light

I've never been a big Sense fan, but this looks pretty good.

Yea, looks like an big improvement

Vanilla Android would be an even bigger improvement.

Sprint... Freaking Sprint! Why! GSM dam it! Guess I'll wait for the Motorola X.

You know that is going to be a Verizon phone right....more CDMA

Wait for official announcements. You're having a kneejerk reaction.

HTCs 2013 flagship will be GSM/HSPA. All phones announced at MWC are going to be GSM. Because its run by GSMA.

HTC would be committing suicide if they only launched with Sprint in the states. It'd be a Palm Pre all over again.

This isn't about a phone, it was just ported from a Sprint phone. I'm sure they are working on flagship GSM phones, maybe even a Verizon phone.

Not a big sense gan either and surprised they're upgrading Sense since usually they only do it along with An Android version upgrade (like when they went with Sense 3.6 or 4 when they upgraded devices to ICS)

They heard how much people hated their UI and saw they needed to change it ASAP.

Is not fake. I saw a report Saturday about this running on a phone in Europe. Mobile World Congress is on the way and so is sense 5.0

as ported from -- wait for it -- a Sprint version of the rumored M7. Thank you Sprint. I have always loved you.

Hopefully we'll see Sense 5 on the EVO 4G LTE.

I'm really digging those flat "matte" type of icons, looks so fresh and so clean clean.

This looks gorgeous. Im really excited for the M7. I only hope HTC can get it on all carriers

That clock looks like its pulled straight from Beautiful Widgets. Also what's with the completely random sizes on the hotseat apps? I'm calling bs

It does look like the BW clock, but why does that mean this is BS?

is it just me, or is sense ui looking more and more like miui with every new version?

I like the minimalist approach, but those icons could use more depth and not seem so flat. Maybe it's me but I thought this version of Sense from the HTC Butterfly J looked quite strange compared to Sense 4+. Does anyone know what version it is: http://www.androidcentral.com/htc-j-butterfly-5-inch-1080p-screen-makes-...

Dang, were the pics on the xda forum removed or is there something wrong on my end?

Pretty sure the guys dropbox was slammed. There are a few other links in the thread though.

I like the clean look to it. Of course, I'm a fan of Swiss Design, so maybe that's got something to do with it. (Not that this is that...) I don't like the font though. They should choose another.

Five Sense generations in, why is it HTC still doesn't put the battery percentage in the notification bar? The phone knows this information, I've had ICS ROMs that display it on my Evo 3D, I don't get it. Does Apple hold a patent or something?

Can't believe people like this. The icons on sense 4 and 4+ are way better. Look at the weather icon for god sake! On sense 4 it shows a very nice detailed sun or moon depending on the weather and time of day. Big downgrade with the icons here.

I'm really digging those icons!
Android Central Newsletter
Get instant access to breaking news, the hottest reviews, great deals and helpful tips
Thank you for signing up to Android Central. You will receive a verification email shortly.
There was a problem. Please refresh the page and try again.