See the Galaxy S5 and Gear smartwatches at select Best Buy starting March 21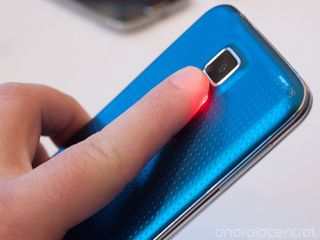 Here's a chance to try all of Samsung's new devices at your participating Best Buy before they go on sale
While Android bloggers and journos may get a chance to rub all up on new phones before they are available, it's not very often that everyone gets a chance. But that's what select Best Buy locations are doing, and it starts March 21 — that's today!
Stores with Samsung Experience shops will have the Galaxy S5, the Gear 2, Gear 2 Neo and Gear Fit on display for you to fiddle with, and this will be your only chance to get a good look at them before the "mid-April" sell dates.
While playing with a display model attached to a bulky anti-theft device isn't ideal, it's better than nothing, right? Hit the source link below to find your closest location so you can go put your paws on some new Samsung goodies!
Source: Best Buy
Get the Android Central Newsletter
Instant access to breaking news, the hottest reviews, great deals and helpful tips.
Senior Editor — Google Ecosystem
Jerry is an amateur woodworker and struggling shade tree mechanic. There's nothing he can't take apart, but many things he can't reassemble. You'll find him writing and speaking his loud opinion on Android Central and occasionally on Twitter.
Not trying to nitpick but, shouldn't this article been out yesterday? Posted via Android Central App

After seeing android wear I can't imagine many folks handing over cash for some gear... Looking forward to seeing a S5 pro in 4 months though. Mike

I am pretty sure that when it comes to smartwatches, much like regular watches, one size/style does not fit all. I think it is good to have choice. I also think it is good that we, as Android users, have choice. Heck, I also think that arguing that you can not manage to wrap your mind around the idea that someone might prefer something different from you is an interesting choice. A couple of weeks ago when I read the article posted here about the notion that Samsung was the new hip thing for geeks to complain about instead of Apple, I was pretty skeptical but posts like this are working pretty hard to convince me that my skepticism is unwarranted.

Samsung gear are paired with Samsung devices. For non Samsung smart phone owners these lineup are not even part of the choice unless you're willing to buy a Samsung smart phone. At least with android wear it will work with any android phone with 4.3 and up.

Basically, this complaint (not sure you are complaining though as it is stated more as a fact) is that Android users are having a restriction imposed on them by the manufacturer of one of the many smartwatches on the market and the many yet to come. I would understand this complaint more if the only smartwatch that worked well with an Android phone was the Galaxy Gear/Gear 2 but that is not the case, fortunately, it only eliminates one option amongst many.

Well the original point was why get a Gear with Android Wear devices come.
"Ready for the long response that doesn't have much to do with me comment "
Posted via Android Central App

I have to say, I'm starting to like the blue version. Too bad the memory issue is such a deal breaker. Posted via Android Central App

Lol., you meant to say your issue with the memory(storage I actually think you meant) not anyone else -------------------------------------------
You really should see the crap I don't post. Sorry if honesty offends you

"See" not "see and buy". What good is that? Maybe the plan is to have a discounted Galaxy Gear that I can buy right now sitting in close proximity in the hope that since I am in Best Buy anyway and I am a geek, I will have to buy something?

Saw this at an LA Best Buy today. Bulkier and uglier than the S4, without any perceived advantage to the average user. The heart rate monitor works well, but why would the majority ever use it? This is nothing more than a parallel move for S4 users, not a worthy upgrade unfortunately. The "waterproof" argument is worthless as well - ever hear of the S4 Active...

Here's an idea... don't buy it and don't complain!

Its water resistant. Why you idiots can't perceive the difference is quite funny. Posted via Android Central App

Your so funny, but I am glad to see someone speak up for the majority and put a stop to water resistance and healthy living from going mainstream. Sony only got away with it because they are not mainstream enough -------------------------------------------
You really should see the crap I don't post. Sorry if honesty offends you

Clever comeback at HTC trying to launch and sell their phone on the same day to beat Samsung's availability date. Looks like Samsung wins again at getting the phone to consumers hand ahead of time Posted via Android Central App

It doesn't matter what happens, Samsung will sell more devices. Posted via Android Central App

You can touch it but can't own it until April 11.

Im done with Samsung until the locked Bootloader is resolved. Posted via Android Central App

The locked bootloader has nothing to do with Samsung, it has to do with the carrier. Know how you can tell? The same phone sold by other carriers has an unlocked bootloader. For example, the S4 on 4.4.2 sold by the Canadian carriers does not have a locked bootloader. I have looked into this because I am on AT&T and the bootloader on 4.4.2 is locked down tight, I assure you that it is an A&T thing, not a Samsung thing. I am on a Note 3 and I am very ambivalent about whether I am going to upgrade to 4.4.2 once it is released.

Just played with the phone for awhile at bestbuy. I do like it a lot but that's because I like my s4. It's not much different except that the menu button is replaced with the multitask button and that will take some getting used to. I could not try out the finger print scanner, it's not an option on the display model, I'm guessing they did not want anybody to lock it with their fingerprints and then no one else will be able to unlock the phone.

All of the manufacturers make great phones. You simply have to pick the one that suits you best. I like Samsung, HTC, and LG. I saw the S5 today, and it's pretty cool. Posted via Android Central App

Anybody play with the camera?? How does the back feel in the hand Posted via Android Central App

I did play around with the camera the auto HDR is cool but it's hard to test it out with only being in the store. The back feels like plastic not the same feeling as the note 3. They only had two white ones at my Best Buy. Maybe the black one will feel different. I was hoping for a more leather or rubber fill, it's not as smooth as the s4 because of the design on the back.

I did get a chance to play with the phone at my local best buy...same only two white Ones. I had previously pre-ordered the black one...but the white one actually looks pretty sweet. Hopefully the black one looks and feels good as well. I haven't had the previous Galaxy phones...So i actually really liked the touch and feel. The screen was gorgeous and the back felt rather nice. I'll be coming from a HTC Arrive, blackberry and Iphone. Getting the galaxy because my work just gave me the Iphone and i would like to keep my personal line. I also played with the HTC One M8...Its a bit too tall for me of a phone...but I COMPLETE LOVE the fact that HTC one has the gestures to unlock the screen, because if it didn't i would hate the HTC. Both good phones...Love the camera on galaxy s5 a lot more than the HTC. I do like the overall feel for HTC..but didn't like the HTC Logo at the bottom and wasn't too crazy about the user interface. But great phones..The LG G2 pretty sweet phone too. Thats my two cents...:-)

Met the Galaxy S5 today @ Best Buy, check my impressions
https://plus.google.com/+PradamanShorey/posts/fUGj7cN3kS6

There are many #Android #phones that everyone would want to own this year. They come in a variety of sizes, shapes and specifications. Companies like #Samsung, #Sony, #LG and #Motorola are constantly creating new phones almost every year. Some of the phone makers released new phones this year at different #technology functions across the country. Below are some of the #best Android phones of 2014: http://www-shares.blogspot.com/2014/06/top-6-best-android-phones-that-ev...