SanDisk Connect Wireless Stick allows you to access data on the flash drive wirelessly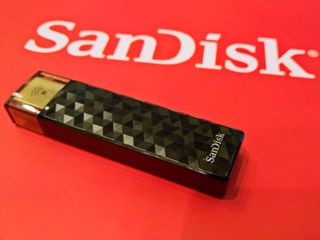 The SanDisk Connect Wireless Stick is a flash drive with wireless connectivity and inbuilt battery that allows you to access, stream and transfer your files over 802.11n Wi-Fi. Available with 16GB, 32GB, 64GB, 128GB, and 200GB storage options, the Connect Wireless Stick is a pretty neat wireless flash drive to extend storage on your post-PC devices without any wires or internet connectivity.
Design
The SanDisk Connect Wireless Stick looks like a USB dongle, a little fatter than a traditional flash drive with dimensions of 20.83 x 78.21 x 12.19 mm. It sports a textured, geometric pattern on the front panel giving a modern, artsy look.
There's an LED on the front panel that indicates whether the drive is powered on, transferring wireless data, charging, or low on battery. There's also a small power button and a loop on the bottom edge to attach a lanyard.
Unfortunately, the cap on the drive cannot be fit anywhere else on the stick when removed to plug into a computer, which is a shame since one tends to lose these caps often.
Setup
What makes the Connect Wireless Stick stand out is the wireless capability of course, and it turns out to be pretty good at it. All you need to do is power on the Connect Wireless Stick. The drive creates an ad-hoc wireless network with default SSID name and settings (these can be configured via the app), and you'd need to connect to that Wi-Fi network to access and transfer files. The connection process is quite easy and user-friendly, and you can connect up to three devices to the drive in no time.
There are two ways to access the drive. You can download the SanDisk Connect app from the Play Store (also available for iOS) or you can go to sandisk.com/myconnect from a Web browser. The latter is useful for Mac or Windows, or when you need to access files on a smartphone just for one time or so. Although, if you have a laptop or Macbook with full-sized USB port, you're better off plugging the flash drive into the port, and access files in the good old fashion. It's simpler and the read/write speeds are better.
The wireless access only works when the drive isn't plugged into your computer's USB port – a design limitation to prevent file corruption with different device types writing to the drive at the same time. Also, on Android, it's complex to stay connected to 3G/4G for internet connectivity while being connected to the drive's Wi-Fi network.
Performance
The wireless range of the Connect Wireless Stick is pretty good, and the company claims that it can reach up to 150 feet in direct line of sight. In my experience, it could easily stay connected to my phone, including uninterrupted streaming playback, from several rooms away, with multiple walls in between.
The battery life of the drive depends on what you're using it for. Streaming video off the drive drains the battery much more quickly compared to keeping it connected for occasionally moving files as one would do in regular usage. With latter, one can easily get over four hours — although I prefer to power off the drive after a file transfer, unless I'm streaming a music or video file. You can charge the drive by plugging it into the USB port of your computer (bummer!), and it takes about two hours to fully charge the drive.
The Connect Wireless Stick is limited to USB 2.0 interface and the file-transfer speeds are just average. I got around 15MBps transfer rate wirelessly and about 30MBps when plugged into a PC. While it's good enough for a quick file transfer or to stream a movie (most videos could be easily streamed on three devices simultaneously without stuttering), USB 3.0 would have made the Connect Wireless Stick future-proof.
Mobile App
The SanDisk Connect app is surprisingly intuitive and quite versatile and makes navigating files and folders pretty seamless. Interesting visuals show how much storage is remaining as well as what mobile devices are connected.
Also, you can set up the drive to back up your phone's camera roll with an in-app menu option. Each time the device is connected, the app automatically saves new photos.
There are a few oddities with some file types, but those could be fixed with an app update. Overall, the app is nicely done, and works as a perfect companion to the device. I would've also liked a Windows app for a uniform experience on the PC. A universal Windows 10 app of course would also satiate folks who use Windows 10 Mobile devices and make it a truly cross-platform device.
The Bottom Line
The SanDisk Connect Wireless Stick does exactly what it's supposed to, in a seamless fashion. Connecting to phone and transferring files to and fro is pretty easy and intuitive, and the mobile app works well. It looks stylish, and the wireless connectivity is reliable.
It's not perfect though. The transfer speeds are middling since it's USB 2.0. Also, it's awkward to use on a computer, but you'd really buy it for extending storage on your mobile devices without the need to insert microSD cards or use OTG cables to attach flash drives, and that is where it excels.
Sign up for Black Friday email alerts!
Get the hottest deals available in your inbox plus news, reviews, opinion, analysis and more from the Android Central team.